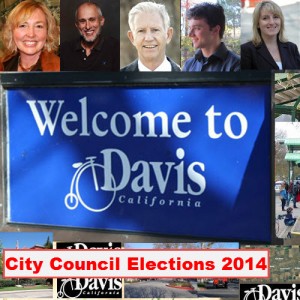 How much do campaign finances matter in a city council campaign?  Probably not a huge amount.  Robb Davis was the first announced in this race and the only one of the four major contenders not to hold or have held elective office.
Nevertheless, he needed a big showing in order to demonstrate that he could contend for the city council and so far, he is doing exactly what he needs to from a financial perspective.
For the entire campaign he has raised just over $14,000, easily leading the way over his closest competition.  Over $8,000 of that is from contributions from others. He has personally loaned his campaign $5,690 to this point in time.
Even during this latest period when he has been on more even footing with the other contenders, Mr. Davis still raised $5000.  He has $6654 cash on hand after spending over $5600 this period.
Rochelle Swanson had a credible showing bringing in $7185 with nearly $5000 in expenses on her own.
Sheila Allen brought in $5534 in contributions, and an additional $2000 in loans for $7663 in total contributions for the period between January 1 and March 17, 2014.  She spent $3439 and has $4094 cash on hand.
Sheila Allen's first contribution only dates to January 19, $100 contributions by Councilmember Lucas Freirich, School Board Member Susan Lovenburg, and Consultant Jay Ziegler.
John Munn of course got an even later start than Ms. Allen.  He lists about $2330 in contributions, $1040 of which is from a loan.  He also lists $3739 in unpaid bills in addition to $836 in payments made.  He counts his ending cash balance as $1493 but lists $4779 in outstanding debts.
However, Mr. Munn's first contribution was not until March 12 or five days before the cutoff date for this filing period.
Daniel Parrella lists about $825 in monetary contributions this period and $5050 contributions received to date.  He has paid $318 this period and lists his cash on hand at $4615.
We are only listing $100 contributions made between January 1 and March 17, 2014.
Sheila Allen lists $100 from: Lucas Frerichs, Susan Lovenburg, Jay Ziegler, Julie Saylor, Don Saylor, Cap Thomson, Steve Liston, Chris Ochoa, Jim Danzer, Katie Horn, Gerrit Michael, David Naliboff, Donna Provenza, Jim Provenza, Karolyn Ragsdale, Debra Reed, Barbara Archer, Hiram Jackson, Robin Souza, John Troidl, Rodney Nishikawa, Jeannie Nishikawa, Joyce Boulanger, Robin Kukakow, Kari Fry, Alan Fernandez, Sharon Allen, Dawn Purkey, Frances Gracechild, Julie Burns, Kim Wallace, Barry Melton, Jill West, Louise Walker, Ann Evans, Bob Bockwinkle, Scott Ragsdale, Richard reed, Rick Ramirez, Heidy Kellison, Chris Rumery, and Helen Thomson.
Robb Davis lists $100 from: Cindy Anderson, Mark Braly, Robert Canning, Wesley Capon, Jacqueline Clemens, Christine Dodson, Christopher Dunford, Jim Frame, Lucas Frerichs, Victoria Gall, William Goldberg, Leslie Hunter, Brian Johnson, James Kelly, Joe Krovoza, Janet Krovoza, Richard McAdam, Susan Padgett, Kevin Roddy, Mark Simon, Diane Wagstaff, Peggy Watterson, James Wellington, and Noma Wilkin.
John Munn lists $100 from: John Youmans, James Stevens, Suzette Smith, Nancy Price, Don Price, David Murphy, Glenn Holderreed, Barbara Holderreed, Pam Gunnell, Marian Frazier, Manny Carbahal, and Clay Brandow.
Daniel Parrella lists $100 from: Norma Turner, Crilly Butler, Grace Salvagno, David Fuuino, David Ferolok, Stephanie Hoftyzer, Tilahun Yilma, and Robert Starnes.
Rochelle Swanson received $100 donations from: Steve Boschken, Brian Horsefield, Luanne Horsefield, Chris Kidd, James Kidd, Audrey Moore, Virgil Smith, Charlies Swanson, Tom Cross, JD Denton, Don Saylor, Kari Fry, Steve Greenfield, Henry Harry, Justice Harry, Stacy Hill, Helga Medearis, Robert Medearis, Eileen Samitz, Jennifer Smernes, Roy Worley, William Fleeman, Charles Roe, Manuel Carbahal, Cary Arnold, Rose Choolewinski, Blake Jessen, Jeff Miller, Ray Thompson, Bruce Wolk, Lois Wolk, John Knight, Brendan McCarthy, Tracy McCarthy, Brian Hague, George Hague, Jacquelyn Hague, Henry Thornhill, Jacque Bartholomew, Wayne Bartholomew, Nancy Roe, William Roe, Dora Anderson, Jennifer Anderson, Alina Fleeman, Andrew Fleeman, Melrina Houser, Dennis Lindsay, Davis Morris, Daniel Ramos, Kay Resler, Kim Resler, Jason Taormino, Charles Tulley, John Youmans, Julian R Youmans, Julian M Youmans, Timothy Fall, Lucas Frerichs, Nichole Arnold, William Arnold
Brief Vanguard Analysis:
Daniel Parrella's cash on hand at least puts him into the category that he should be watched a bit more closely than before.  It is a difficult climb for a young candidate into contention, but having $4600 cash on hand makes him a serious candidate at this point.
However, we still believe that this is a four person race.  John Munn got a very late start, but his list of signatures on his nomination paper suggest he will be able to raise the money he needs to contend.
Rochelle Swanson and Sheila Allen are current elected officials with Ms. Swanson the incumbent and Ms. Allen a nine year school board member.  They are going to be formidable candidates throughout this campaign and the money they were able to relatively quickly put together demonstrates that very clearly.
Robb Davis is the only one of the four contenders not currently holding elected office.  His $14,000 showing total puts him in the game and that is really all he needed to be able to do.
The real race is about to start, buckle up.
—David M. Greenwald reporting