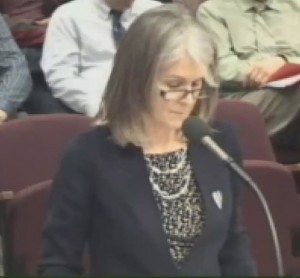 As we noted last week, one of the pieces of information that has been missing has been what started this conflict in the first place.
Why in February, 2013, did newly-elected School Board Member Nancy Peterson suddenly pull the VSA (variable service agreement) off the consent agenda?  While Ms. Peterson never responded to the Vanguard's email, we got one side of the story from Former DHS Volleyball Coach Leigh Whitmire Choate:
On Sunday morning she wrote in a comment on the Vanguard, "This started in 2010 when I was the Varsity VB coach at DHS. Nancy was my assistant, Julie was the JV coach and we had another girl coaching the freshman team. Nancy's friend didn't like the freshman coach for personal reasons and Nancy asked me to to not have the frosh coach back the following year. I said no. At this point in time Nancy was a very close friend of mine and my family.
The following year I retired from coaching after a very long coaching career and Julie took over the varsity team and the other coach took the JV and a new frosh coach was hired. Nancy had asked Julie to do the same thing she had asked me, don't hire the now JV coach back and Julie also said no.
This just continued to escalate from there as both I and Julie stood up for what we believed to be best for the vb program at DHS and Nancy didn't agree. Nancy was only an assistant coach with me for one year. Nancy didn't want to coach , she just wanted to have a say in who did.
IMO it was not Nancy's goal to coach, I think it was an effort to get close to the program so that she could try and control how things were done within the program.
There were many times that myself, Nancy, and Coach Crawford tried to to reach an agreement regarding Nancy's views and requests. I know that Julie also did this on her own after I stopped coaching as I was helping with the transition of the program to their new coach. Every time something didn't go her way Nancy just seemed to get angrier and her actions/attacks more volatile.
I know that we both asked for help from district and site administration and they fell upon deaf ears. IMO they all knew what was going on and could do nothing about it. A district admin told me, "We know she does things like that but we can't do anything about it."
I know that Coach Crawford was professional and kind even though that was not what was being thrown at her. Nancy had that program under a microscope after that, looking for any little thing that she could to take Julie down. I don't think that there was a way to make peace unless Nancy got her way.
I have worked with Julie and shared an office with her for at least the last 7 years (until this year as I am on a leave of absence). I don't know how she has been able to stay so strong through all of this, and to me that shows how great her character is.
I have watched daily the bullying and verbal attacks from Nancy toward Julie and the outcome of those attacks and how they have affected Julie. Nobody deserves to have to endure that kind of constant treatment and it has been a real detriment to Julie's quality of life. I know, because I have lived it and witnessed it. Nancy did it to me, too, my family as well, she does it to anyone that stands up for Julie, as I have witnessed other families and the way they have been treated by Nancy.
This IMO cannot be called a conflict, unless you consider standing up for yourself against a bully that continually harasses you a "conflict." Julie has done nothing but hold her ground in an ethical and professional way, all the while Nancy continued to escalate her attacks on DHS VB.
It has been an awful last 4 years.
There were additional charges from Nancy Peterson, who raised "concerns about inadequate supervision of players and mishandling of funds, among other issues."
Leigh Whitmire Choate would explain:
Micromanaging and meddling are the perfect words. I would also add the program and Julie were under a strong microscope ( I have said this a few times before)
There were never any CIF rule violations. That is in all coaches yearly evaluations, there is a portion that talks about meeting CIF standards and Julie has met that standard every season.
The following were just a few of the complaints I witnessed as I was present for the 2012 season as a parent and as a mentor to Julie: All of which Nancy didn't address with Julie directly but just went above her head to the AD, the principal, and/or the superintendent.
1. There was a team spirit t shirt that had "go big blue" across the lower back of the shirt. Nancy argued that it was against dress code policy (it is a dress code violation at the junior high schools but not at DHS).
2. My parents hosted the traditional pancake breakfast (something we have done for years as a fun team get together in the morning before school starts once the team makes it to the playoffs the morning after the team wins league). Julie cleared the breakfast with the AD and all the girls were to be responsible for getting there on their own as it was before school and treated just like any other practice (players are responsible for getting themselves to and from practice). It has been my understanding that any activity that is during non school hours, that there are not transportation rules. They met at my parents house at 6 am and I will add my parents live about a half of a mile from campus. Most girls drove themselves.
Nancy emailed Julie before the breakfast to ask if she needed drivers and Julie respectfully said no that it was covered. Nancy then took this above Julie's head and claimed she was not following transportation rules.
3. Julie hosted a free clinic for a young girl for her birthday. She wanted a volleyball themed party after being inspired after attending one of Julie's volleyball camps. It was claimed that Julie was holding a social event without allowing proper facility use procedure even though it was during one of Julie's regularly scheduled practices. See link below for the letter from the girls parents in the paper. The clinic was not mandatory for the DHS girls (once their official practice was over) and it was also offered as a community service opportunity for those players that participated.
http://www.davisenterprise.com/forum/letters/a-fun-inspiring-birthday-party/
4. Fundraising issue/mishandling funds: Nancy questioned where the fundraising earnings were going (especially since she had direct access to the Blue and White Foundation VB account and its balance). There was quite a bit of money in the account (as I had explained before, Nancy had called out the exact balance during the start of season parent meeting for all parents and players to hear questioning why she had so much money in her account). Nancy claimed that Julie was not being transparent enough with what she was doing with vb monies. All the while Julie had been raising money to purchase a new net system for the North Gym (something that it didn't already have in place and that volleyball has had to borrow from the city to run our tournaments every year). Julie has since purchased the new equipment for the school. Net systems run around $10,000.
5. Nancy has not been quiet about the fact that she was angry at Julie for taking her team in a limo (that Julie paid for out of her own pocket) to a ropes team building course in Sonoma. The activity and transportation were cleared in advance. Nancy said she was misusing funds by taking the team there. On that particular day, the school vans were not available for the team to use and it was important that the team ride together as it was a team building event, Julie decided to splurge on the team at her own personal expense so that they could have a fabulous and memorable day (all players went and had a great time).
All parents are welcome to not agree with all coaches decision or actions, but do these seem like valid complaints in where a coach would lose their job? To me it just seems personal.
IMO everything that Julie tried to do to build the program to be stronger, Nancy seemed to find a way to manipulate or twist it so that anything positive was looked at as if it was a negative. I also feel like red flag buzz words were used to gain strength and were not really correct titles for the complaints. Just key words to get the attention of some administrators at the district level.
—David M. Greenwald reporting