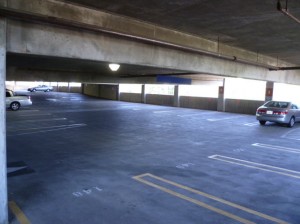 The parking problem in the Davis Downtown is a difficult proposition.  We can question whether city staff really needed to develop a parking advisory task force and we can perhaps question some of the specific findings of the task force.
However, the core finding I think is fairly accurate, as someone who works in the downtown as much as six days a week – we do not have a supply problem so much as a distribution problem.
Most of the report focused on ways to open street parking to shorter-term customers while moving long-term parkers to the parking garages.
There is also the belief that the council needs to consider the entire package of what became consensus solutions because pulling out some of the proposals might knock the totality of the solutions out of balance.
But while some of the solutions, such as moving employee parking to the parking garages, seem to be no-brainers while the ultimate search for a new parking garage might lack immediate financing options, there is one solution that has drawn controversy – paid parking.
This morning, the Davis Enterprise argues "paid parking will only hurt businesses."
They note, as we just did, that "the Downtown Parking Task Force wrestled with the problem for a year before offering its recommendations to the city council in December.  There were 19 of these…"  The only one that has everyone's attention is "paid parking in the 'Southeast Quadrant.'"
I work that quadrant bounded on the north by Third, the west by D, the east by G and the south by First.  Parking during peak hours is hard to come by and, even during normal hours, is difficult to find.
The Enterprise argues that "while the parking squeeze is a real problem, we can't support the idea of charging downtown customers to free up spaces."
They add, "Paid parking would put downtown retailers at a disadvantage when competing for customers with neighborhood shopping centers, University Mall or Target. If it's already a bit of a drive to get downtown, who wants to pay for the privilege, too?"
My solution is then don't – be willing to walk a block or two.
But the Enterprise goes in a different direction, supporting what they call a "two-pronged solution."
The Enterprise writes, "There are 275 X-permit spaces available; not nearly enough for the 2,000-3,000 downtown employees, even accounting for staggered shifts. The city must increase the number of X-permit spaces if we're ever going to get a handle on the problem of employee parking."
Of course, the Enterprise fails to note that the parking task force came up with that idea as well, moving the employees out of street parking and into the parking garages.
Second, the Enterprise argued, "We need to raise revenue for a new parking structure, not through paid parking and higher fines, but by having downtown property owners lead an effort to create a parking assessment district and secure financing for a new structure. That's how the First and F structure was built."
It is an interesting idea that has some merit.
They continue, "If Ashok Patel can pull together financing for a hotel/conference center/parking structure on Richards Boulevard, maybe creative minds can come up with a similar plan for downtown."
Of course investors can get a return on a lucrative hotel conference center; a parking garage is an entity not likely to generate investors or revenue.
Meanwhile, Jennifer Anderson is leading the charge to organize property owners.
This week she writes, "As a property owner and business owner, I am worried and upset. I feel like the task force missed the opportunity to focus on the major issue facing the downtown. We do not have an adequate supply of parking."
She cites four reasons:
* New construction was allowed downtown without providing for parking or paying in-lieu fees to provide for future parking lots or structures. (This continues today under current policy.)
* Existing space was converted from low parking demand (office/retail product) to high parking demand restaurant space.
* Our town has grown, and therefore, more people want to visit downtown Davis.
* Employees working downtown park in the core of downtown because there is not adequate space for them to park in X permit spaces or on the periphery. At night, this is a big concern to nighttime employees who move their cars in closer as it gets dark.
Part of the problem, she argues, is that the city has created the parking problem and needs to change its policies "to employ and enforce realistic parking standards in connection with all applications involving change in use or additions of square footage."  She argues, "This is standard practice in most cities."
She notes, "While the parking task force suggested 19 items to improve parking, its recommendations were in no order of priority. Paid parking spaces were nearly the last item discussed by the committee and there was not unanimous support for paid parking. It was the most controversial of all the items."
She adds, "Creating paid parking without offering our estimated 2,000 to 3,000 downtown employees an option to park safely within a reasonable distance of their job will only increase the problem of moving cars every two hours, and will leave customers with no place to park and angry because they must pay."
She argues we need a new supply of parking now, but the city lacks the resources in absence of RDA, so I would love to hear how she proposes to finance it.
I am certainly not sold that we have to go the paid parking route, though I do believe it is a way to free up spaces that currently are taken up by employees on a rotating basis and a way to encourage people to park in a garage and walk if they have long-term needs.
For years, I have been proposing a way to create more parking in the downtown and alleviate the strain on the Richards underpass by creating a parking lot entrance off of Olive Drive that goes over the railroad tracks and delivers people at First and F.
That is about half a block from my office and I can park and walk to anywhere in the downtown within five minutes from my location.
But that too takes financing.  One of the reasons for paid parking is to finance the new parking structure, but if Jennifer Anderson can find an alternative way to finance it, I'm all ears, although I'm not married to the idea, at least not in the long term.
—David M. Greenwald reporting