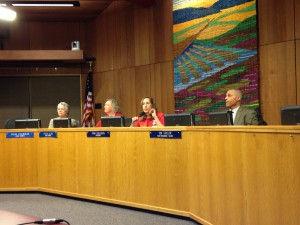 Throughout this process, I have gotten a pretty clear impression that the district does not really have a good sense of what it is doing.  The school board on Thursday sought to agendize a proposal to strengthen the conflict of interest policy, but that policy is not nearly strong enough and it really does not get to the heart of the problem.
In this piece, I am going to lay out several places where the district needs to figure out what went wrong and how to fix it.
First, I need to let the readers know that information that I received on Thursday was either inaccurate or has changed.
I noted in yesterday's column that Julie Crawford and her attorney finally got to see the report during the hearing.  That apparently was not the case.  It may have been summarized to her, but, according to my information, neither Julie Crawford nor her attorney have seen the report.
The district needs to change that policy – no one can offer up a defense without access to the accusations against them.  I understand the need to control access to a sensitive personnel document, but there have to be due process protections here.
Second, on Thursday night it seemed to open the door for Ms. Crawford to be able to volunteer and be an assistant coach on the boys' volleyball team.  I was told that this is not happening either.
That leads me to a concern, of course, because Ms. Crawford has been basically told that she can apply to coach the girls' team again this fall.
In fact, she was basically encouraged to do so.
But reading Bob Dunning today, and the fact not everyone seems to be on the same page, leads to some concerns.
Mr. Dunning spoke to board member Tim Taylor.  Mr. Dunning writes, "Not only will Crawford be 'permitted' to apply for the girls coaching position, if Taylor has his way she'll be openly encouraged to do so with every expectation that the job will be hers."
"That's entirely her decision, of course," Mr. Taylor told Bob Dunning. "But from my standpoint, she's now back on a level playing field. I don't see any reason to stretch this out. She's dedicated and committed and successful and is genuinely interested in kids. Coaching volleyball is her passion. She has great support from the community and from her players, and that's very encouraging. I'd welcome her back."
But Mr. Dunning is at this point rightly skeptical: "Then again, Crawford already had been approved by her site administrators to coach the current boys volleyball team, but was stopped dead in her tracks by the district administration, including Superintendent Winfred Roberson."
"What's to say all this 'welcome back' talk isn't a charade to placate a community that is clearly angry over what has transpired at our only high school?" Mr. Dunning writes.
He continues, "Suppose Crawford goes through the motions, applies for the girls job, is approved by her site administrators and is then once again denied at the district level. What then?"
"I don't think that's going to happen," Tim Taylor responded to Bob Dunning. "It's all behind us now. I don't see why the administration would intercept it. And if they did, the board could overrule it."
Mr. Dunning writes, "All of which begs the question as to why Crawford isn't coaching now during the still-early boys volleyball season."
"The boys season is already underway and she was never offered the job prior to the season," Mr. Taylor explained. "The board felt it was best to leave it alone and let this season play out."
We agree with Bob Dunning's skepticism here as much as we believe that Mr. Taylor is being sincere.  The truth is that none of this appears to make a lot of sense.
As much as we have rightly blamed Nancy Peterson for much of this fiasco, the district has played a huge role at key parts.
We begin with the decision by the District not to offer a VSA (variable service agreement) to Ms. Crawford last summer – we have never received an explanation of what happened.  That led to an appeal by Ms. Crawford and the school board decision, by a 3-1 vote with Tim Taylor absent,  and Nancy Peterson's  dissent.
Nancy Peterson then issued a statement that we continue to believe violated personnel rules and yet was not admonished by the board, administration or counsel.
Second, we have established a timeline for the current controversy.  The Petersons filed a complaint in September.  The investigation concluded in November.  The letter from Matt Best to the Petersons was issued on December 18.  And yet, Ms. Crawford believed up until the time that the VSA was pulled either in late January or early February, that she was coaching the team.
Third, the independent investigation consumed 99 hours and cost the district $22,000.  If you agree with Gina Daleiden, this was a failure for the district to recognize the difference between a true crisis and something that did not meet those standards.
The question I think a lot of people have is how the investigation into a volleyball player being cut became a 99 hour/22 thousand dollar affair.  Who oversees that?  Gina Daleiden indicated that the school board had no knowledge of any of this until there was an appeal.  Whose call was that?
The bottom line here is that, while Coach Crawford lost her appeal, the school board seemed to make promises on Thursday night that would mitigate the actual consequences of that decision.  Now we are getting indications that this might not be the case.
It seems that the district needs to do their own investigation into how they handle complaints and, if they can't, maybe it is time for the Grand Jury to weigh in and compel the district to clean up their handling of complaints in situations like this.
—David M. Greenwald reporting