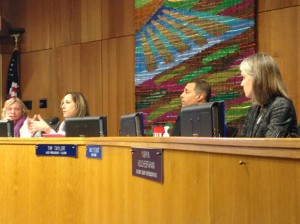 Ever since the board issued its statement on Thursday, I have heard people criticize the board for not going far enough, criticize them for offering mediation, etc.
The statement, delivered by Board President Gina Daleiden and agreed to by Sheila Allen, Tim Taylor and Susan Lovenburg, with Nancy Peterson recused, read as follows, "However, the board strongly and unanimously urges the Peterson-Crawford parties to enter into mediation to settle this conflict."
"We want to state in the clearest terms that we want our district removed as the battlefield, DJUSD needs our resources, our focus, and our energy moving forward in educating our students."
"The board encourages both of the parties to seek professional mediation on this matter so that there can be some healing in this painful process and so that the district can get back to the business of serving the kids," Ms. Daleiden concluded.
Bob Dunning writes in his column this morning, "TRANSLATION: We're tired of taking the heat for this pissing match and embarrassed about the dramatic waste of taxpayer dollars. At first blush, telling the two warring parties to hire a mediator sounds like a good idea. Let them hammer it out and see if they can't all kiss and make up. But in reality what we have here is a complete abdication of responsibility by the Davis school board, which was elected to make decisions large and small. And sometimes difficult."
He adds, "After spending $22,000 of our money for a report that didn't solve anything, they're now willing to chuck that very report and accept instead the decision of a mediator hired by the combatants themselves."
I am normally the first one to cast blame on public officials for failing to do their duties or taking the easy way out because it is more politically expedient.  But in this case – at least for now – I urged patience.
The board is actually in a far more precarious position than Bob Dunning or others wish to believe.
Board President Gina Daleiden repeatedly used the term "quasi-judicial process" to describe the appeal, and whether they really are four judges, as she contends, that need to remain neutral is at least a debatable contention.
However, to my knowledge, the board has yet to read the investigator's report, they have yet to have a full-closed session discussion amongst the four of them.  Based on this, based on the potential for lawsuit, it seems practical and wise that the board reserves full judgment until they have all of the facts at hand.
Perhaps I read the statement that came out of closed session differently than others, but what I see them saying is Nancy Peterson, quit dragging your personal agenda into school board meetings, it is costing the district and board time and money and you really have a personal issue with Julie Crawford that you need to address elsewhere.
Some people believe that this has moved past the realm of mediation.  I do not share that view.  After all, if Sujatha Baliga, the keynote speaker at the 2013 Davis MLK Day event, can work with the grieving family whose daughter was murdered by her fiancé and bring them together with the offender, there is hope for reconciling differences in a coach-student athlete-school board member dispute.  (See the 2013 New York Times article for that remarkable story).
Last year we did a story about the former Davis High School Vice Principal who helped implement a restorative justice approach to school discipline at the Davis High School.  While Sheila Smith has moved on, the program she helped set up remains.
We of course also have the DA's Neighborhood Courts program as an example of a successful mediation program at a limited level, as the DA has only on a few occasions had an actual victim participate.
Aside from the promise of community-based restorative justice approaches are some plain and simple facts.
First, the school board here has far more limited power than anyone would like to believe.  While they can suggest mediation, they lack the ability to actually order anyone to undertake it.
Second, the board believes that until they hear the appeal, they have to remain impartial which means that a whole range of more punitive measures and/or stronger wording of condemnation have to wait.
Third, even when the board does hear the appeal, their ability is very limited.  Censure has no binding action attached to it.  It is not as though they can vote to remove the board member as the legislature can, or vote a member off the island as you can on a certain popular reality show.
Fourth, the call for mediation also carries with it an implicit recognition that this is a broader conflict than the instant issue.  The war probably will not end with the board's vote over the complaint and the appeal.
There could be additional appeals, additional litigation.  Mediation is a way for the parties to reach a resolution that stops the fighting.
Bob Dunning writes, "Put simply, the school board is ducking its responsibility by refusing to make the hard decision, instead hoping to pawn the whole thing off on a private mediator, who also lacks authority to make school policy."
The question is what is the board's hard decision – they are either going to rule to uphold the judgment against Julie Crawford or overturn it.  The board's point would be that that won't end this problem.
Short of one side or the other unilaterally disarming, ultimately the strongest authority is not the board, but the voters.  The voters have a chance to end this through a recall process of Nancy Peterson.  Otherwise, the appeals process will come and go, and the problem will remain.
The place where the board appears more culpable was back in July.
Nancy Peterson was the lone dissenting vote in a 3-1 vote, with Tim Taylor not on the phone line when the vote occurred.  She then threw fuel on the fire when she stated, "My vote reflects nothing more than my continued pursuit of ideals centered on children. I cannot in good conscience vote to approve Ms. Crawford as a coach for young adults."
Even here I will defend the board somewhat.  In hindsight, it was clear that Ms. Peterson, making the statement that she did, inflamed an already volatile situation and that led to the second round of the controversy.
So, what should the school board have done in real time?  In hindsight the obvious answer would have been to stop the proceeding and tell Ms. Peterson that her comment was inappropriate, given that this was a personnel matter; it was a highly personal comment that was not the purview of her role as school board member, and that such rhetoric was likely to inflame the situation.
In real time, the board probably was hoping that the vote was enough to put the issue to rest and they were best advised to let sleeping dogs lie, hoping that if Nancy Peterson got this off her chest, perhaps they could move on.
In retrospect, that was the wrong decision, but it was difficult to predict at the time that this would repeat itself in the future.
The board will have to grapple with this issue, as well.  In the future, the board obviously understands the need to spell out into policy, going forward, situations that may arise where a conflict emerges.
This is not going to be a simple black and white issue and Nancy Peterson herself does grave disservice to it when she writes:
"Should I have recused myself from voting on the volleyball coaching contract because my child had a history there? Well, my children have histories in football and basketball, too. They also have long histories in countless classes at Montgomery Elementary, Da Vinci, Harper, Pioneer and Davis High.
"Should I also recuse myself from all votes that have anything to do with any segment of the school district where my children have current, past or potentially future interactions? Or is the real issue that I didn't vote the way some wanted me to?
"No one asked why another trustee with a history in the volleyball program didn't recuse. Perhaps this is really about voting the 'right' way."
As a commenter on the Enterprise site, James Williams, notes, "You are attempting to simplify this into black-and-white rules about conflict of interest in an attempt to convince readers that it would be absurd to recuse yourself because of any personal involvement with an issue."
"This is not a valid argument. It is the specific level of personal involvement and tone which needs to be considered in determining a conflict of interest," he writes. "To say that you had a child attend Davis High School and therefore you should recuse yourself from voting on all issues pertaining to DHS would be absurd."
"However," he continues, "to say that you had a long history of personal disagreements with the coach of two of your children with no resolution, then you absolutely should not have taken any action as a trustee regarding the VSA for that coach. Dumbing down the issue of recusing in light of conflicts of interest is insulting to the readers of this piece. Obviously it takes an intelligent consideration of each issue and not some over-simplified formulaic rule."
Mr. Williams eloquently highlights three problems: (1) Nancy Peterson's lack of introspection; (2) the complexity of the issue of conflict, especially as it regards canonizing it; and (3) the difficulty the board will have to enforce it in the future.
The legal standard is that individuals will ultimately decide if they can be impartial and, if that's the case, Nancy Peterson would never have taken the opportunity to recuse herself even under new rules.  Now the school district's attorney can at least point out the potential for conflict and Ms. Peterson did recuse herself from ruling over the appeal of her family's own complaint.
The bottom line is that there is a clear problem, and the board has to take clear action of some sort.  I am willing to wait two weeks for this entire drama to reach its conclusion before I judge the actions of the other four board members.
I still believe that a restorative approach might be best.  As Sujatha Baliga said in Davis back in January 2013, "Restorative justice asks a very different set of questions.  It asks what harm was done, what needs have arisen, and whose obligation is it to meet those needs?"
I would argue that it is these questions with which we must all grapple, and these questions for which the current system will provide no satisfactory answers.
—David M. Greenwald reporting