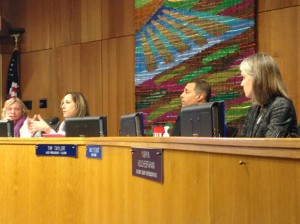 There is a lot of speculation as to what the fallout from the volleyball controversy will be, but a lot of that conjecture is premature, as we are still nearly 10 days away from the school board even hearing the appeal.  To my knowledge, the board has not even read the 72-page report from the investigator as of yet.
One thing we have seen posted in comments and have heard in various quarters is the notion that the public is going to withhold support for the parcel tax.
It appeared again today in Bob Dunning's column when he printed a note he received, which stated, "I have spoken to several Davis voters who have stated that they will never cast a positive vote for any school bond, and the older ones are going to apply for the senior exemption for the first time."
Most likely this is anger and frustration rather than reason talking.  After all, once again, we do not know what the outcome of this latest episode is just yet and, besides, it hardly seems the appropriate punishment to punish teachers and students who have nothing at all to do with this by forcing layoffs, higher class sizes and program reductions just because the athletic director, HR Director and possibly the superintendent did not handle a coaching situation in an ideal manner.
Those kinds of cuts are rarely going to lead to better decisions and a better environment for our kids.  So perhaps we can state categorically, let us not allow the kids to suffer for the errors of adults.
I have also heard whispers from some surprising quarters that this might also have an impact on the city council race, with one of the city council candidates having sat on the board of education for the last nine years.
Again, and I want to stress this point, I have spent a lot of time talking about the issue with Board President Gina Daleiden both on and off the record, and I believe that the board really wants to get this right.
As Ms. Daleiden has stated, since "the School Board is now acting in a quasi-judicial role in a current appeal process, we each have to maintain impartiality until the conclusion."
She added, "The Board does desire to be as transparent as possible.  In order to follow through with our role in the appeal, however, we must protect impartiality."
As I wrote on Sunday, I am normally the first one to cast blame on public officials for failing to do their duties or taking the easy way out because it is more politically expedient.  But in this case – at least for now – I urge patience.
The board is actually in a far more precarious position than many wish to believe – they really lack the power outside of the appeals process to change much at this time.
Board President Gina Daleiden repeatedly used the term "quasi-judicial process" to describe the appeal, and whether they really are four judges, as she contends, that need to remain neutral is at least a debatable contention.
However, to my knowledge, the board has yet to read the investigator's report, and they have yet to have a full-closed session discussion amongst the four of them.  Based on this, and based on the potential for lawsuit, it seems practical and wise that the board reserves full judgment until they have all of the facts at hand.
If the board fails to put this to a stop at the end of that process, then by all means, people should be critical of the board.  But we at least need to wait out the next ten days to see what happens.
Finally, I want to address other points that were raised yesterday to me in private.  The Vanguard is attempting to get to the bottom of what happened and how it transpired, and therefore we saw the post by Leigh Whitmire Choate as adding a good deal of information that was previously unknown to the public.
At the same time, we saw the discussion by Board Member Nancy Peterson as not adding to the discussion and we believe that each time she or her husband has spoken out, it has made things worse, not better.  Therefore, we rhetorically argued on Saturday that she and the community would be better off if she stayed silent and allowed the process to unfold.
On the other hand, we saw the opportunity to get new information out to the public as vitally important.  The public has unfortunately been given information in small increments, and that is a frustrating process for both the public and those whose jobs it is to get the information out.
It is along those lines that we received yet another criticism that argues that we have maligned Nancy Peterson, and do not have the full facts at our disposal.  Unfortunately, that is the nature of this kind of story – we do not have all of the facts at our disposal and what facts we do have generally come from parties that have a stake in the matter.
So, while I understand that we do not have the full picture, I think we have a full enough picture to evaluate the controversy as we did last week in "you make the call."
What I continue to see is an ongoing dispute between two parties, one of whom is an elected member of the board of education, who long ago should have bowed out and allowed administrative staff and her colleagues to take the lead.
Again, even without knowing a lot of background information, I can evaluate Nancy Peterson's public comment as unnecessary and inflammatory.
But if you believe that you have pertinent facts that have not come out, then the onus is on you to present them in a way that they get into the public discourse.  The idea that there are facts that only you are privy to, that will change the evaluation, sounds more convenient than true.  The facts need to get out and if they are game changers – all the more so.
Bottom line, there are a lot of good people in this community who have done great work over the years and I respect them and that work, but, at the end of the day, I cannot see a justification for how this process has unfolded, even if we accept for the moment a premise that Nancy Peterson is correct.
I hope in the end, that the school board can issue a strong enough ruling and statement to help mitigate the side issues.  I still believe that a restorative mediation process could help both sides in this matter move forward.
I'm not hopeful that this will occur, but I believe it to be the best thing for all involved and the community.
In the meantime, we will continue to try our best to determine what happened and to uncover new information.
—David M. Greenwald reporting