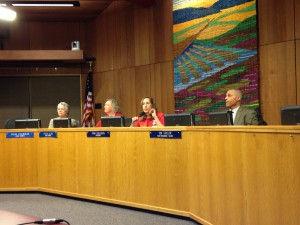 From the perspective of the Vanguard, the closure of the Julie Crawford matter, with the district last week rejecting her appeal and this week re-hiring her effective March 21, presents far more questions than answers.
We have been asking the school district to address some of these points of confusion for the public.
The following are questions that we had for the school district and, with the close of the investigation, we decided to pose them for Superintendent Winfred Roberson.
Here are our questions:
1.    Why was Julie Crawford not offered a VSA last summer?
2.  Why was there a delay between the conclusion of the investigation in November, the letter from Matt Best to Robert Peterson in December, and the decision to withhold a VSA to coach Crawford in late January/early February?
3a.  The district has a policy that automatically investigates complaints; first, why did this complaint get investigated externally?  Who made that call?  Who decided who should investigate that complaint (what firm or attorney)?
3b. Is there a fail safe in terms of the amount of time and money an investigation would cost?  Who makes that determination?  At what point does the school board get alerted to the investigation?
4.  Who made the decision to pull Coach Crawford's VSA in late January/early February?
The following is the statement that the Vanguard received from Superintendent Roberson yesterday evening:
"DJUSD does not disclose confidential personnel matters to the general public. It has always been our legal and ethical practice to protect student and employee confidentiality, even to detriment of popular opinion.   Employees in any work place expect and appreciate confidentiality as an organizational practice.
"Board Policy 1312.1-4 and administrative regulation 1312.1-4 guide DJUSD's administrative complaint processes.  DJUSD Board Policies and administrative regulations support due process and the right for all parties in complaint procedures to appeal.  Ensuring that all parties have been heard and responded to appropriately takes time. Administration is exploring ways to possibly shorten this timeline without compromising due process for involved parties. The DJUSD Board and administration will review the above BP's and AR's at an upcoming Board meeting to help parents and employees understand them better."
"Investigations reveal facts that ultimately lead us closer to the truth. We recognize that not all complaints are the same. When faced with unique and complex investigations, DJUSD historically has engaged outside assistance, including when appropriate, legal counsel. Regardless of the level of complexity, all our student, employee and parent investigations are conducted professionally in compliance with Board Policy, State and Federal laws. As a community of learners DJUSD is always open to improving its practices, at all levels."
To these questions we add one as to why Ms. Crawford was not allowed to see the administrative investigative report prior to her appeal last week.
Personnel laws were put into place for the protection of public (and private) employees.  However, too often those laws meant to protect employees are used by public agencies to shield them from scrutiny.
There is little public accountability here.  The district spent over $22,000 on a 72-page report that detailed the cutting of a player and we cannot ask questions and receive answers about how that money was apparently spent and who exactly made that call.
Clearly, we are getting closer to the need for a Grand Jury investigation because at least they can pierce confidentiality laws and compel public officials to give testimony.
The fact that the district has now rehired Julie Crawford, after a slap on the wrist, only adds to the intrigue.
As Bob Dunning put it on Wednesday, "Her transgressions were detailed in a 72-page, $22,000 report that both the District and the Board read with a fine-tooth comb, but apparently the complete report was never offered to Crawford ahead of time so she could mount an informed defense."
He continued, "Still, come Monday, the superintendent met with the deposed coach, decided she had been flogged enough, and suddenly began to treat her as the Coach of the Year that she is."
"If you're scratching your head and wondering out loud how in a span of little more than 80 hours Julie Crawford could go from bad coach to good coach in the District's mind, you are not alone," Mr. Dunning writes.  "The District is like the guilt-ridden dad, who, after angrily sending the children to bed for making too much noise, feels so bad that he calls them back into the living room and announces the whole family is going to Disneyland."
Later he states, "We keep hearing that 'mistakes were made,' but the only one who had to go to confession and genuflect at the Board's feet on her way out was Julie Crawford."
He adds, "I've yet to hear a single Board member or anyone from the District staff who participated in this debacle admit even the slightest degree of fault."
Mr. Dunning continues, "The three Board members who voted to punish Julie Crawford have yet to register any disagreement with the ill-advised hiring of three outside attorneys to compile a top-secret report at taxpayer expense."
Furthermore, he notes, "And then, almost simultaneous with Roberson's about face, Board members Sheila Allen and Susan Lovenburg released a letter to the editor of The Davis Enterprise basically telling us all that it's 'time to move on.'"
He concludes, "I guess if I were running for City Council as Allen is, I'd suggest it was time to move on, too, but it's never wise to talk down to folks in the Second Most Educated City in America. Nancy Peterson learned that lesson the hard way after telling the whole town to 'calm down.'"
This is what troubles me.  First, we have no accounting for the expenditure of tax money.  The superintendent won't even state who made the decision and what safeguards there are for preventing the investigation from becoming a runaway train.
Second, there is the Sheila Allen-Susan Lovenburg piece that quasi-details the findings against Julie Crawford with no acknowledgement of board or district mistakes.
Third, the most severe punishment, albeit self-imposed, was on Nancy Peterson and her resignation and yet there is nothing from the district indicating that they have an inclination to investigate her activities.
I know the district wants to put this behind them, they are desperate to do so, but their actions this week have triggered more questions than answers.
—David M. Greenwald reporting