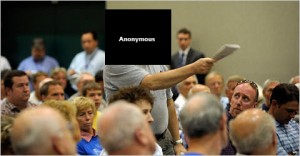 Last week, once again, we heard public complaints about the lack of civility in anonymous commenting.  This was raised for the second time with regard to the Nancy Peterson – Julie Crawford controversy.
As one commenter noted, "As a member of the Vanguard Editorial Board, I have heard from a number of people who read the Vanguard, but never post because of the perceived viciousness of some who choose to post anonymously."
The commenter continued, "While I defend the right of all posters to comment in the manner that they see fit within the well established guidelines as currently monitored by Don Shor, I feel that a much richer conversation could be had if all members of the commenting community felt comfortable with the tone of comments on this site. Imagine the conversations that might ensue if all members of the community with their wealth of education, training and experience felt comfortable posting here."
These comments followed those of Sheila Allen, who stated last week, "I'm very concerned about the tone and accusations that have occurred behind the façade of anonymous comments.  Let us be the models for our children of civil dialogue and working together to solve our community problems."
The point of this is not to single out either the Vanguard board member or Sheila Allen, but rather to raise and discuss the issue at hand.
First of all, I feel that there has been the conflation between blogs, message boards, and social media sites.  Facebook is a social media site and probably the most used by far of all social media here in Davis.  While there are a few exceptions, I would say 99% of Facebook users post comments and status updates under their own name.
On the other hand, the Enterprise and Vanguard have comment sections where users can post comments.  Some choose to do so under their own name, some anonymously.
I guess we could attempt to analyze and quantify the comments, but in my view I do not see a lot of difference in the tone of comments made under their own names and comments made anonymously.
I have always stood up for the rights of people to express opinions either way.  When I got involved in local politics, we were in a situation where a lot of people would tell me that they agreed with my wife and my views on the Davis Police Department, but expressed reluctance to speak out due to fear of consequences.
The idea of the Vanguard at its inception was to create a place where people could speak out without fear of consequences, politically or professionally.
At the same time, we have taken the issue of tone very seriously.  We did not want conversations to devolve into name calling and viciousness, and for the most part between Don Shor's work as moderator and other site features, we have avoided that to the point where Don Shor rarely if ever pulls a post these days.
In the next few weeks we are going to be working to codify rules of conduct, mostly because the site has grown so large and so well-used that we need to have more formalized rules.
So what I think here is this is a perception issue more than anything else.
It reminds me of a local politician a few years ago who spoke about the need for civility in public discourse.  It was ironic that this particular politician would bring up the need for civility, because, while this individual spoke in an even and measured tone, this individual was also often linked to particularly vicious political policies and tactics, as well as underhanded campaign tactics.
I have come to believe that, for the most part, the call for civil discourse in a situation is itself a code word.
There is an expression that attorneys use in their arguments.  When the facts are your side, pound on the facts.  When the law is on your side, pound on the law.  When you have neither on your side, pound on the table.
In other words, make an argument that distracts from the weakness of your position.  And in this case, people have taken to pounding on the blogs and social media, because they cannot stand by their own positions.
Robert Peterson, during his public comment on February 20, stated, "I've gotten to a point with this process where the distortions and the lies and the blogs and the newspaper articles that are uninformed are just intolerable at this point.  I don't know how to get my side of the story out per se, because everything is restricted, everything is personnel issues, everything is confidentiality."
"I'm at a point where the blogs as I related to the board previously …" he continued, after a brief interruption by Board President Daleiden.  "The previous coach is now blogging, putting links to a 14-year-old's team to discredit the coach that was hired previously (Rob Cole), whose only interest is coaching volleyball."  He added, "If he's connected to me somehow that suggests that there's some plan  I didn't know anything about him interviewing or anything about his position."
"My 13-year-old is linked on the Davis Hub website," he said.  "My 13-year-old!  Who here is okay with this?  We've gone past just harassment to craziness.  I would appeal to the board to end this situation."
This was a losing strategy.  It did not help, of course, that he missed the essential element here.  He wasn't the victim here.
He started this mess by leaking the letter from Matt Best to the Davis Enterprise, but when he saw he had no ability to control the message once the information got out to the public, he attacked the very medium that offered him his best chance to change public perception.
Social media and blogs can be scary for public officials who lack the insight into how to direct and control messages.  Once upon a time, a savvy media person could frame the one-way communications to the press and shape a story.
With blogs and social media, the public has the ability to counter that message in ways that clearly frighten those in power.
Moreover, we have seen three clear examples where media tactics have backfired on those attempting to control the message:  Robert Peterson's leak to the press, Nancy Peterson's Op-ed, and most recently Sheila Allen and Susan Lovenburg's letter.
All this leads me to this inescapable conclusion that civility has become the code word for "I can't control the message" and "I don't want to be criticized."
People say, "I don't want to get into the fray."  Why not?  You are in the fray.  You don't respond in kind to negative attacks, what you do is address the underlying facts and gain appreciation from the public that you are not trying to do something underhanded.
My experience is, when you interact with the public in that manner – as we do every day on the Vanguard – that you gain respect even from those who disagree with you.
The bunker mentality in 2014 is a losing strategy.  Public engagement will win the day.
There are different ways to go about doing it.  Rob White, for example, has a weekly column but will also engage with the public even on other topics.  There was distrust early on, but as people got to know Rob White, they started to listen to him and his efforts and the result is that he probably has a very high level of trust.
Gina Daleiden is the board president, she never to my knowledge has posted on the Vanguard, but she has spent countless hours with myself and Bob Dunning, Jeff Hudson, Chris Saur and others explaining the process and trying to figure out how to get things right.
Two different ways to engage the public, but both in their own ways successful.
When the facts and the law are against you, it is easiest to blame the blogs and the social media.  What might be missed in all of this is that blogs and the social media are the public screaming out against what they see as a preposterous process and a great inequity.
Wise politicians do not fight public opinion.  They listen to what the public has to say and they engage with the public.
—David M. Greenwald reporting