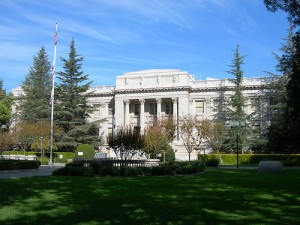 On Sunday, March 23, 2014, from 5:00 to 7:00 PM the Vanguard Court Watch is sponsoring the Yolo County Judicial Candidates Forum at the Mary K. Stephens Library in the Blanchard Room, located at 315 East 14th Street in Davis.
Attorney John Brennan, Yolo County Commissioner Janene Beronio, Deputy Attorney General Larenda Delaini and Sacramento Family Law Attorney Rick Cohen are candidates in the race to replace Judge Stephen Mock, who announced that he was stepping down after 24 years.
The format will allow the judicial candidates to ask each other pre-selected questions and then will allow the audience about 30 minutes to ask their own questions of the candidates.  These questions will be carefully screened to ensure they meet stringent judicial canon requirements.
The event will be co-sponsored by Davis Media Access, which will record and rebroadcast the candidate's forum at a later date.
"It has been since 1990, the last time there was an open and contested judicial seat," said Davis Vanguard Executive Director David Greenwald.
The judicial election takes place in June.  If no one reaches the 50% threshold, the top two vote-getters would meet in the November General Election.
"The public has four qualified candidates to choose from.  This is an opportunity for the public to gain critical knowledge necessary to make an informed decision in June," Greenwald said.