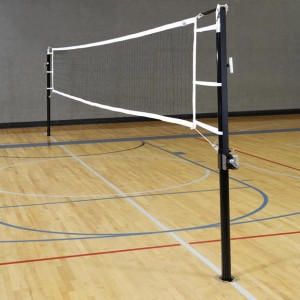 In the list of administrative vacancies provided to the Vanguard from Matt Best, the Assistant Superintendent of Human Resources, which also included Emerson and Harper Junior High Principals, the King High Principal and the Davis High Vice Principal, Athletic Director Dennis Foster stood out.
It has barely been a year since he was honored as the Sac-Joaquin area's top athletic director for 2012-13.  Now he will be leaving his post in June, having completed four years in his post in a position that has had 6 ADs in the last 11 years.
In a letter he stated, "I have realized that I miss coaching too much–my family misses it as well, so I need to do everything in my power to return to the bench once again."
At the same time, he said, he will probably stay local. "My wife is a special education teacher in the Sacramento area and it's a really good job. I'm not interested in having her move. But obviously, if something that I can't turn down comes up, I would return to San Diego, which is where I grew up and I would certainly take the job at my alma mater, which may be available."
In a lengthy conversation with the Vanguard on Tuesday, Dennis Foster reiterated his desire to get back to coaching, and he said that the last three and a half years have been the longest time he has spent not coaching since he was 17.
In addition, he had the opportunity to be at school with his son for the past four years, but his son graduates this year, which makes a change at this point a bit easier.
In addition to being AD of the Year, he feels he has had a successful four-year run, citing success both on the field and academically.  He pointed to the number of kids moved onto the next level with pride.  He has taken part in a number of signing ceremonies and he is also proud that the softball field has been renovated for the first time in decades.
He said that the AD job was a job that he wanted, he was able to get, but now it is time for him to reach out for the next thing that he wanted.
When he was hired, the district did a two-week search.  He would like to allow the school and community to do a much more extensive search.  He said it is a difficult job, that it is surprisingly time consuming, and that it is going to take the right person to do it.
However, this of course is not the full story.  "The volleyball situation has taken a toll on me," he told the Vanguard.  "More importantly, it has taken a toll on my finally."  He said that it is very important to him never to be a burden on his family, which he considers the most important thing in his life.
His biggest concern is the chain of command.  Dennis Foster told the Vanguard that after his first year he created a chain of command that is in the athletic handbook, board approved and in place now for three years.
"It is not respected," he said.  "(And) it creates the biggest problem."
He said that, while people give a lot of excuses, if one person has a problem with another, they have to be willing to face the accuser.  "Until we tackle that, we are going to keep running into problems," he said.
He said it may be hard, but if a player or family has a problem with a coach, they need to hear directly from the person.  "We are not given the opportunity to respond to our critics," he said.  If a person has a concern with a coach, going somewhere other than that person of concern perpetuates the problem.
He is also frustrated that, along with problems of respecting the chain of command, he believes that the majority of the decisions need to come through the athletic department office.  He said of those above him, none of them have experience in athletics.
It doesn't necessarily need to be the final call, as by state law and district policy the school board must approve coaches, but that really needs to be a rubber stamp on the process with the legwork and recommendations coming from the AD and the principal at the site level.
He clarified, "I'm not saying that AD needs to be king, but in that position, your expertise and intimate knowledge needs to be used."
He believes that it hurts the progress of the programs here that what you say is never final.  He said, at the lower-level, if you are a coach and cut a kid, that should be their call.  He said that when you start telling a coach who to keep and who to cut, that sort of micromanagement undermines the coach.  He does not believe that is his job.
Analysis: Athletics Problem Similar to the Rest of the Community
In speaking to Dennis Foster, a lot of things became clear.  The biggest thing he said is that the level of micromanagement, complaining by the parents and meddling by upper administration, is unique to Davis.  He has spent years in Natomas and the climate there is very different.
This is part of the culture in Davis that has to change – coaches need to be allowed to do their job, in his opinion, and in our opinion you could replace "coaches" with teachers and with city employees, across the line.
Parents begin to insert themselves at levels that they should not with the Superintendent, the HR Director or the Board of Education.  This throws the structure off and parents end up putting political pressure on the upper administration, who then imposes decisions on the site level administrators.
Mr. Foster's discussion of the problems of the chain of command gives us further insight into how the volleyball situation got to whether it is now.
The Nancy Peterson-Julie Crawford struggle began with a dispute between Nancy Peterson and the previous volleyball coach, Leigh Whitmire Choate.  It was Julie Crawford's friendship and support from Ms. Choate that led to a personality clash that continued to escalate.
As Leigh Choate described, the conflict goes back to days when Ms. Peterson was an assistant volleyball coach.
As Ms. Choate described: ""This started in 2010 when I was the Varsity VB coach at DHS. Nancy was my assistant, Julie was the JV coach and we had another girl coaching the freshman team. Nancy's friend didn't like the freshman coach for personal reasons and Nancy asked me to to not have the frosh coach back the following year. I said no. At this point in time Nancy was a very close friend of mine and my family."
She continued, "The following year I retired from coaching after a very long coaching career and Julie took over the varsity team and the other coach took the JV and a new frosh coach was hired. Nancy had asked Julie to do the same thing she had asked me, don't hire the now JV coach back and Julie also said no."
"This just continued to escalate from there as both I and Julie stood up for what we believed to be best for the vb program at DHS and Nancy didn't agree. Nancy was only an assistant coach with me for one year. Nancy didn't want to coach , she just wanted to have a say in who did," she said.  "IMO it was not Nancy's goal to coach, I think it was an effort to get close to the program so that she could try and control how things were done within the program."
As we now know, when Nancy Peterson ran for school board, even her supporters warned her that she should avoid the volleyball program, but she could not.
What becomes clear here is that the chain of command was not respected.  The decisions on whether to hire and fire coaches should have been made by the athletic director and it became clear that, between HR Director Matt Best and Superintendent Winfred Roberson, that chain of command was not respected.
It was Mr. Roberson who acknowledged pulling the VSA last July.
It is also clear that the chain of command issues did not start with Nancy Peterson.  It was Winfred Roberson who made the decision to fire Coach Christian and it was left to Athletic Director Dennis Foster to coach the basketball team for the rest of the year following that debacle.
Dennis Foster clearly believes that the coaches need to be allowed to pick which players are on their team, which player can get cut, and he disagrees with the idea that every senior who wants to participate should be allowed to be on the team.
What he sees as the ultimate problem here is a structure that allows parents to complain about things like playing time and other things that are in the purview of coaches to district administration and board members.
School board members have told the Vanguard that they frequently receive complaints from parents about playing time.  The appropriate response from a board member, Superintendent, or HR Director should be to talk with the coach or, better yet, allow the students to handle these issues on their own.
We live in a culture where the second guessing of coaches is an industry-wide problem; it starts at the national media level on down.
On the other hand, what employee could survive a parent or board member following them around every practice and every game with a notepad that illustrated their mistakes in strategy or otherwise?
Unfortunately, the more I talked with Dennis Foster, the more I realized that this problem is really far bigger than athletics.  I heard the same complaints from him that I do from city employees, city councilmembers, school board members and teachers.
We need to decide as a community what kind of community we want and we need to start trusting the people we hire to do their jobs.  It is one thing to scrutinize policy level decisions made by elected officials, it is another to micromanage site level decisions, whether they are made by coaches, teachers, or other low level employees.
—David M. Greenwald reporting