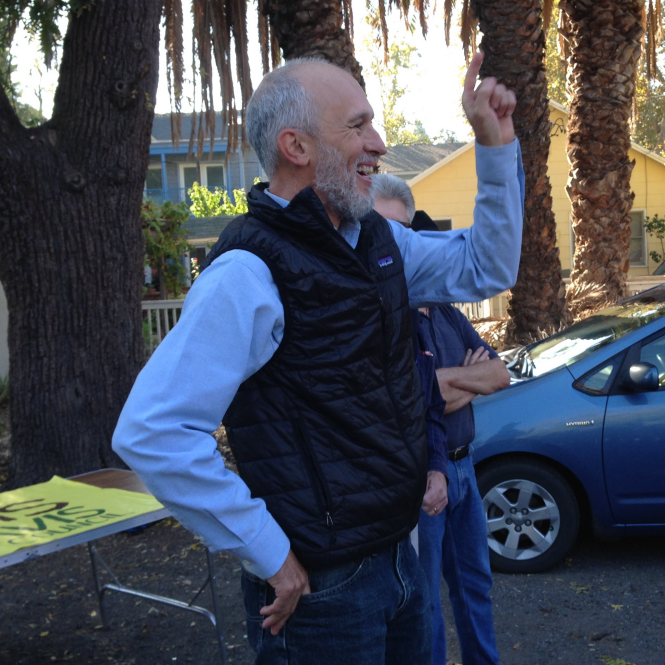 Mayor Pro Tem Robb Davis heads the list of seven honorees at the Fourth Annual Vanguard Court Watch Dinner and Awards Ceremony. While the Mayor Pro Tem was elected to the Davis City Council in June, his body of work in the community includes his work on restorative justice and on behalf of the homeless.
His work on behalf of restorative justice helped to shape the direction of the District Attorney's Neighborhood Courts Program in Davis. The DA's office explains: "Neighborhood Court is a restorative justice program initiated by the Yolo County District Attorney's office in cooperation with the Davis and UC Davis Police Departments. Neighborhood Court seeks to address nonviolent and low level crimes through community-based solutions to swiftly redress the harm caused by these offenses outside of the traditional criminal justice system."
As Lisa Rea, President and Founder of Restorative Justice International and a Davis resident, wrote, "As a national expert in restorative justice, Robb understands its importance as communities seek ways to respond to crime that restore victims, hold offenders accountable in ways that change behavior and keep the public safe."
Robb Davis is one of seven individuals and groups that will be honored for their commitment to social justice around our legal system.
In the spring of last year, the Davis community was stunned when Mikey Partida was attacked and brutally beaten by another local resident who shouted anti-gay epithets at him. In the face of that brutal attack, Mikey Partida's mother became active and helped to found the Davis Phoenix Coalition.
A non-profit, the "mission of the Phoenix Coalition is to gather and engage the Davis community in ongoing efforts to eliminate intolerance, for the purpose of preventing hate motivated violence and thus cultivating a broader civic culture that embraces and promotes all aspects of the city's diverse community."
The Uniting for Racial Justice (URJ) committee of the Unitarian Universalist Church of Davis (UUCD) began informally about a decade ago, as several members of the church met to discuss issues of racial injustice.
The group became particularly active following the noose incident in the summer of 2012 at Davis High School's football stadium. The group has had numerous workshops, classes and book discussions at church, dealing with such topics as immigration, bullying, racial profiling, economic justice and white privilege. They collaborate with several community organizations, including the Culture Co-op, Davis Human Relations Commission, Davis Phoenix Coalition, Yolo Interfaith Immigration Network, Get on the Bus, Whites Uniting for Racial Justice, and the District Attorney's Multicultural Task Force, among others.
This year, "we changed our name from Anti-Racism Task Team to Uniting for Racial Justice to better reflect a positive goal of promoting justice and cultural diversity. Guided by our principles, Unitarian Universalists are called to work for racial justice; to nurture religious communities that are inclusive of people of all races, ethnicities, and cultural backgrounds; and to dismantle racism and other oppressions at home and in our larger society."
Stewart Katz has been an attorney who, for the past 27 years, has represented "the abused, the wrongly accused and the slightly guilty." He has had nearly 200 jury trials involving both criminal and civil issues, frequently in cases where those issues intersect.
Although based in Sacramento, a significant number of his more noteworthy cases and trials have arisen in Yolo County. These include: Bin Han, the UC Davis researcher accused of industrial espionage who, after his acquittal, successfully sued the University; a State Supreme Court writ against the State Bar on behalf of UC Davis law school graduate Sara Granda; Brienna Holmes – criminal trial and subsequent civil suit arising from Merck Hall fee protest; the criminal case People v. Ashraf et al., which the DA claimed was Taliban-inspired attempted murder; the Banker's Dozen case; the wrongful death of Juan Nieto; and a significant number of other police misconduct suits involving UC Davis, Woodland, Davis, West Sacramento and Yolo County.
In the summer of 2009, the family of Ajay Dev contacted the Vanguard. Mr. Dev had just been convicted of multiple counts stemming from charges that he had raped his adopted daughter. The family laid out their case at the time that Mr. Dev was in fact innocent of the charges.
At a sentencing hearing a week later, the family was stunned when Mr. Dev received a 378-year sentence. However, the family, friends, and other supporters have fought back, organizing numerous marches and protests, illustrating their belief that Mr. Dev is innocent.
At one protest, Patty Pursell, the sister-in-law of Mr. Dev, laid out a timeline of the incidents.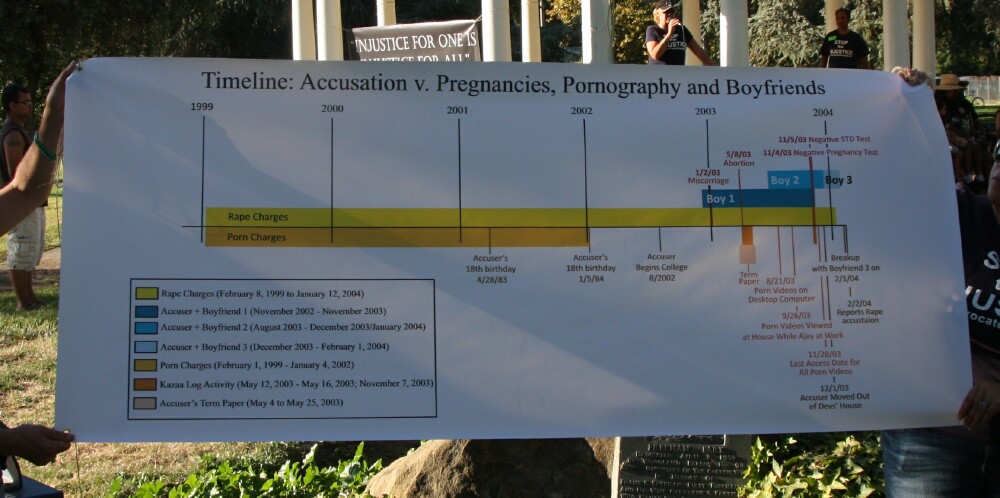 She explained, "When you put the case on a visual like this, it becomes very obvious that this was a case, not of rape, but a case of teenager and parents fighting that escalated."
From the start, Patty Pursell has been among the organizers that has kept this case in the limelight in Yolo County.
As I have written before, I did not start out a believer in Ajay Dev's innocence.  I had not seen the trial, though I was troubled at his sentencing by the enormity of the 378-year sentence and the disproportionality of his apparent crime to the time he would serve.
I was troubled at the notion of such a long sentence for a conviction that was really based on two very thin pieces of evidence.  First was the alleged victim's testimony, which even the jurors acknowledged was difficult to swallow, and second, the ambiguity of the pretext phone call.
It was not until I read the appellate brief where the missteps, mistakes and outright misconduct of both the judge and deputy district attorney were laid out for all to see.  Judge Fall mishandled the pretext phone call and translation, lost his patience, and made the ridiculous legal ruling allowing the victim herself to act as a quasi-court appointed expert on translations.
The Ajay Dev case was the direct impetus for creating what was the Yolo Judicial Watch and became the Vanguard Court Watch. It illustrated the potential for injustice and the need to create a mechanism that could monitor and shine light on the Yolo County judicial system.
The Prison Law Clinic has existed as a course at King Hall, UC Davis School of Law, since the late 1970s. Since 1984, supervision of the clinic's operation and its law student interns has been provided by the staff attorneys of the Prison Law Office in Berkeley, California.
The clinic's mission is to provide free legal services to prisoners of the state of California seeking to remedy violations of their Constitutional and civil rights. Although the clinic does not pursue attacks on criminal convictions or sentences, the clinic does represent prisoners under sentence of life with the possibility of parole in exercising their rights to pursue parole under California Law.
Over the years, the clinic has helped many prisoners exercise their rights to obtain medical, dental and psychiatric treatment for serious injuries or illnesses, to obtain visitation with relatives and friends, to observe religious practices and religious dietary restrictions, to obtain corrections of mis-calculated release dates, to challenge disciplinary violations or placement in solitary confinement, and to recover lost or damaged property, among other matters.
For the past 27 years, Millard Murphy has been the Director and attorney supervisor of the Prison Law Clinic.
The Vanguard also honors the work of Valeria Hernandez, President of the California College Democrats.
Growing up in the working-class community of the Inland Empire, Valeria learned the value of hard work and community service. A recent graduate of California State University, Sacramento, Valeria is passionate about democratic politics and is a strong advocate of health care, education and women's rights.
In March, Valeria was elected President of the California College Democrats, the largest college Democrat federation in America, with college chapters at UC, CSU, community college, and private university campuses.
While going to school, Valeria worked as a teacher's assistant for California Mini Corps, which works to provide direct instructional services to migrant students and to promote advocacy for them in their schools. Valeria currently works for the California Vote Project, which focuses on increasing voter registration in targeted assembly districts.
The Vanguard honors these groups and individuals for their work on behalf of social justice in our community and throughout our region. Join us on November 15 to honor them as we learn about Prosecutorial Misconduct from Orange County Public Defender Scott Sanders and our group of panelists.
—David M. Greenwald reporting