This week I was taken back to a different time and a different place in my life. The Senate Report on the CIA's torture, lies and coverup brought me back nearly a decade in time.
The New York Times on Tuesday wrote, "The world has long known that the United States government illegally detained and tortured prisoners after the terrorist attacks of Sept. 11, 2001, and lied about it to Congress and the world. But the summary of a report released Tuesday of the Senate investigation of these operations, even after being sanitized by the Central Intelligence Agency itself, is a portrait of depravity that is hard to comprehend and even harder to stomach."
The Times notes that the report again raises the question as to "why no one has ever been held accountable for these seeming crimes — not the top officials who set them in motion, the lower-level officials who committed the torture, or those who covered it up, including by destroying videotapes of the abuse and by trying to block the Senate Intelligence Committee's investigation of their acts."
Furthermore, "The C.I.A. assured Congress that the behavior of the secret jailers and interrogators was nothing like the horrors the world saw at the Abu Ghraib prison in Iraq. That was the closest the agency seems to have come to the truth — what happened appears to have been worse than what took place at Abu Ghraib."
This week, Eric Fair wrote an op-ed in the New York Times, "I Can't Be Forgiven for Abu Ghraib."
"I was an interrogator at Abu Ghraib. I tortured," he writes. "Abu Ghraib dominates every minute of every day for me. In early 2004, workers inside Abu Ghraib were scrambling to cover the murals of Saddam Hussein with a coat of yellowish paint. I accidentally leaned up against one of those walls. I still wear the black fleece jacket with the faded stain. I still smell the paint. I still hear the sounds. I still see the men we called detainees."
He spoke of his experience with students in a classroom who did not really recall Abu Ghraib. He writes, "It was my first encounter with a generation that doesn't consider the release of the Abu Ghraib photographs to be a critical moment in their lives. I don't fault them. They were in elementary school at the time. It's something for history books. It's something their parents talk about. It's an answer on a test.
"As I looked at their blank faces, I realized I could let myself feel a powerful sense of relief. Abu Ghraib will fade. My transgressions will be forgotten. But only if I allow it."
For me, Abu Ghraib, as I think about it today, was probably a critical turning point in my life even though I was not involved in the transgressions. I remember when the photos were released, the shock and dismay.
But for me, it was in the summer of 2005 where the real impact hit me. I was a graduate student and enrolled in a summer program on Political Psychology at Stanford University. I spent a good portion of my summer in Palo Alto and the course was led by prominent political scientists and psychologists at Stanford who also brought in a number of experts.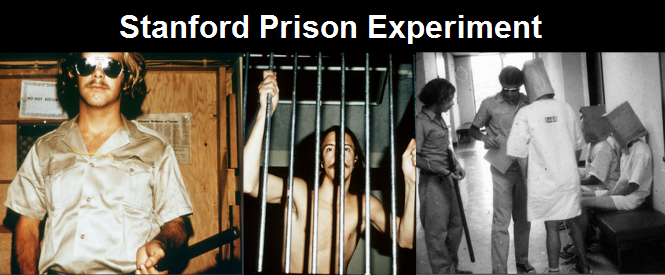 One of these experts was Professor Philip Zimbardo. Professor Zimbardo will likely be best known for his 1971 research that became known as the Stanford Prison Experiment. He was able to connect the results he had discovered nearly 35 years earlier to the mentality at Abu Ghraib.
In fact, he served as an expert witness during the Abu Ghraib trial. He showed us many photos – far worse than the ones that have made it to the public. Photos I still have that I still don't believe have been published.
In 1971, he accidentally discovered that, under specific conditions, ordinary people can willingly engage in horrifying acts. The research, which would be illegal today, gave us tremendous insight into atrocities such as occurred during the holocaust in Germany before and during World War II, and more recently at Abu Ghraib.
Twenty-four students were selected to play the roles of prisoners and to live in a mock prison.  The roles were randomly designed and what happened is that the participants ended up adapting to their roles far beyond what the experiment was intended, to the point where many of the "officers" engaged in authoritarian behavior and even began torturing the "prisoners."
Professor Zimbardo acknowledged that the experiment even impacted his own conduct and permitted the abuse to continue until a number of the prisoners quit the experiment early and the experiment itself was ended after just six days.
Professor Zimbado's research changed the way research was conducted and also gave us insights into what he referred to as a situational attribution of behavior, rather than a dispositional attribution.
For Professor Zimbardo this meant that otherwise good people could be "corrupted by the behavioral context, by powerful 'situational forces,' " as opposed to dispositional behavior which would be explained more by personal pathologies, character defects and sadistic personalities.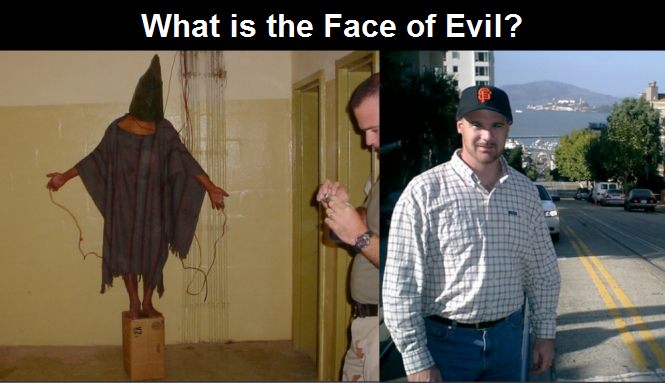 This research immediately led insight into the holocaust, where there was a dichotomy of sadistic behavior carried out by "monsters" like Dr. Josef Mengele, and also barbarism carried out by seemingly normal individuals.
Professor Zimbardo's research showed an environment with normal people working in inhuman conditions, "12-hr night shifts, 7 days a week, 40 days with no break; extreme exhaustion, high stress level, chaotic conditions, filth, noise, unsanitary; in charge of 1000 prisoners, 12 army reserve guards, 60 Iraqi police…" and under the constant fear of attacks, where soldiers and prisoners were killed and wounded, and finally broken.
The Fay Report, by Major General George Fay in August of 2004, lends credibility to Professor Zimbardo's claims that the commanders and leaders should bear far more blame than those on the ground who perpetrated the horrific acts.  For a period of seven months, "Military Intelligence personnel allegedly requested, encouraged, condoned or solicited Military Police personnel [the Army Reserve guards] to abuse detainees, and/or participated in detainee abuse, and/or violated established interrogation procedures and applicable laws…" the General reported.
"Abuses would not have occurred had [military] doctrine been followed and mission training conducted," he continued.
"The environment created at Abu Ghraib contributed to the occurrence of such abuse and the fact that it remained undiscovered by higher authorities for a long period of time," he concluded.
Nevertheless, the military court found that individuals were "personally responsible for the abuses," and therefore they were dishonorably discharged and imprisoned for a number of years.
Professor Zimbardo told us this was "the triumph of a mindless dispositional view," where the individual gets blamed without regard to situational determinants, and the corrupt system and chain of command – both the military and the Bush administration – were absolved.
It is I think this point that the Senate Report on terrorism attempts to get at. As I think back on my experience with Professor Zimbardo and Abu Ghraib, I think the experience fundamentally changed my mindset. The seeds for what would happen later in 2005 and early 2006 were laid by my growing distrust of government and the due process of law.
The fact that, ten years later, we have failed to reconcile our actions with our principles further undermines the belief in the ability for institutions and due process of law to overcome what others might call "the banality of evil."
—David M. Greenwald reporting