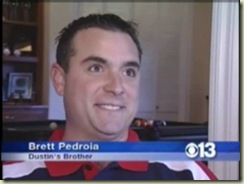 In a county where many complain about disparate treatment in the Criminal Justice System between people who are white and of privilege and those who are minorities, the 8 month sentence that Brett Pedroia received for performing multiple sex acts with a minor has stuck out for quite some time.
The fact of the matter is that not only is Mr. Pedroia the brother of Red Sox second baseman and former MVP and Rookie of the Year Dustin Pedroia, but his family is a prominent and respected family in the business community of Woodland.
Compare that sentence to that of Nepalese Immigrant Ajay Dev, who for what would seem to be a similar series of crimes, received a 378 year sentence that many in his family and the community consider to be far too harsh.  Moreover many have questioned the verdict itself.
Emerging as a key point of controversy now is a letter penned by Woodland Mayor Skip Davies on City of Woodland Letterhead to Judge Paul Richardson.
Mayor Davies wrote on May 12, 2009:
"I am writing requesting leniency in the judicial proceedings pending with regard to Mr. Brett Pedroia.  I have known this individual since he was a child and more recently as a husband, father, friend and local businessman."
The anger in Woodland stems now from the fact that the letter was printed on official city letterhead and signed using the title of mayor creating the implication that the Mayor inappropriately used his elected office to sway the decision of high profile case in which he had a personal interest.
The full text of the letter was first reported earlier this year by Eric Alfaro and can be viewed here.
The Mayor apologized for his actions telling the Woodland Daily Democrat:
"Many people have come forward to criticized the fact that city letterhead was used.  I understand the criticisms, and I accept them as valid. Looking back, I can say that I regret the decision, and should have deal with the matter differently."
Commentary: Disparate Justice in Yolo County
While Woodland residents may be up in arms about that the use of official stationary and title to grant leniency, Yolo County residents should be appalled that the son of a prominent family only received eight months of an already truncated one-year sentence for oral copulation with a child under the age of 14.
We can talk about plea agreements and their impact on the outcome, the fact is Pedroia only faced a maximum sentence of 10 years in prison had he been found guilty of two counts of committing lewd acts with a minor and two counts of oral copulation with the minor, according to authorities.  Prosecutors had dropped the other three charges in the case.
Based on that, he was able to plea to a one-year sentence.
We can write a book, probably a volume of books on the differentials in sentencing between whites and minorities in this country.  The Brett Pedroia situation is only the latest example that stands out and to be fair this is not just about Yolo County Justice, it is a story about the American Justice System.
Numerous studies have shown that minoriy defendants are more likely to be found guilty and spend more time in prison than white counterparts committing the same crime. 
Part of what I wanted to show here is that for a similar serial case of child molestation, Ajay Dev was charged with far more crimes to begin with than was Mr. Pedroia.  Ajay Dev never would have been able to plea to just a one year sentence where he was released after just 8 months.  And he gets an additional punishment perhaps if he truly is innocent for not confessing to a crime he did not commit?
People may get up in arms when a child molester is allowed out of prison after a limited time, but few get up in arms about the differential treatment that a man like Brett Pedroia serves rather than a man like Ajay Dev.  We can talk about the differences in the two cases all we want, and certainly there are a number, but the bottom line is that one year was too short for Mr. Pedroia and 378 years for Mr. Dev, assuming he even committed the crime, is far too harsh.
As an additional note, I would also point out the good work by Mr. Alfaro here, who beat the Woodland Daily Democrat to the story.  This is just another example of a newspaper in a small town not doing due diligence.  We can point to a number of times when the Daily Democrat and the even the Davis Enterprise and Sacramento Bee almost verbatim reprint the District Attorney's Press Release without any follow up or attempt at balance in reporting a story.  People criticize bloggers and alternative media sources for bias, but that is a huge bias right there in the mainstream news.
In the meantime, newspapers rarely pursue or follow up on stories and really dig.  They often complain that they lack the staff and resources to do that, but color me unimpressed with that argument having done this site nearly by myself for almost four years, it is a matter of dedication not resources and staff that produces news that does not simply regurgitate the company line.
I have registered a lot of complaints about the criminal justice system in Yolo County, but my top complaint is not even about over-prosecution and over-charging of some people, rather it is about the over-prosecution of some people and the under-prosecution of others, and most of that is not random.  The people most least connected and most likely to acquiesce to the system are those most likely to be targeted for prosecution.
I will say one other thing, I think the DA underestimated the resolve of the family of Ajay Dev, they have resources and resolve and I think the DA will come to regret their decisions in that case, because that family will not let things go.
—David M. Greenwald reporting