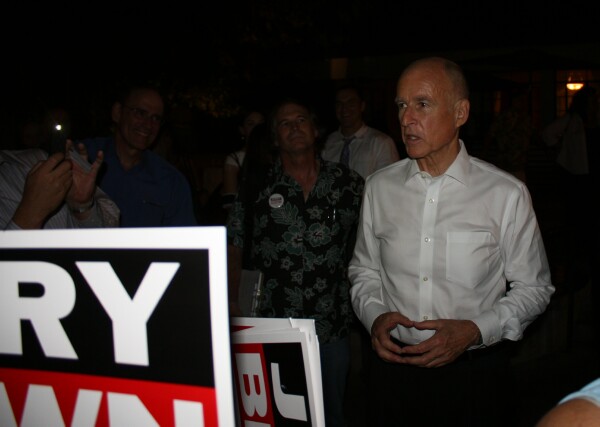 In an Op-ed in the LA Times yesterday, Joe Mathews asked if the failures of Arnold Schwarzenegger will save the state.  He argued, "Nothing worked for Schwarzenegger because the system itself doesn't work."
He went on to argue, "On fiscal and budgetary matters, Schwarzenegger suffered defeat after defeat. The state's fiscal record after his seven years — California has the same budget deficit now as in 2003, with a much larger debt — has led commentators across the political spectrum to write him off as a failed governor. That conclusion has a factual basis — and is deeply wrong. And it obscures the most interesting and important lesson of his governorship. Put simply: The sheer number and surpassing scale of Schwarzenegger's failures to fix the state budget constitute a grand and peculiar success, especially if Californians heed the lessons they provide."
The question is whether we will learn the lessons of his defeats.
I do not completely agree with Mr. Mathews' evaluation of the Governor's defeats.  He cites a "relentless political pragmatism" that he says was "unrestrained by ideology, consistency and other obsessions of the small-minded" and that this "led him to try virtually every budget-balancing policy possible under California's governing system."
The problem is that he ignores the role that the Governor's personality played in his demise.  He had the policies of a moderate, but the rhetoric and conduct of an extremist.  He had the you're either with us or against us mentality, but policies that lay somewhere between the Democrats and Republicans.
That is not to say there is not a good deal of truth in the view that the system is broken.  I certainly believe there is.  I do not think that California is structurally governable.  Not with the polarization between the Democrats and the Republicans politically, which will not be resolved with changes to either redistricting policies or the non-partisan ballot. 
There are too many geographic residential partisan patterns for such tactics to work, other than in a few very marginal districts.  But the fact of the matter is, California is largely a blue state these days with a few very discernible pockets of Republicans – Republicans who are just as right-wing as any in the nation.
The problem that Governor Schwarzenegger had was that he was not one of them.  When he tried to be one, he got his butt kicked in 2005.  But because he was not one of them, he could not bring them to the table.
And that is the other problem that California faces, that even with strong control of both houses and every branch of government by the Democrats, the Republicans have had just enough strength to keep the Democrats short of the two-thirds vote requirements needed to pass a budget prior to 2011 and to raise revenue.
The result is that the Republicans had nothing to gain by following the Governor, and nothing to lose by stalling government.  In fact, they had a lot to lose by going along, as the few legislators who did finally allow a budget to pass very quickly learned.
Governor Jerry Brown walks into the Governor's mansion with several advantages that his predecessor never had.
First, experience. Governor Schwarzenegger lacked both the experience and the mentality to be able to go into a room and hammer out a negotiation.  He was too arbitrary and attempted often to rule by decree and assertion rather than by the nitty-gritty of politics.  Jerry Brown understands the political world and he is better equipped to deal with these challenges.
Second, Jerry Brown will be able to bring his party further than his predecessor when it comes to political negotiations.  That is not to say that the Democrats will always follow him.  People who are older than me will remember better his feuds with his legislature and the fact that he was largely a cheapskate.  But in these times that may be a strength rather than a weakness.
Finally, we got one and only one structural change, but it is huge.  We can now pass a budget without a two-thirds vote.  We cannot raise revenue without it, but we can pass a budget.
However, as we will quickly see, that is okay.  It will force the Democrats to have to cut spending and if they cannot cut it by enough they can raise taxes by going to the voters and winning their support.  If they cannot win their support, they cannot raise taxes.  Jerry Brown is already making plans to do so.
Is California broken?  Perhaps.  But Governor Schwarzenegger was too inept to be a true test of that.  If Governor Brown fails to get budgets passed and get things done, then I think you have to come close to concluding that the system is broken and we have to fix it.  But I am not there yet, because I see too many things that Governor Schwarzenegger could have done differently and I think people such as Mr. Mathews are too narrow in their analysis.
Joe Mathews concludes by suggesting, "In the end, questions about Schwarzenegger's legacy have very little to do with him personally. They are queries for the rest of us. Will we come to recognize that it doesn't matter how smart or famous or experienced or moderate a governor is if the underlying system of government is broken? Will we learn the lessons of Schwarzenegger's defeats?"
"If we do, history may look upon Schwarzenegger as a governor who pushed us down the painful path to fixing our governance crisis. And his failures may be seen for what they were. Heroic."
But the reality is that he simply looks at personality in terms of political positioning rather than approach.  While it is true the Governor looked at a wide variety of different approaches, the problem was that his attitude, his personality, his personal weaknesses never changed.
It is not that I disagree that California has too broad a power in the initiative system, that the tax system is problematic, that the two-thirds voting system makes the state difficult to govern, it is simply that at the end of the day, try as he might, the Governor had neither the skills nor the capital with the right people to make things work.  Brown has both of those and so if he fails, I am much more likely to conclude it was the system's fault.
—David M. Greenwald reporting