The Investigation: Former LA Chief Bratton Heads Up Investigation
On Tuesday UC President Mark Yudof announced that former Los Angeles Police Chief William J. Bratton will undertake an independent fact-finding of the pepper spray incident and report back the results to him within 30 days.
"My intent," President Yudof said, "is to provide the Chancellor and the entire University of California community with an independent, unvarnished report about what happened at Davis."
A number of internal and external figures have called for an independent investigation into the matter.
However, the former LA Chief is an interesting figure to choose to head up the investigation, as Mr. Bratton himself noted in a press conference that his experience as LA Police Chief from 2003 to 2009 provided "no shortage of controversial incidents."
Chief among them was the 2007 May Day police incident at "MacArthur Park in which police officers were caught on videotape as they wielded batons and fired rubber bullets to disperse a mostly peaceful crowd, after a small group of protesters confronted police. Dozens of demonstrators and journalists were injured. A series of LAPD disciplinary steps resulted."
On Tuesday he held their inquiry into that event to be a "model investigation."
"I'm certainly not proud of the event, but I am proud of the report," Mr. Bratton said on Tuesday. "I am looking for a similar report that will give a truthful and objective, candid account of the events" at UC Davis, he added. Bratton said he had seen video of the pepper-spraying but declined to comment on it.
Mr. Bratton's effort will replace plans by the campus to internally review the matter.  However, the Yolo County District Attorney and Sheriff's Department are expected to conduct their own joint review.
The Vanguard remains skeptical of the efforts by the Yolo County District Attorney's office to investigate the matter.
Sheriff Ed Prieto on Tuesday did vow to the Enterprise that he was to do "a clean unbiased investigation…  We're going to review the whole incident, not just what you see on TV – there's obviously a lot more to it than that."
However, the Vanguard has learned that Lt. Pike, in particular, has close ties to the Yolo County District Attorney's office and we believe that the California Attorney General's Office and AG Kamala Harris would be better equipped to handle any inquiry in a fair and impartial manner.
While the Yolo County Sheriff's Department was not on the scene, the Yolo County law enforcement community is a tightly-knit community that has a tendency to protect its own.
This was a point perhaps inadvertently hammered home by comments by Davis Police Chief Landy Black, whose officers did not participate in the actual pepper spraying but are seen on video standing by.
While Chief Black took pains to clarify that his department was not involved in the pepper spraying or knew of plans to pepper spray, he also told the Enterprise: "I neither support nor condemn the actions of the UCDPD officers because I do not have sufficient facts. I have not conducted, and will not be conducting, an investigation to learn those facts. That is the role of those who have oversight responsibility."
However, he did say, "Nonetheless, the Davis PD will certainly take a lesson from what we've seen and heard."
It is unfortunate that the chief has not taken a stronger stance, as I actually believe that UC has a lot to learn from the handling of mass events by the Davis Police.
I have yet to see UC Davis Police properly handle a situation of mass protesters over the five years in which I have operated the Vanguard.  Time and again, events become fiascos, whether it was the 2007 illegal arrest of protesters at Mrak Hall, the 2009 incident involving Brienna Holmes, the various lockdowns of Mrak or the Tasering of students out by I-80, it seems each time UC becomes involved in a protest, they mess up.
Contrast that to 2007, when I watched as Davis Police officers very professionally handled a sit-in on the corner of Anderson and Russell.  Landy Black was barely on the job, but his men and women allowed those protesters not wanting to be arrested to leave and very gently and professionally arrested those who chose to be arrested.
The arrests were effected completely without incident or violence because they were handled properly.
Frankly, I cannot imagine a situation where the Davis Police would have resorted to this sort of response.
Unfortunately, Chief Black has decided, rather than to use this as a teaching moment to the community, to take a back seat.
He may express pride that their department handles demonstrations better than UC Davis, but I think he needed to say more, even if it meant he had to do so before there is a full investigation.  There are long videos of the incident; there just is nothing that we are going to learn after an investigation that we cannot see now on the tape.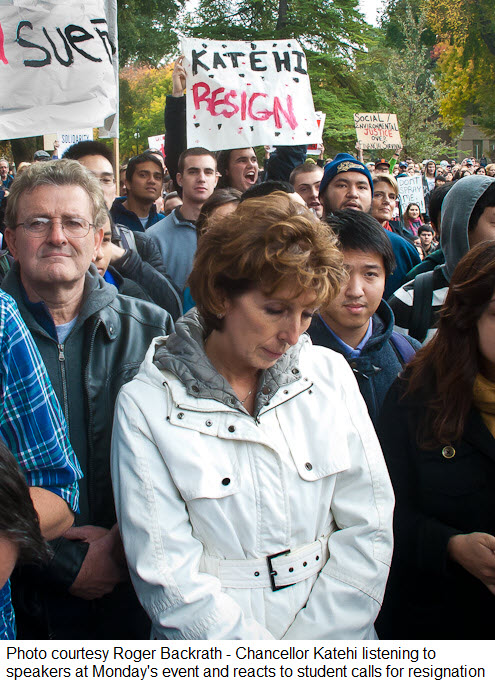 Viewpoints: Bee and Enterprise Call For Giving Katehi a Chance to Rectify Situation
The Sacramento Bee this morning argues that those calling for Chancellor Linda Katehi to resign are premature: "Those calls are premature. They are an overreaction. They reflect the passions stoked by a stunningly stupid police action that has gone viral, putting UC Davis on the international map for all the wrong reasons. Katehi and UC Davis deserve a more deliberate consideration of her overall leadership and her role in Friday's events before any decision is made on her future."
They argue that there is still much "unclear about what Katehi knew and authorized in the chain of events that led police dressed in riot gear to casually pepper-spray a line of students."
Instead, they argue to speed up the investigations.  They write, "Katehi and campus officials say she directed the police to peacefully 'remove the equipment' and not to create 'another Berkeley' situation, in which campus police used batons on protesters. She also says she never would have approved police in riot gear."
It would seem strange that the Bee would accept those explanations now, when just a few days ago they acknowledged that initially the chancellor seemed to defend the actions of the police.
They wrote, "It appeared the UC Davis protests were dying down before the police overreacted Friday, and it didn't help that Chancellor Linda Katehi initially came to their [the officers'] defense."
So, which is it – did Ms. Katehi support the officers' actions initially or would she never have approved the police in riot gear?
Moreover, the Bee misses the fact that Ms. Katehi already had a chance to diffuse the situation when the same police came to Mrak in riot gear two days earlier.  At that time, it was noted by administration officials that the administrators were tired and "overworked" and that Ms. Katehi was "triple-booked."
The statement yesterday that police were not told to use force against students is more "backpeddling and obfuscation" – these were not statements that were made right after the event, they are only made in the context of mass criticism, and thus needed to be treated much more skeptically than they are.
The Davis Enterprise yesterday basically argued that we need to give Chancellor Katehi a chance.
"We're not ready to join the chorus of voices demanding that she step down," the Enterprise wrote, noting that the chancellor has lost the student's trust.
"It remains to be seen whether she can regain that trust and lead the university out of this crisis. We're willing to give her that opportunity," the paper wrote.
However, the paper did not let the chancellor off the hook either, noting "Katehi missed important opportunities to talk with students before police were called in, when the Occupy crowd numbered 50 instead of 5,000. These students are devoted to communicating; it's time that university leaders started listening."
They wrote, "The students did their part Monday, giving the chancellor respectful silence during her remarks. Now is the time to talk, clear the air, acknowledge mistakes and begin to rebuild trust."
While the Enterprise notes that Ms. Katehi has been "relentless in her drive to raise the university's profile nationally and internationally," they failed to note that a huge part of her job has been as fundraiser and that is now severely damaged by the image of the university that she now embodies.
The poster on the Vanguard, Mr. Toad, again summed up the problem perfectly on Tuesday morning when he wrote, "She has taken responsibility, she has apologized, she has called off the dogs, what else do you want? Well she, Yudof or the Regents could announce what her penance will be. A hollow acceptance of responsibility is standard procedure for embattled leaders in addition to 'backpedaling and obfuscation.' "
"Without an explanation of the consequences of her acceptance of responsibility her leadership will be too impaired to succeed. Of course how will her leadership be judged a success?
"It has gone without notice but she voiced her real concern on UCTV of completing her goal of raising $1 billion for the university thus exposing that her masters are the 1% and those above her that also serve the elite. But I can't see how she can continue to run UC Davis without the money drying up. When the money dries up she is out. The only way forward for her is public acceptance of some disciplinary action short of resignation. Lacking that she is toast."
And that is the bottom line.  As we have noted, she has been notable for her absence, around working to raise her profile and the university's profile as she is rumored to be angling for a UC President position when Mark Yudof retires, that now it is likely she will never get.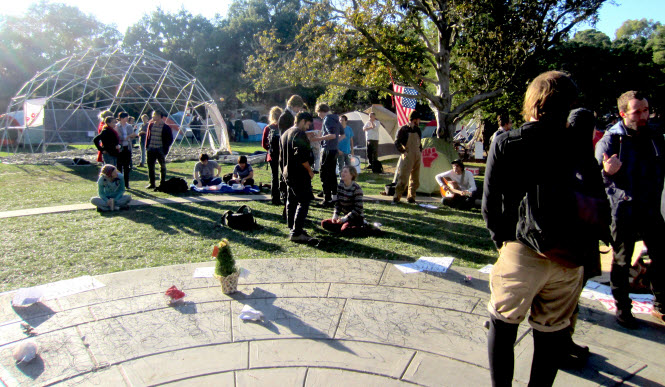 Viewpoint: NY Times Editor Highly Critical
Writes Andrew Rosenthal, Editor of the New York Times: "There were a few possible reactions to the police repeatedly pepper spraying a seated row of non-violent student protesters at an Occupy Wall Street-inspired event at UC Davis on Saturday. The university Chancellor, Linda Katehi, apologized to her students for the attack. The university put two officers on leave while investigating their behavior. Protesters were outraged."
He notes his disgust in particular "because the videos and articles about police pepper spraying students in our country are appearing at the same time as the army in Egypt brutalizes demonstrators there. The two are not equivalent, by any stretch, but the juxtaposition is unfortunate, to say the least."
He writes: "The most disturbing reaction I think I've read about the incident was this: 'What I'm looking at is fairly standard police procedure.' "
Those words were uttered by former Baltimore Police LT Charles Kelly, who was interviewed by the AP and who wrote that department's use of force manual.
"He said pepper spray is a 'compliance tool' and that he observed at least two cases of  'active resistance,' " Mr. Rosenthal writes.
"Did we watch the same video?" he asked.  "I saw a bunch of kids locking arms on the ground and police in riot gear moving around freely. Then I saw a cop with an oddly calm expression spray the kids in the face. More than once. I don't think that's 'active resistance,' and the 9th Circuit – which has ruled that it's excessive to use pepper spray against seated, peaceful protesters – wouldn't call it that, either."
"So if that's 'fairly standard police procedure,' we need a new standard," he writes.  "Sadly, what happened at UC Davis is not out of whack with police treatment of protesters elsewhere."
After discussing what pepper spray actually is and does to people, he writes, "Police departments nationally need to rethink their pepper-spray policies, or better train officers in how to put these policies into practice. What happened at UC Davis makes that abundantly clear."
He concludes, "This kind of behavior is wrong, legally and morally. It's also self-defeating if the purpose is to quash demonstrations. Look at Chicago in 1968, at the streets of Southern cities in the 1960's. Tear gas, fire hoses and dogs just show how right the protesters are and inspire more."
Amen.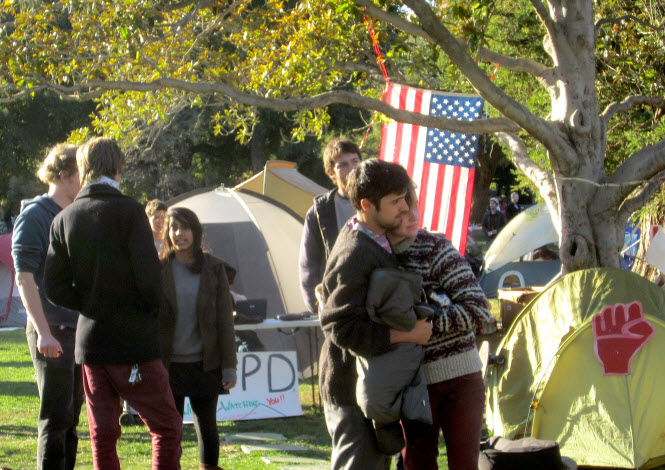 The Last Word… Bob Dunning
As longtime readers know, I have disagreed with Bob Dunning early and often on this site.  I think he's been terribly wrong in his views on things at times.
I saw him out at the rally on Monday, very proud that his young daughter has been honored with a scholastic journalistic position.
As I noted, I have had my share of differences with Davis' venerable columnist, but when he's right, he's very right and he certainly hit a homerun here.
He wrote on Tuesday, "Like so many others the chancellor has heard from in the past few days, I was shocked, outraged, sick-to-my-stomach and frankly embarrassed not only by the pepper-spraying itself, but by the institutional response to it."
I am very glad he said that last part because the institutional response to it is what has me wanting the chancellor gone as much as anything else.
He continued, "They say first impressions are the ones that stay with you, and my first impression was that this was easily the ugliest thing I've ever seen happen on this normally peaceful campus … and while the chancellor early on allowed that images of the pepper-spraying were 'chilling,' she didn't immediately condemn them … that was a critical mistake."
Yep.
He then went over the litany of excuses, such as liability, rush to judgment, innocent until proven guilty…  Words that I have seen used to justify inaction in the face of atrocity far too many times.
But here is the point: "I've watched that video at least a dozen times and there are simply no mitigating circumstances that can justify his actions … this was a 'peaceful' protest in every good meaning of that word … and this was the time for the chancellor to be on the right side of history by immediately condemning the pepper-spraying as the outrageous act that it was …"
He adds, " 'Chilling' might have been an apt description, but it fell far short of a clear and concise statement that this should not have happened in this instance and should never again happen in any similar instances on the UC Davis campus … pepper spray can be a useful law enforcement tool under certain circumstances … this was not one of them …"
Mr. Dunning added: "I strongly doubt she will resign voluntarily – even now, she sincerely believes she's good for this campus – but whether or not higher-ups will choose to pull the plug on her brief tenure as chancellor is very much an open question."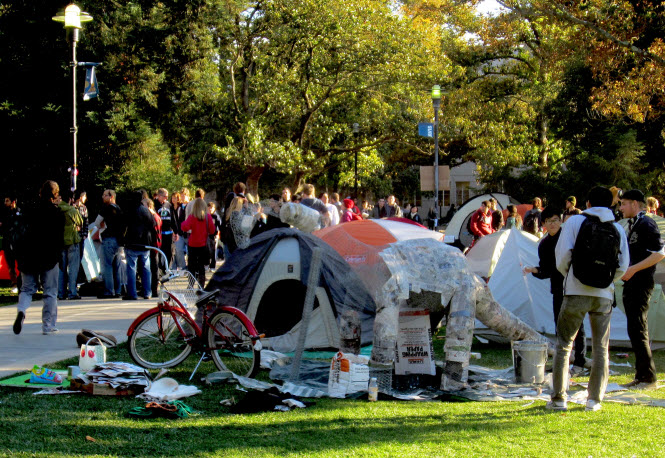 Investigation Needed into the UC Davis Police Department and Chief Spicuzza
I agree with Mr. Dunning, the time has passed for a voluntary resignation and each day that passes frankly reduces the chance that she is fired.  Generally speaking, if someone survives the first few news cycles, unless something new comes out, she will survive.
She is damaged and maybe that damage will be good.  Maybe this will change the way protests are dealt with, though I have been watching this for nearly five years as a citizen journalist and I have yet to see anything that prompts change.
I have little faith that William Bratton will be the answer, and I have less faith in our local authorities.
So, increasingly, I lean toward believing that not much will change.  The police chief, who frankly has been a problem for a long time, and only the fact that UC is so close-lipped has prevented more information from coming out on the chief and her upper brass for the last five years.
There are several lawsuits in the works, most notably Brienna Holmes who was the student charged with assaulting Captain Joyce Souza in 2009, and who was acquitted in 2010 and is now suing.  She told me yesterday, that Lt. Carmichael, who is now the acting chief of police, testified last summer that he was unprepared to handle the Mrak 2009 protest, and admitted to making mistakes while acting as joint incident commander.
Another suit involves Calvin Chang, and it is worth noting that, as the Sacramento Bee and now Associated Press have covered the fact that Lt. John Pike was honored by the university for exceptional police work, including a 2006 incident in which he tackled a scissor-wielding hospital patient who was threatening fellow officers.
However, the AP also notes, "An alleged anti-gay slur by Pike also figured in a racial and sexual discrimination lawsuit a former police officer filed against the department, which ended in a $240,000 settlement in 2008. Officer Calvin Chang's 2003 discrimination complaint against the university's police chief and the UC Board of Regents alleged he was systematically marginalized as the result of anti-gay and racist attitudes on the force, and he specifically claimed Pike described him using a profane anti-gay epithet."
Our sources note that Lt. Pike has also been subjected to numerous disciplinary measures for complaints, but despite this has been promoted at least twice since 2003.  It is always interesting that honors get coverage and publicized, but not complaints.
UC Davis needs to clean up its act.
This summer UC Santa Cruz hired Nader Oweis as their new chief.  In 2007, Chief Oweis was nearly fired for failing to comply with an unlawful arrest order at Mrak Hall.  Charges against protesters for trespassing would later be dropped when it was determined that Lt. Oweis was correct, that they could not arrest people for occupying a public building during regular business hours.
But, for his troubles, he was sent to duty at the UCD Medical Center, after one of the Captains referred to him with an ethnic slur.  Captain Leslie Brown was later terminated for acting inappropriately.
The climate at the UC Davis Police Department has been a problem for some time.  It is unclear if Lt. Carmichael is part of that problem, but a much more serious inquiry needs to be looked at.
I wish I had confidence in William Bratton to do it.
—David M. Greenwald reporting