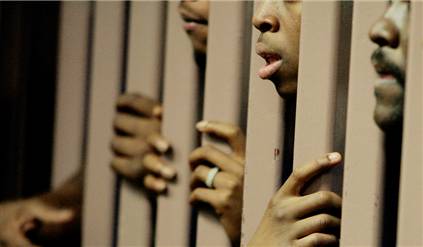 This week, Yolo Judicial Watch covered a typical Yolo County trial in which an Hispanic defendant was judged by a nearly all-white jury that contained no other Hispanics. 
We have been trying to get good data on Yolo County juries and defendants, but we can safely, from observation alone, draw one conclusion: Latinos as defendants are over-represented in this county as compared to their population.  And Latinos in terms of their representation on juries are under-represented.
In the film adaptation of John Grisham's "A Time To Kill," the character played by Samuel L. Jackson, on trial for murdering his 11-year-old daughter's rapists, looked at the all-white Southern jury and said, "That's a jury of my peers?"
Michelle Alexander in her book "The New Jim Crow," argues that the mass incarceration of African-Americans under the guise of the war on drugs is simply a new version of Jim Crow designed to disenfranchise minorities, particularly black men, in this country.
In an op-ed last week co-written with Ruth Wilson Gilmore, she commented on the reaction to the proposed prison reform as predictable and she argues the backlash reveals racial bias.
She writes, "The court ordered the population thinned so medical services can be effectively delivered to the state's wards, a necessity given the uncontested fact that 'an inmate in California's prisons needlessly dies every six or seven days.' "
Nevertheless, she argued, "Some justices, politicians, law enforcement and pundits insist on a coming tsunami of crime and havoc."
I can argue both ways on the racial issue.  On the one hand, middle class America fears crimes.  On the other hand, that fear of crime often comes with the face of a minority.
For our part, we have focused on Three Strikes and de-criminalization of drugs as possible focal points for reform.
Obviously, juries themselves are not the sole culprit, as we also have mandatory sentencing laws, most of which were developed during the last crime fear in 1994.
The authors of the op-ed write, "Any student of anti-racist civil rights struggles – against slavery, Chinese exclusion, Jim Crow,  race-based immigration controls – finds in the historical record similar reactions to decisions perceived to benefit poor people of color. The prognosis is always perpetual disorder."
They argue to points, first, "Nearly everyone sentenced to prison leaves. The average California prison term is about 54 months; time served in jail awaiting trial makes the typical period in state custody about 43 months."
In other words, the fear about a crime wave does not seem reasonable, as the people released from prison would be released at some point anyway.
They add, "California sends people back inside on parole technicalities at twice the national rate, and certainly parole reform is among administrative tools California will use to achieve reductions."
They thus argue, "What's been ballyhooed as 'early release' is actually a weak tweak in a system that's spiraled out of control because Democrats and Republicans have marched to a 'get tough' beat that has little to do with preventing crime or addressing its community consequences. Poor people – a majority of whom are people of color – have become locked up, locked out, demonized and disposable. Once released, they are legally discriminated against for the rest of their lives in employment, housing and public benefits. They are relegated to permanent, second-class status."
That brings them to point number two.
They write, "The modestly-educated men and women released every day go back to urban and rural communities to restart lives. How to make return to the free world successful is not rocket science; it doesn't require more police and jails, and it isn't expensive."
That is really a point that everyone misses.  Want to talk about lack of resources, it is cheaper to re-train, educate and help people than it is to re-incarcerate.  Those who cry lack of resources, rarely cry that when they are putting someone in prison at $50K per year.
Writes Ms. Alexander and Ms. Gilmore: "For nearly two decades, researchers of various ideologies and problem-solving methods have studied what people should do when they come home and how to reduce crime in the first place."
The studies have all found a similar conclusion: "Meet basic needs and lower barriers to reintegration. And now there's evidence: results theorized by researchers actually work in practice."
They argue that these remedies can be produced cost-effectively. "The network knows how skid row's problems can be cost-effectively solved, by redirecting county and city resources from policing and jails to housing and human services."
They continue, "These projects do not discriminate based on conviction; they point the way to efforts being made that strive to assure basic human rights are being met for all. Discrimination of people released from prison denies them work, housing and food. Contrary even to voter preferences, California has increased prison budgets while disinvesting in places where small improvements in resources make huge improvements in general well-being."
It is here that they drop the race card.  They write, "What underlies the refusal to cheaply and effectively reverse organized abandonment? If it's not money, it must be race."
To me, this is the point where they over-extend their case.  But I can see why they might be tempted to do it.
They write, "Nearly everyone in the United States – whatever their race, ethnicity, religion or party – thinks 'black' when they hear 'prison' or 'crime.' "
The crux of their point is here, "To call the mass incarceration of poor people 'unintended' is to ignore the teachings of philosopher-police chief William Bratton. He unabashedly told Los Angeles organizers that when Jim Crow was found unconstitutional, legislators wrote new laws using different criteria to get similar outcomes. And just as poll taxes disenfranchised poor white people, these new laws ensnare them."
Do we agree that these policies are racist?  We do not think they are racist in intent.  In fact, ensnared as well are countless lower class white people.
But there are likely racial elements here.  The connotation with minority and crime and prison is unavoidable.  The lack of minorities on juries is structural but also intentional.  We often watch minorities dismissed from juries through the use of peremptory challenges and even sometimes for cause.
Personally I have been surprised at the lengths to which normally cost-conscious people are willing to defend the spending in the criminal justice system.  That goes toward charging policies and prison terms.
With common sense reforms, we could probably be safer – fewer people in prison, more money used to combat violent and dangerous criminals, more money used for rehabilitation, job training and education.  It seems like it should be common sense and yet it is not.  Maybe these authors are onto something after all.
—David M. Greenwald reporting