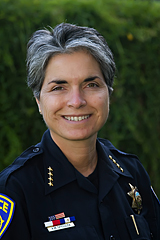 UC Davis has just announced that Police Chief Annette Spicuzza has been placed on administrative leave, pending a review of officers' use of pepper spray against protesters. UC Davis Lt. Matt Carmichael will serve as interim police chief.
"As I have gathered more information about the events that took place on our Quad on Friday, it has become clear to me that this is a necessary step toward restoring trust on our campus," said UC Davis Chancellor Linda Katehi.
"I take full responsibility for the events on Friday and am extremely saddened by what occurred," Chancellor Katehi added. "I eagerly await the results of the review, and intend to act quickly to implement reforms that will safeguard the rights of our students, faculty and staff to engage in nonviolent protest."
Chancellor Katehi has also called on the Yolo County District Attorney's office to investigate the Police Department's use of force. The district attorney agreed to conduct a review in collaboration with the Yolo County sheriff's office.
In a letter to Police Department staff, Vice Chancellor John Meyer said that the decision to place Chief Annette Spicuzza on administrative leave was necessary to allow "a fact-based review of events, assist in calming the community environment, and allow the department to focus on its current and substantial demands."
Vanguard Comment: This is the right move to make – though we still ultimately believe that Chancellor Katehi bears a huge amount of responsibility here.  It is clear that the decision about the deployment of the police, the fact that it was a lieutenant on the front lines using the force, bears investigation.
She was apparently present at the event and lied about what happened.
"The students had encircled the officers," UC Davis Police Chief Annette Spicuzza said on Saturday. "They needed to exit. They were looking to leave but were unable to get out."
The video shows clearly that this did not happen.  The police were allowed to move freely in and out of the crowd without any sort of impediment.
We doubt that the Yolo County District Attorney's Office will find any criminal misconduct on the part of police, though it seems pretty clear that they violated UC's use of force procedures.
The official policy: "Chemical agents are weapons used to minimize the potential for injury to officers, offenders, or other persons. They should only be used in situations where such force reasonably appears justified and necessary."
Clearly, it is questionable at best whether the use of pepper spray, in a situation where the protesters are passively resisting but otherwise not a safety threat, adheres to those guidelines.  But based on past policies, DA's are reluctant to criminally prosecute police officers.
The University has been very slow to respond to this crisis.  As we have noted and the Bee noted in an editorial this morning, the original reaction by Linda Katehi was to defend the actions of the officers.
As the Bee noted this morning, "It appeared the UC Davis protests were dying down before the police overreacted Friday, and it didn't help that Chancellor Linda Katehi initially came to their defense. Now protesters are vowing to show up in even greater numbers today."
It was only after the situation virtually exploded that the Chancellor backed off that defense.  Then yesterday, two police officers who were videotaped deploying pepper spray against seated protesters were placed on administrative leave.
On Monday, Chancellor Katehi will initiate the creation of a task force to conduct the campus review. The task force will convene immediately and will be asked to issue its recommendations within 30 days.
The chancellor also plans to hold a series of meetings and forums with students, faculty and staff to listen to their concerns and hear their ideas for restoring civil discourse to the campus.
"The events last Friday do not represent the UC Davis community we all aspire to be members of," Chancellor Katehi said. "The safety of our students and their ability to express themselves are paramount as we strive to create the best possible learning environment."
Ten protesters were arrested Friday in connection with an overnight encampment of about 25 tents on the campus Quad. University policy prohibits overnight camping. The protesters were cited and released on misdemeanor charges of unlawful assembly and failure to disperse.
Videotapes showed officers spraying seated protesters with pepper spray following the arrests.
Eleven protesters were treated on site for the effects of the pepper spray, including two who were taken to a nearby hospital, where they were treated and released.
—David M. Greenwald reporting