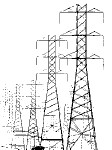 By now many have already seen the beginnings of the PG&E campaign to somehow trick the voters into approving the blatantly transparent Proposition 16 – a measure that would require a two-thirds vote in order for voters to approve public utilities.  If this campaign ad that you can view below is any indication, we are in for a long spring of deceptive Proposition 16 campaigns.
After all, PG&E spent $10 million on a campaign in 2006 to keep SMUD out of Yolo County, a measure approved by every single elected official in this county.  How much will they spend statewide to make it more difficult for competitors to arise?
The ad narrative says:
"But in the end, it's really government run electric service.  Under current law, local government can spend unlimited public funds to go into the electricity business, and we don't even have the right to vote on it.  Requires voter approval before local governments can spend public funds to take over electric service.  Whether government run electricity is a good idea or not, voters should have the final say, because we're paying the bills."
And therein lies the problem.  Under existing law, voters already have the right to vote on such projects, just as Yolo County and Sacramento had the right to vote in 2006.  Except currently, a simple majority decides whether to approve the project.  Under Proposition 16, it would require a two-thirds vote.  It does not get any more deceptive than that.
How deceptive?  Don't take my word.  Here's Bill McEwen from the Fresno Bee.  He writes:
"I had a hard time deciding who peddled the biggest scam — the mortgage and credit card debt hustlers, or Pacific Gas & Electric, which is spending $35 million backing Proposition 16.

The utility monopoly is trying to rejigger the state constitution and protect its bottom line against start-up municipal power companies. And it's using a deceptive advertising campaign for a law that would require two-thirds voter approval before local governments go into the power business or existing PG&E competitors expand their territories.

PG&E says Proposition 16, which is on the June ballot, is about choice, voice and transparency.

But the so-called Taxpayers Right to Vote Act is more about limiting consumer choice, preserving monopolies and keeping utility rates high."
He later points out that PG&E ratepayers – that means you and me – are funding the Proposition 16 campaign.  Mr. McEwen writes, "The utility claims otherwise, saying that the $35 million is from a reduction in shareholder dividends. But all dividends are straight out of ratepayer wallets."
Closer to home, Dan Morain from the Sacramento Bee writes, "PG&E has legitimate concerns. But its initiative, Proposition 16, deserves its own separate wall in the pantheon of special interest-funded and one-sided ballot measures."
As Mr. Morain points out, the two-thirds requirement would be the death-knell for public utilies such as SMUD.
"California requires a two-thirds vote before imposing most taxes, an almost insurmountable hurdle. Through Proposition 16, PG&E is seeking to create its very own constitutional amendment that would extend the two-thirds requirement to electricity-related issues in three ways:

• A local government seeking to enter the electric business could do so only after winning a two-thirds vote.

• An existing public utility, such as the Sacramento Municipal Utility District, would need a two-thirds vote before expanding its service area.

• Local governments would need a two-thirds vote before creating a "community choice aggregation" program, by which customers band together to buy power wholesale from independent operators at a discount."
Likewise, John Geesman who served on the California Energy Commission from 2002 to 2008 wrote in an op-ed for the Sacramento Bee on Sunday:
"As a true measure of the cynicism of PG&E's political consultants, it's being marketed as a taxpayer protection measure that will preserve our right to vote.

What would it really do? It would alter existing voting requirements for annexations into a municipal utility service territory from a simple majority in the area to be annexed to a two-thirds majority in the entire service territory. It would do the same for a community starting a new utility. And it would require a two-thirds majority before a municipality could explore community choice aggregation – a rarely used statutory method to procure electricity, adopted recently in Marin County and under consideration in San Francisco."
Mr. Geesman argues that Proposition 16 would result in "less voting than occurs under existing law" AND he cites PG&E CEO, Peter Darbee, as boasting about it at a recent Wall Street shareholder meeting.
In Darbee's words, "the idea was to diminish, you know, rather than year after year different communities coming in as this or that and putting this up for vote and us having to spend millions and millions of shareholder dollars to defend it repeatedly, we thought that this was a way that we could sort of diminish that."
But there's more, a loophole could actually require votes even in communities that already have public power and if that were to occur, it would not only mean public utilies could not expand, it would mean they could not survive.
Writes Mr. Geesman:
"Because of its high rates (PG&E's top tier residential rate is currently 49.9 cents per kwh compared with 29 cents per kwh for Southern California Edison and San Diego Gas & Electric) PG&E ratepayer revolts should come as no surprise. But exactly how will eliminating customer choices and restricting competition produce lower rates?

Sloppy drafting of the "grandfather clause" of Proposition 16 will create some unintended consequences if the measure is passed. Service within existing municipal utility territories is supposed to be exempted from the voting requirement, but the exemption is drafted so narrowly that none of these utilities is expected to qualify.

That means that every new hookup – every new homebuyer, every new business – in those 48 communities could trigger an election with a two-thirds majority requirement."
Wow, that would be something.  Fortunately the measure does not have a chance if the voters understand what it really does.  However, that's where the multi-million dollar compaign comes into play.  According to several sources, already PG&E has spent $19 million on its air war and they've extracted $35 million from ratepayers like you and I to try to trick the voters into supporting a measure that will secure their bottomline against competitors like SMUD.
The Davis City Council has already passed a resolution stating their opposition to Proposition 16.
The City Council formally expressed several concerns with the initiative.
The initiative is currently funded solely by PG&E, which has a clear conflict of interest. The passage of the initiative would make it much more difficult for any public power project to succeed. The 2/3 vote requirement is ordinarily designed to protect the structure of government from casual change and to protect people's rights from capricious abuse of power. This initiative would do the opposite: it would remove the power of local government to protect itself from abuse by utility monopolies via a constitutional amendment. The initiative protects one private corporation and its current service area.
Contrary to assertions made by proponents of the initiative, local governments already have experience with utilities. SMUD is a good example. Therefore, the 2/3 requirement is excessive and perhaps counterproductive to the public good.
The SMUD Board has unanimously opposed the initiative, as has the Palo Alto City Council. Senator Lois Wolk, along with eight of her Senate colleagues, stated her concerns about Proposition 16 in a letter to the president of PG&E.
CCAs may want to provide power from more renewable resources than PGE, such as the case with Marin County's new CCA. CCAs arguably give customers a choice of where their power comes from. The initiative would make it more difficult to provide customers with options such as this.
The Legislative Analyst's Office concluded that the proposed initiative would create an unknown impact to state and local government costs and revenues, due to the potential impacts on electricity rates and publicly owned electric utility operations.
The bottom line is voter education, when the public learns what this measure is really about – protecting PG&E's bottom line – they will not support it, however, PG&E is betting tens of millions that they can trick the voters.
—David M. Greenwald reporting