The Sacramento Bee this morning reports on a closed-door meeting held on Monday with the Davis police, business representatives, students leaders and city staff members.  According to Gary Sandy, the university's director of local government relations, the group has decided to form a task force to fix Picnic Day.
Mr. Sandy told the Bee, "If Picnic Day is to survive, it will have to change radically."  He continued, "The message will be sent, loud and clear, that Picnic Day is not party day.  This ought to be a celebration of UC Davis and the Davis community, not a day for drunkenness and rowdiness."
That means the event should become smaller and more manageable, they need more police, and the toughest task of all is that drinking and partying need to be curtailed and discouraged.
The first of these steps probably came last week when Charlie Swanson, the owner of the Davis Graduate came forward announcing drastic changes to the Graduate's Picnic Day policies.
The biggest of these changes are that alcohol would not be served before 11 a.m. and they would end discounts for alcohol during this day.  That puts an end to the tradition of $1 beers starting at 6 am to the first thousand customers.
And while the Graduate points out that they were not the center of the trouble on Picnic Day, there were no arrests, fights, or other problems specifically associated with their premises, the message sent to students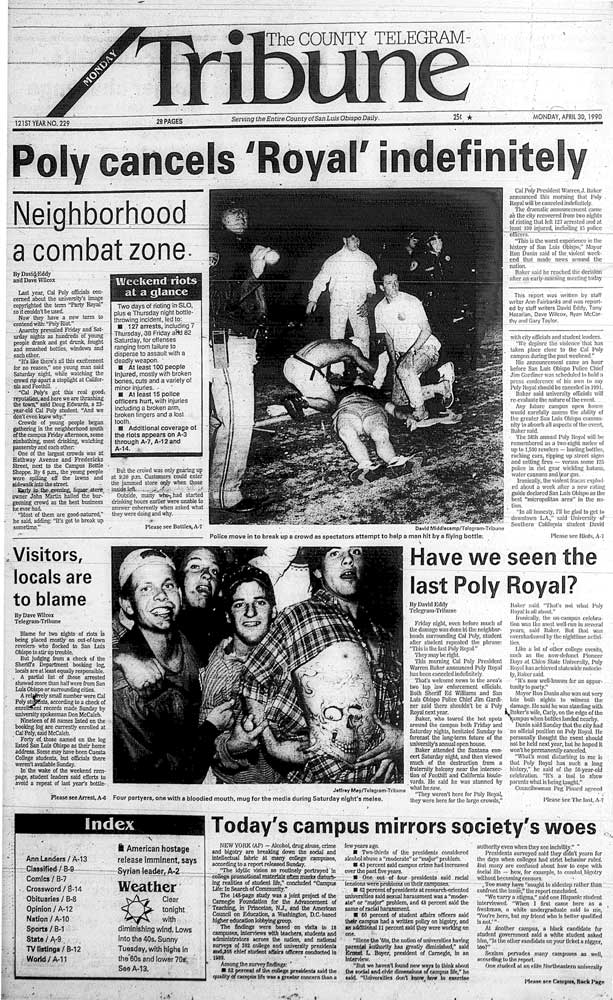 and others with the sale of alcohol at that early hour was clear.  The message was to start drinking early and that this would be a drinking event.
However, even with the new Graduate policy and hopefully downtown bars following suit, and even with a new task force, this remains a tough endeaver to tame an event as institutionalized as Picnic Day.
I was in high school in 1990 in San Luis Obispo when riots broke out at Poly Royal.  There were two days of rioting that led to 127 arrests, over 100 injuries, 14 police injuries along with hundreds of thousands of dollars worth of damage.  My mind is seared with the licquor store near campus being destroyed after they ran out of alcohol, the crowd chanting, "Free Beer."
The result was the cancelation of Poly Royal which had been a huge two-day campus wide event showcasing departments and local talent.  It used to draw in 100,000 people from across the state.  I remember each year as a student going on a field trip for a day in April.  In more recent years, they have brought it back in a scaled down version.
Here is where the difficulty comes into play.  First, Poly Royal was not an event centered around drinking.  It was a showcasing of the campus.  It was an event that school children would go to, it was an event that families would go to, and it was obviously an event that students and faculty would spend countless hours preparing for.
So yes, I agree with those who suggest that there needs to be a focus on activity that do not revolve around drinking.  The problem is that any large gathering of people in a festival setting is likely to lead to students partying and when large groups party, there is the potential for problems.
The other quandary for those on campus and in the community, is that this community is looking to put on events that have regional draws and Picnic Day was one of the very few that did that.  So how do you draw a large number of people from the region without making Davis the focal point for drinking and partying?
To me this is the problem that a task force is going to face.  They need to radically change the culture of the event without taking away from the tradition or the positive aspects of the event.
However, here are a few suggestions.  First, while I agree strongly with the cancellation of the 6 am beer sales, I think that is probably not enough.  The city needs agreement from stores and bars to limit alcohol sales city wide.  That will not prevent students and others from importing alcohol from out of town, but it will make it more difficult.  Alcohol needs to be less available.
Second, there needs to be activities all day that (A) does not revolve around drinking and (B) that brings in a less volatile mix of people.  By way of example, no problems were reported during the Whole Earth Festival last weekend.  The reason being the type of people who are attracted to such events are not likely to cause problems.  Thus Picnic Day may want to look toward art and cultural events to bring in a different mix than usual Picnic Day crowd.
Third, law enforcement needs to come up with a strategy.  Davis has a small police force, that means they need to as they have rely on help from surrounding jurisdictions.  By having bars limit alcohol sales, one result will be the movement of partyers from the downtown to the neighborhoods.  That is good in that it will spread out the problems, but bad in terms of trying to police activities.  The police know the areas where there are problems with parties, even a scaled down event will be an incentive to party.  Police need to be ready and we need to give them the tools to be able to keep the piece.
Thus my strategy would be to push the drinkers out of the core area by limiting alcohol sales at the bar and to bring less volatile groups of people into the core by having the kinds of activities that will bring families and other community and regional citizens to the downtown.
Will that kind of strategy be implemented and would it succeed?  Stay tuned.
—David M. Greenwald reporting