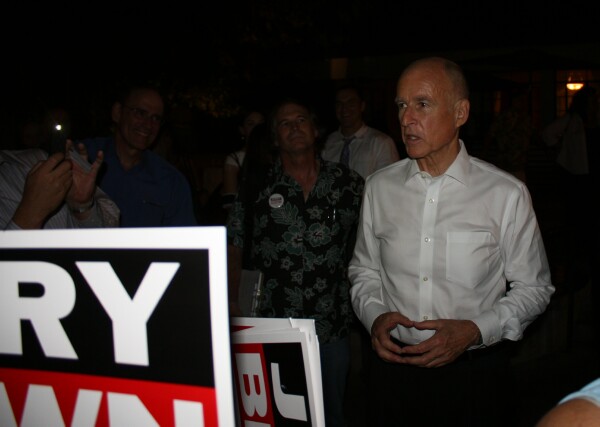 While pundits will likely be quick to point out that there were no knockout punches thrown on Tuesday night at the first debate, the debate did offer an at-times refreshing respite from the normal formulaic and scripted candidates' debate.
The debate also offered the voters somewhat of a clear distinction between the two Governor's candidates.  Voters will have to choose between the contrasting ideologies of Meg Whitman as the anti-tax conservative, and of Jerry Brown as the candidate who, like it or not, is tied to labor and public employees.
They will have to choose between the neophyte who did not even register to vote until recently and the veteran who has not only been in politics for forty years, but whose political legacy goes back much further than that, back to the 50s when his father was Governor and before.
And they will choose between the well-scripted newcomer who stuck to her 30-second attack ads, and the old, venerable and gristled veteran who told voters what he thought, whether they wanted to hear it or not.
If Meg Whitman's goal was to stand next to Jerry Brown and not fall over, she succeeded. 
If Jerry Brown's goal was not to have a moonbeam moment, for the most part he succeeded, although he had a few moments that would make most political consultants cringe.  But perhaps those moments worked in humanizing a man who has at times seemed to be aloof and indifferent.
Mostly, the voters got an entertaining show, which is something perhaps politics is long in need of.
Make no mistake, the State of California is trouble, and while the current governor may not be the total culprit in that, he is not the solution either.  The question voters will have to ask is whether either of these individuals can be that solution.
On the issue of the late state budget, neither candidate in particular offered much of a true solution.  Meg Whitman talked about the fact that the State of California has the most dysfunctional state government in the country.  Most of the time statements like that are hyperbole, in this case it was probably right on.
When she went into her mantra of tax cuts, though, she had deviated from the question but not from her script.  Time and time again, she returned to the issue of cutting taxes, attacking the cost side, attacking welfare, and talking about cutting red tape.
When the commentator finally forced her back onto the budget issue, she suggested an earlier start, about not waiting until the May Revise to act on the budget, and going to two-year budgeting cycles.
Jerry Brown's theme was that while things are screwed up, the trains ran on time under his watch.  Nevermind it was a different era with different problems.  He told the voters that when he was governor, he did eight budgets, seven were on time, and one was only a week late.  He also argued that we have to cut spending and argued that there is still fat to cut, we have not gotten to bone yet.
In the first of many exchanges of the sort, Ms. Whitman went on the attack. "Mr. Brown talks about bringing people together," she said, "and my view is, he will bring people together after he's elected governor and it will be a meeting of all the special interests and the union, who are there to collect their IOUs from the campaign they have funded."
Jerry Brown for his part responded, "I won't try to respond to that TV commercial which I've seen so much of."
His more general response on this night was to point out that her targeted tax cuts will take billions in revenue from the state coffers, money that will come from the schools.  He said it is not fair or right, and he vowed to protect the schools.
Despite back and forth pot shots, the candidates basically followed the script for the first half of the debate.
Jerry Brown started to show his hand, though, when responding to a question on pensions, a key issue in this campaign, both on a state and a local level.
The question from Amy Chance of the Sacramento Bee was, given the fact that he is due to collect a huge pension and has been a state employee for decades, why should voters expect him to rein in the system that has been for him a source of financial support?
"So I'm real clear," Jerry Brown responded bluntly, "If everybody in state service worked as long as I have, the pension system would be overfunded by 50%.  If they all stay around till they're 72 – by the way, if you elect me Governor, I won't collect till I'm 76.  If I get a second term, it will be 80.  I'm the best pension buy California has ever seen."
And while being off-the-cuff, he is being accurate, as one of the solutions to the pension crisis is raising the retirement age.  He did a good job of turning that one around.  Then he went into his plan, which will be to negotiate with workers, raise retirement age and contributions, and go back to a three-year running average rather than highest pay.  He argued he was the first to propose a two-tiered system back in 1982.
Ms. Whitman responded that she cannot be beholden to public employees because she is self-financed.  She argued that we owe more money than we can possibly pay – which is not exactly accurate.  She argued for raising retirement age to 65, increasing vesting periods, and having greater contributions to retirement funds by employees.
The biggest difference is that she is pushing for a 401K for new employees, and argued that she will have to have a spine of steel to accomplish this since there will be tremendous pushback by the unions, not wanting to change.  And of course, she had to again tie Jerry Brown to the public employee unions and suggested he could not make true reform since they own him.
"This is a bit like the kettle calling the pot black.  Talk about union contributions, she's raised $25 million," Mr. Brown responded, "And I will bet you the majority will get an immediate tax break from her key economic plan, which is to eliminate totally the California Capital Gains Tax."
Meg Whitman acknowledged that she is not proud of her past voting record and she apologized for it.  The question, though, got put on Jerry Brown that he has twice, while Governor, run for President and broken commitments to the California voters.
When asked what assurances he could give this time, he quipped, "Age."
"Hell, if I were younger, you know I'd be running," he continued.  "I'd say I'm going to be 74 in a couple of years, I'm ready."
"One more thing, I now have a wife, I come home at night.  I don't try to close down the bars of Sacramento like I did when I was Governor of California," he said in a rather candid reference to his fabled, more wild days, as the bachelor governor of California.
Ms. Whitman argued that Jerry Brown had no experience changing Sacramento for the positive, and also attacked his record on schools.  She said, "We need a Governor that knows how to get California back to work."
Jerry Brown responded, "I only have thirty seconds for this?  Well, to refute all of the misstatements it would take me about a minute and a half."
Later he talked about the amount of jobs he created as governor and the surplus.  "By the way, that surplus didn't drop down from the tooth fairy, I created that damn thing."  He added, "I had to fight with Jess Unruh, the Treasurer, he called my surplus obscene."
Jerry Brown also had some candid moments, for instance, when a UC Davis student asked if he would be rolling back increases to higher education fees and other funding cuts Mr. Brown frankly said, "Not my first year."  He said at best he can hold the line, but he did promise to do everything he can do to protect the university.
In a response that is not likely to win many votes from students, Ms. Whitman indicated that while "it breaks my heart" and higher education is one of the gems of our education system in California, she would put it to the chancellors to figure out how best to use the money in the UC system.
Meg Whitman was asked about the lack of honesty in her campaign ads.  She said, "I don't agree with the premise of your question."  She then proceeded to defend the Clinton ad, saying that she stood by it and the only mistake was that taxes were only higher in six of eight budgets rather than eight of eight.  "I stand by the ads, they are an accurate portrayal of Governor Brown's record."
Jerry Brown, for his part, said in reference to his Pinocchio ad, "I think it's a hell of an ad."
He continued, "Pinocchio is waiting by to extend that nose, if we get anymore of these falsifications."
Meg Whitman would later argue that Jerry Brown opposed Proposition 13.  He said it was a fraud and recommended that it not be passed.  "The voters were fit to be tied, they had had it with ever-escalating property taxes.  Governor Brown was sitting on a huge surplus which he refused to give back to the people.  Proposition 13 passed, yet he didn't align the cost structure of the state and ended with a million-dollar budget deficit."
She continued, "You know what bothers me about career politicians – they refuse to accept accountability."
Jerry Brown got the last word on the subject, "I would like to say, yes I opposed Proposition 13…  I campaigned all over the state against it, and we're now seeing some of the problems with all of the power, going up to the state capital."
He added, "In the November election, Howard Jarvis himself voted for me.  He did a campaign commercial, what he said was 'Brown opposed it.  I wrote Proposition 13, but he made it work.'"
We will have a bit more on some of the specific proposals that came out of the debate.  The voters will decide which vision and which personality they liked best.  The good news is that they got a very stark contrast on Tuesday night.
—David M. Greenwald reporting