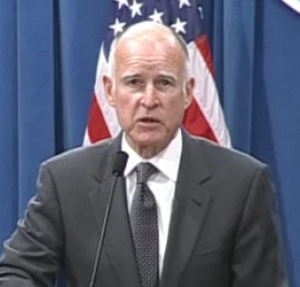 Governor Jerry Brown unveiled his budget plan Monday, but critics have already scoffed that it looks remarkably like that of former Governor Arnold Schwarzenegger, and GOP leaders have already said that the tax plan will get none of their votes.
In a statement, Governor Brown said that his proposed budget will be comprised half of budget cuts and half tax increases in order to attack a deficit that is estimated at $25.4 billion.
On Monday, he said his plan calls for the "sacrifice from every sector in California," stating, "for 10 years, this state has put together its budget with gimmicks and tricks and unrealistic expectations that have pushed this state deeper and deeper into debt. It's time now to restore California to fiscal solvency and put us on the road to economic recovery and jobs."
He added, "My proposed restructuring will return decisions and authority—as much as possible—to cities and counties and schools. And in that way, there will be greater accountability, transparency, and hopefully citizen participation because government will be closer to the people. Schools have borne the brunt of spending reductions, and in this budget, we are going to keep them at a level spending."
While he expressed confidence that the voters would approve extending, for five additional years, the temporary tax hikes that would expire this year, GOP leaders went on the attack Monday afternoon.
For his part, Governor Brown said at the press conference that he believes he has support from some Republicans to put his tax-extension measure on the ballot.
"I think we'll get some Republican votes," he said.
However, Republican leaders clearly disagree.  Senate GOP leader Bob Dutton said on Monday that "zero" members of his caucus would vote for the tax plan laid out by the Governor.
"I am not open to the idea because nobody has demonstrated anything to me that shows we are going to do anything different than we have done before," the Senator Dutton said. "Voters were given this choice back in 2009 and they rejected it and frankly they were right to reject it. We didn't fix anything, so why would the voters believe you now that you're going to fix the problem even if they would give you five more years of the same thing?"
Senate Budget Committee Vice Chair Bob Huff joined Senator Dutton in calling for steeper spending cuts.  
"Nobody wants to be with a hatchet in hand, going off and cutting programs, and yet we absolutely have to do that," Senator Huff said.
Meanwhile, Assembly GOP leader Connie Conway pointed out that voters had overwhelmingly rejected this very proposal less than two years ago.
"At this point, I think California voters have got to be feeling like the parent who consistently tells the child 'No.' How many times do we have to say no to taxes? I think they speak loud and clear," the Assemblymember told reporters on Monday. "Jobs are leaving the state, people don't have a job. Why aren't we looking at more jobs and more people working as a way to increase our revenue?"
Jerry Brown argued that Republican opposition to taxes is not locked in stone.
"They're not locked in stone in opposition," Governor Brown said at his press conference, "that to me says they're open but because of the various groups that really fight Republicans if they even vote for a tax extension, they'll be very hesitant."
"I'm trying to forge a consensus," he later said "A wide agreement."
The argument could be made to allow the voters to decide, and that simply putting a measure on the ballot is not tantamount to support.
There are other options of placing taxes on the ballot with a majority vote, something that the Governor would not rule out on Monday.
For his part, Speaker John Perez called the budget a good starting point.
"The Governor's budget is the starting point of a responsible fiscal plan for California. I look forward to working with the Governor to approve a budget that will begin to eliminate our structural deficit and protect California jobs" he said in a statement.
Local Assemblymember Mariko Yamada, who represents most of Yolo County and the Eastern Half of Solano county, issued a statement Monday saying, "California's chronic budget deficit compels us to consider difficult proposals, and I thank Governor Brown for facing these issues honestly. We must focus on quality service at the best price, without prolonging the recession."
She continued, "I continue to be concerned about the deep cuts to social welfare programs that provide the safety net for people suffering job loss, disabilities, and poor health through no fault of their own, especially our children and the elderly.  The dismantling of proven and cost-effective alternatives to institutional and emergency care, such as adult day health care, is counterintuitive to the goal of deficit reduction over time."
"I look forward to working on these critical issues in partnership with the Governor, the Legislature and local officials as the budget process moves forward," Assemblymember Yamada concluded.
Governor Brown calls for two measures on a June special election ballot.  First a tax package, and a proposal that would use $1 billion from cigarette taxes to fund Medi-Cal for children.  
The current plan is to keep the level of funding to schools the same as this year, however, that proposal is contingent on voter approval of higher taxes on the budget.
Some of the budget cuts include: $1.5 billion from welfare; $1.7 billion from Medi-Cal; $500 million each from the UC and CSU systems; $750 million from services for the developmentally disabled; And $200 million from the state bureaucracy.
Those are painful cuts, even with revenue enhancements.  Without them, we are looking at once again cutting the schools well past the proverbial bone.
How will the Governor fare with his initiative?  
For his part, Governor Brown sounded a confident note on Monday, expressing confidence that voters would approve the extension of tax hikes for five more years.
Immediately, he was asked why voters would approve the same extension of tax hikes they already rejected at the ballot in 2009.
Governor Brown responded, "I think there are a significant number of people who have an open mind. … It depends upon the context and situation. There have been a lot of cuts. There have been a lot of cuts to schools over the years, and I think people will make a judgment."
Unlike his predecessor, Governor Brown is refusing to make threats as to what further cuts would be made if taxes were rejected by the voters.
"If it I tell them this is going to happen, some people might say I am putting a gun to their head," the Governor told reporters Monday.
Will Governor Brown succeed where his predecessor failed?  Time will tell.
—David M. Greenwald reporting