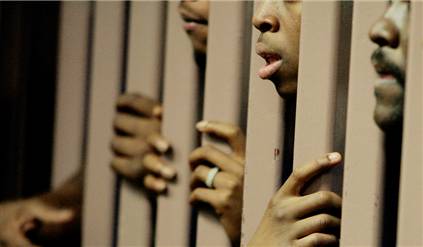 In what the San Jose Mercury News is calling "the most sweeping criminal justice overhaul in state history," Governor Jerry Brown is proposing the elimination of the youth prison system, along with an end to prison terms for thousands of convicts who are in prison for relatively minor crimes.  Those individuals would be moved to county jails.
According to the Governor's budget, such a move would save the state nearly half a million next year, $1.4 billion annually on an ongoing basis, while at the same time dealing with the critical prison overcrowding and prison reform issues.
The Governor's plan is responsive to the building consensus among criminologists, justice advocates and finance experts who have been advocating a reduction of the prison population, believing that it could also produce enhanced public safety by moving relatively low-level inmates closer to their families and giving them access to better treatment programs.
The Governor this week argued that local government is in a better position to end "the revolving door of the corrections systems."
Apparently a number of criminal justice experts agree.
Joan Petersilia, a Stanford University criminologist, told the Mercury News this week, "This is just an incredibly massive shift for a state system that was sending everybody and their brother to prison."
But she offered widely-echoed caution: "We shouldn't be naive and think we can do this on the cheap — these offenders have serious needs."
"Our recidivism rate is high. Lockdowns are above the national average. The Supreme Court is breathing down our back," the Governor said Monday. "It's definitely an important area for reform and reduction."
The Governor added that, Legislators, district attorneys, sheriffs, police chiefs, probation officers and victims' advocates all have agendas,
Governor Brown said, "Each one can derail well-intentioned reform." The issue is "full of competing claims and perspectives. Therefore, you have to do it surgically and with a great deal of sophistication."
Seven years ago, the Ella Baker Center launched their Books Not Bars campaign, calling for closing California's youth prisons.
As they wrote this week, "People laughed in our faces. Literally. Even reformers, who agreed in private, thought we were foolish to call for shuttering the largest set of youth prisons in the Country."
They argued at the time that "by closing youth prisons we could open real opportunities for California's youth."
On Wednesday they wrote, "the mere fact that Governor Brown's budget includes the closing of the DJJ [Division of Juvenile Justice] prisons means that the tide has turned- politicians are starting to realize what our families have known for years — dumping youth in prisons doesn't make us safer.  And we hope this turning tide will also lead California to examine its relationship to all prisons, and break our addiction to lock 'em up policies that do little to invest in people or increase public safety."
They continued, "Whether this budget cycle is the nail in the coffin for the notorious  DJJ, or it happens next year or the year after that, this is a historic moment in our work and for California."
The Drug Policy Alliance has also endorsed the Governor's proposal.  They argue that it reverses a historic trend toward sending minor offenders to state prison that was "part of the tough on crime insanity that got us mass incarceration in the U.S.," said Margaret Dooley-Sammuli, deputy state director of the Drug Policy Alliance.
"Nobody benefits by sending a shoplifter to state prison," Ms. Dooley-Sammuli added.
About 10,000 people are in California state prison for drug possession and this proposal shift affects  people incarcerated for the simple possession of drugs, among other petty offenses."They're not people convicted of possession less than an ounce of pot, which is an infraction," the DPA stated.
"He's not talking about potheads," said Ms. Dooley-Sammuli. "But they do include some of the 17,000 or so arrested for sale or growing recreational pot in California, which can get up to four years in prison."
"An uncounted number of parole violators are going back in for smoking a joint, she said, though the state doesn't keep statistics on it. California's recidivism ranks among the highest in the nation at about 71 percent. Roughly 10,000 people enter and exit state prison each month, and most are serving time for parole violations," the DPA said.
However, not everyone is celebrating the much-needed reform to the prison system. 
The Woodland Daily Democrat reports that Yolo County Sheriff Ed Prieto is concerned that if adult convicts are released to Yolo County, Monroe Detention Center would be packed well beyond capacity.
"We don't have the facility to handle it," Prieto told the Daily Democrat.
The paper reports, "The county jail, which holds 450 inmates, could be asked to hold up to 800 inmates. He said the jail is at capacity all the time.  Unless Yolo County were to get a new facility, which Prieto said is unlikely, it's not going to work."
However, as we have mentioned before, we lack general sympathy regarding capacity issues in the local jail or even the state prison system because we have basically put a lot of people into incarceration for crimes that would be best treated outside of the correctional system.
The local DA is going to have to start accepting the fact that he can no longer charge every single thing as a crime – no matter how minor.  It may force greater discretion.  Or he may simply choose to try to force an overcrowding crisis and hope that he can blackmail the legislature into opposing the reforms.
At some point, we need to recognize that our drugs laws are going to fiscally bankrupt us.  Maybe this initiative by the Governor will finally put pressure on law enforcement to stop opposing every drug reform plan that comes along and stop supporting every "lock-'em up and throw away the key" proposal that gets put onto the ballot.
I completely agree with Professor Petersilia, that we need not to be naive and believe that we can do this on the cheap.  Overall, we can save money for the judicial and correctional system by reforming the laws, but at times that means we need to invest money into the front end to have better treatment options and rehabilitation programs.
Nevertheless, while some of these reforms are undoubtedly doomed, the very fact that the Governor is putting them on the table makes them promising.  Reform has a far greater chance of being approved under the guise of a fiscal crisis.
Governor Brown certainly is not taking the safe route to his Governership, and California may be better for it.
—David M. Greenwald reporting