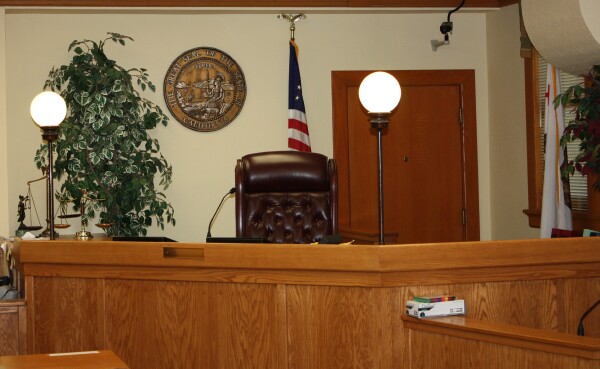 The big news in the case of Marco Topete, who is accused of shooting Yolo County Sheriff's Deputy Tony Diaz back in the summer of 2008, is perhaps that the latest hearing went according to form, no surprises and no big shake-ups.
That has not been the case through much of this case, that began over two-and-a-half years ago and made headlines around the region when Sheriff's Deputies locked reporters and family members of the accused out of the arraignment hearings.  That has prompted charges by the media of favoritism and censorship and led to concerns that Mr. Topete could not receive a fair trial.
Mr. Topete grew frustrated at his court-appointed counsel, Hayes Gable and Thomas Purtell, and would dismiss them only to discover that life as a pro per defendant in custody at the Sacramento County Jail put him at a distinct disadvantage in a capital murder trial.
And so last month, lacking any semblance of a better choice, Mr. Topete reluctantly took back his defense counsel, who had been made advisory counsel by the court.  Faced with inadequate time to research the case, lack of hours in the law library, and lack of privacy and protection for legal product, Mr. Topete finally accepted the inevitable last month as he took back the two attorneys he had dismissed just three months ago.
If his goal had been to delay the proceedings, he succeeded in doing that by six months, moving a September trial to March.
So, while these concerns about the ability to have a fair trial have far from resolved themselves, there is now light at the end of the tunnel, at least terms of when the trial will take place.
On Monday, it was a simple status conference in which both the defense and prosecution announced they are ready to proceed to a March 7 trial, when jury selection will begin.  And then the real task will start as they will start out with 90-100 jurors, down from an estimated 130 prospective jurors.
The defense announced that a Dr. Buschbaum will be performing some form of brain scan test which might be used in the penalty phase of the trial.
The real question in this case is not one of guilt or innocence.  There seems very little doubt that he did what he was accused of doing.
Our concern here has been, from day one, process and the right to a fair trial.
From the start that seemed in doubt.  The Davis Enterprise wrote on June 20, 2008, "Can Marco Antonio Topete get a fair trial in Yolo County? If there are any more shenanigans like those pulled Wednesday by sheriff's deputies and a court commissioner in Yolo Superior Court, we're not so sure."
Back in 2008, when the defense moved to disqualify all Yolo County judges from the case, the Sacramento Bee reported, "Legal experts interviewed Friday agreed that the defense would have a tough time winning its motion. But they said recent events in the case leave little doubt that it should be moved out of Yolo County voluntarily to avoid the appearance of impropriety."
Stanford Law Professor Robert Weisberg told the Bee that "he doubted the Public Defender's Office could win its effort to have every judge in Yolo removed from the case. The legal standard for removing judges is too high, he said."
"You would have a huge burden to show prejudice," Professor Weisberg told the Bee back in 2008.
"However, the judge and lawyers could agree to relocate Topete's case. "That's obviously the sensible thing to do," he said. "It should really get done and done quickly."
The Bee reported, "A move to a neighboring county could avoid future litigation and prevent any conviction from being overturned because of apparent bias, he said."
Not much has changed to reassure us since that day and as per the norm, the system in Yolo County has refused to yield on this case.  However, the bar is perhaps set too high to get a conviction thrown out without proving actual prejudice.
When we spoke last month to Mr. Topete's wife, Angelique Topete, she was frank, "It does not matter if he represents himself or if these attorneys represent him. If they insist on keeping it in Yolo County then he will get the death penalty."
Monday gave us only a taste of what was to come, with the prosecution parading around the family of the victim.  They did not speak, despite the fact that Supervising Deputy DA Garrett Hamilton suggested they would at the next hearing.
There is no way to undo the pain and the anguish that these family members have suffered, but unfortunately the DA's Office often parades the families of victims around like political footballs, concerned more about appearances perhaps than true compassion and sympathy.
I will never forget the treatment of the family of the victim in the Solis case, a case that became evident early on that they had the wrong guy.
But for Mr. Topete, this is just the start the show.  We have caught a glimpse of the DA's tactics when Jeff Reisig a few months ago suddenly leapt to his feet to espouse the virtues of the victim's bill of rights.
The bright lights of the cameras are not yet again on this case, but they will be.  When they are, we will see a true spectacle.  The question is whether we will also see justice.  In this county, I would not hold my breath.
—David M. Greenwald reporting