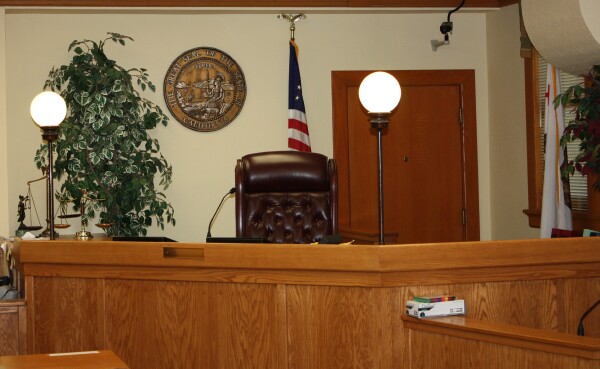 In December, Woodland resident Jose Valenzuela faced trial in Yolo County. He was accused of attempted murder of two individuals at a notorious Woodland night club, La Finca, home to numerous homicide and assaults over the last few years including this year's first murder in Woodland.
Mr. Valenzuela was acquitted of attempting to kill one man and he was nearly acquitted of attempting to kill the other man, but the jury hung 11-1 for acquittal.
Mr. Valenzuela, whose family are immigrants from El Salvador and have owned a restaurant in Woodland, was represented in his first trial by an expensive attorney.  However, when the second trial came, his family's resources were depleted and they have had to go to public defense – first a conflict attorney and now perhaps a public defender.
In the meantime, Jose Valenzuela is being housed in the Yolo County jail at a time when the budget is being cut, there is talk about closing one of the jails, and the county is short on resources.  And yet, here is a man who has sat in jail for an additional five months at taxpayer expense, and it is unlikely that prosecutors will be able to get 12 jurors to say he did it.
Double jeopardy in the legal sense means an individual cannot be tried for the same crime twice.  However, a hung jury, which results in a mistrial, does not count.
In December, we faced the specter of the Galvan brothers being charged for their confrontation with West Sacramento Police for a fourth time.  A key difference is that the first two times, the juries hung 11-1 in favor of conviction on almosr all of the charges.  Thus, it seemed reasonable for the DA's Office to believe that they could win conviction.
However, when the jury swung to acquit on one charge, 11-1 to acquit on another and 7-5 in favor of acquittal for the rest of the charges in the third case, with different counsel, it became more problematic and eventually the DA dropped the case.
The Vanguard spoke at that time to McGeorge Law Professor Michael Vitiello.  Professor Vitiello said, "Now that you have a 5-7, it seems to me that the case is not getting stronger and at some point you just say wait a second."
"One, can we really devote these resources, and then the other thing is [that] at some point defendants are entitled to be free from the repeated efforts to convict them – the anxiety, the resources that are devoted to defending themselves in court."
Professor Vitiello stressed that this is not a problem of double jeopardy, but it begins to take on similar implications.
"The underlying policies are similar," he said, and "at some point people are entitled to be free from the pressures associated with repeated prosecutions.  The state has far more resources than most people."
This is a crucial point that applies to the Valenzuela case as well, as the family is unable to afford their private attorney. Although in Yolo County we have quite good and competent public counsel, in a lot of places, this would be a huge problem.
There was an interesting discussion on hung juries and double jeopardy last week among blogging attorneys.  Paul Kennedy, a Houston area attorney, wrote about a recent Texas trial and the jury's failure to unanimously agree on a verdict.
He wrote, "What is clearer evidence of reasonable doubt (other than a unanimous not guilty verdict)? Why should los federales get another bite at the apple when they couldn't prove up their case the first time? Why should Mr. Eversole be forced to cough up even more money to defend himself against charges the prosecutors couldn't prove beyond all reasonable doubt?"
Wrote Judge Gee for the 5th Circuit in US. v. Becton, "Appellants' argument-and an appealing one it is-runs that had they been convicted, and had their convictions been reversed on appeal for insufficiency of supporting evidence, they could not have been again put to trial. This is correct. Burks v. United States, 437 U.S. 1 (1978). How then, they assert, can it be that where, as here, the evidence was so entirely insufficient as to produce a hung jury rather than a conviction, a retrial is yet permissible? When the prosecution's case is on, and the evidence is insufficient, why should a defendant be worse off if the jury hangs than if it improperly convicts? Stated as an abstract proposition, the argument by analogy seems unanswerable."
However, a Connecticut-based public defender, who blogs under the name Gideon, wrote that in fact prosecutors answer this question in many ways, "the most specious being that a hung-jury is 'manifest necessity' that permits retrial and does not violate the double jeopardy clause. That a hung jury is not  a determination of the insufficiency of the evidence, because jurors may decline to convict for a variety of reasons despite overwhelming evidence."
As she wrote, "That is a troublesome proposition, which becomes clearer if you look at it another way. The State, with all its might, had the simple task of convincing 6 – just 6 – people of the guilt of an individual beyond a reasonable doubt (yes, whatever that means). How else can their failure to do so be interpreted other than a lack of evidence?"
But this is a lost battle.  One that few reading this piece are likely to side with.  We can make the argument, in an 11-1 hang for conviction, that the individual may have been simply acting capriciously – that is, almost haphazardly.
We know in the Galvan case, both lone hold-outs felt it was their duty to do so because they did not believe the police's account and felt that the jury rushed to judgment.  In the end, these individuals were vindicated.
In the reverse scenario, it seems a stronger case can be made that this is simply evidence that the state failed to prove their case beyond a reasonable doubt.  From a pragmatic level though, how do we operationalize a principle that can understand the difference between 11-1 for conviction and 6-6 or 11-1 for acquittal?
This might be where the discretion of the DA should come in.  However, we remained puzzled at the DA's insistence that the Valenzuela case go forward.  The evidence that emerged at trial is far from compelling.
In fact, looking at the Valenzuela case again as his case once again approaches trial, it is difficult to see, even with a change in counsel, how the DA would convince all twelve jurors that Mr. Valenzuela did it.
For one thing, the Woodland Police botched the crime scene investigation.  Officer Cueva was first on the scene, and his primary concern, after the safety of everyone, was to quickly question witnesses and try to apprehend the suspect.  The suspects were apprehended minutes later, yet the police did not secure the bar or the area outside where blood would have been. 
Det. Cordova, who said he was called out to the scene about an hour after the event happened, said that by the time he got there, no blood was at the scene, apparently washed away already.  He stated that he was told by officers that Mr. Valenzuela had been "positively identified." 
Det. Cordova stated that had he been the first responder he would have done things differently.  However, he stated that he would not criticize a fellow officer at all. 
The first problem in this case is that no witnesses, except the security guard at La Finca, Gabriel Bautista, could identify Mr. Valenzuela as the attacker – and Bautista had reason to dislike Mr. Valenzuela anyway.
The prosecution pointed to a recorded conversation between Mr. Valenzuela and his brother.  However, on the stand, Mr. Valenzuela explained convincingly that his statement referred to marijuana, not to the shooting, which, if found, would have put him in violation of probation.  He said that he had instructed his brother to get rid of marijuana hidden in this family's restaurant when he learned that the police were searching there for the weapon used in the attack.  
Finally, there was a lack of physical evidence in this case.  Mr. Valenzuela's clothes were tested and only two drops of blood were found.  The blood belonged to him.  The defense asserted the impossibility that Mr. Valenzuela could have been the attacker, based on this.
Some of the wounds on the first victim occur underneath clothing but the wound on his right wrist, where flesh appears to have been removed, would have flicked blood everywhere.  In fact, witnesses say that the wounds on the back of the first victim's head had blood gushing out of them.  People in the vicinity of the attack were covered in blood.
So how would the attacker not have been covered with the victim's blood?
With all of these questions, and with the Board of Supervisors last week looking into why there are so many trials, here would seem to be a prime example of questioning why we have had to house Mr. Valenzuela for an additional five to six months.  We have the expense of the court trial itself.  The expense of the prosecution and public defense's time.
Until we stop seeing re-trials from juries hung 11-1 for acquittal, it is difficult for me to sympathize with a county that is decrying the large number of trials, lamenting the lack of jail space and wondering how to save money.  The answer is staring us in the face.
—David M. Greenwald reporting