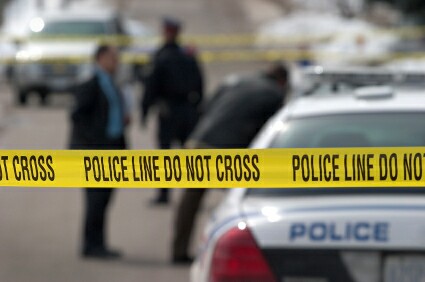 Nicholas Benson pled no contest to all remaining charges against him, stemming from the January 21, 2011, incident that captured regional headlines after he was arrested for making threats to harm himself and others,  and carrying an assault rifle with over 100 rounds of ammunition in his vehicle.
Following his preliminary hearing, Mr. Benson only faced a single felony charge for possession of an assault weapon.
Judge Fall reduced the second charge, which had been a felony obstructing an executive officer, down to a misdemeanor after officers admitted on the stand that Mr. Benson did not strike them or use force to resist their commands.
By reducing that charge to a misdemeanor, the enhancement for being armed with an assault weapon was also dismissed, leaving just one felony and two misdemeanor charges against him.
Apparently not getting any kind of plea agreement, Mr. Benson simply pled to the charges pending against him.
Judge Timothy Fall indicated that this may lead to a suspended prison term with a a grant of probation or it may not.  He made no promises.
Given the lack of criminal record and information from mental health officials, it appears more likely than not that Mr. Benson would escape prison time.
During his preliminary hearing, Mr. Benson's father Tim Benson testified that his son had spoken with him during the afternoon about a business plan in which he was hoping to grow medical marijuana for sale at the south end of their home in Winters.  His father rejected that plan and Nicholas Benson became angry and distraught.
Within an hour and a half he was angry and made threats to harm himself.  When Deputy DA Rob Gorman attempted to elicit that he made threats against others, Mr. Benson was adamant that it was only a threat to harm himself.
Suzanne Coutchie, the mother of Nicholas Benson, testified to a phone conversation in which Mr. Benson told her, "I want you to hear me loading the gun.  I want to kill myself."
She testified, "I heard metal clinking on metal."
Officer Michael Arimboanga of the Davis Police Department testified that they went to the apartment at 422 A Street and Mr. Benson was not there. They looked around as they walked back toward the police cars, they found him on Fourth Street between A and B, on the south sidewalk.
Officer Arimboanga testified that Mr. Benson slowly turned around and then walked around the rear of the pickup truck to the driver's side.
They pursued him prior to his getting into the pickup truck, deploying a non-lethal weapon that fired a bean bag at him, hitting him in the chest but making no impact on the subject.
He got into the truck, and at that point Officer Michael Moore tried to pull him out of the vehicle by wedging himself between the subject and the steering column.  However, Mr. Benson was tensing up his body, preventing them from extracting him from the vehicle.
Officer Arimboanga testified that he yelled "gun" after seeing the rifle on the passenger side.  He saw Mr. Benson's hand trying to reach the butt end of the weapon.  Officer Moore did a hand-strike, and eventually they were clear so they could deploy a Taser, which allowed them to extract him from the vehicle.
According to the officer's estimation, this entire incident took about two minutes.
Officer Michael Moore testified that Mr. Benson had an AR-15 assault-style weapon, and that he offered passive resistance by tensing his body and pulling his arms inward.  He did not see Mr. Benson touch his weapon during the struggle.
Under cross-examination, he acknowledged that Mr. Benson was not armed except with ammunition on his person.  He said that, in retrospect, Mr. Benson was unarmed but at the time it was not clear.
Judge Fall ruled that there was sufficient evidence to support the felony charge of the possession of an assault weapon and the misdemeanor possession of a firearm.
Defense Attorney Steve Sabbidini had disputed Count 2, which was a felony charge for  obstructing an executive officer, arguing that there was only passive resistance that the officer testified to, and that did not rise to obstruction of a peace officer by means of force or violence.
Mr. Gorman countered that the threats presented within the statement "suicide by cop," along with the passive resistance, was sufficient.
Judge Fall ruled that there was sufficient evidence to support the first and third counts.  However, he ruled that suicide by cop was not sufficient to support the second count, since it is not clear that he had ever made the threat to any specific individual, rather he used the phrase in an exchange with his brother via a text message.
However, he also ruled that Mr. Benson was not merely passively resisting, which would be akin to a protester going limp.  Instead, he used his strength to keep in place.  He ruled that the charge was still a Penal Code 69 violation, but not a felony.
By reducing the charge to misdemeanor, that caused him also to throw out the enhancement, a charge of being armed with an assault weapon.
While we have only heard the police's side of the story, based on the testimony at the preliminary hearing, the police appear to have done a good job to bring Mr. Benson in without harming him.  That the police did not shoot and kill Mr. Benson is credit to their quick work at apprehending him, before he harmed himself or others.
The worst charges were removed from this case, and now Mr. Benson will have the clear opportunity to get the kind of treatment that he really needs, to go forward and hopefully live a good and productive life.
—David M. Greenwald reporting