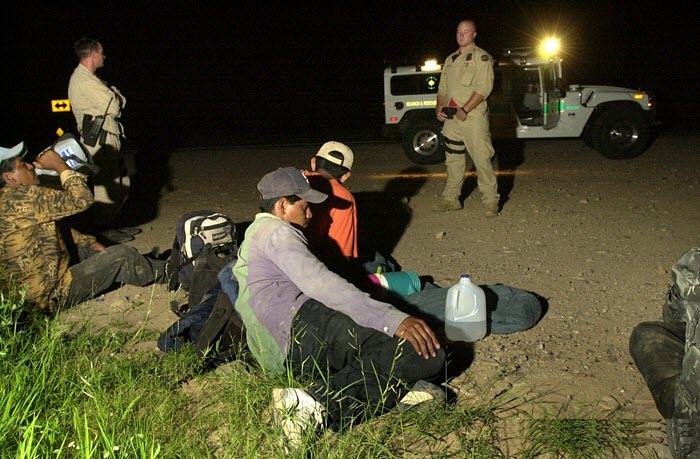 According to a recent
Public Policy Institute of California (PPIC)
study, Yolo County has an unauthorized immigrant population of 12,000 which represents roughly 6.2% of the population.
Overall in Yolo County, Latinos represent, according to Yolo County's website, 26% with Whites accounting for 58% of the population, Asians 10%, and Blacks 2%.
According to their study, "This population is in the midst of a major shift. After many years of increases, the number of California's unauthorized immigrants has remained stable or even declined slightly recently."
Moreover, the number of undocumented workers living in other states has increased substantially, compared to California.  They find, "In 1980, approximately half the nation's unauthorized immigrants lived in the state, but that share had fallen substantially, to about 26 percent, by 2008."
The figures are from 2008 and based on a complex estimation system that uses tax returns, previous estimates, and mathematical models.  It relied heavily on those who take advantage of a 1996 provision of the law and file taxes using an Individual Taxpayer Identification Number, or ITIN, which is for taxpayers who do not have a Social Security number.
This might suggest that the study underestimates the numbers.
Los Angeles has the largest number of unauthorized immigrants at 916,000, representing 9.3%.  Several counties have a larger percentage of their population as unauthorized immigrants, including Monterey and San Benito at 13.5%, Imperial at 12.8%, Napa at 12%, Santa Clara at 10.2, and Orange at 9.6%.
The Woodland Daily Democrat ran an article on this, interviewing Matt Rexroad, chair of the Board of Supervisors for Yolo County.
The Daily Democrat reports, "Illegal immigrants are a significant portion of the agricultural work force, including in Yolo County.  "It's part of our society," Rexroad said. "It's part of rural California.""
The Daily Democrat added, "But he said the agricultural industry has changed 'so much' and is not as dependent on manual labor. Illegal immigration is not an issue that the Board of Supervisors deals with on a regular basis as it's determined by the federal government. Rexroad said the federal government is 'incapable' of dealing with the issue."
Moveover, "He said the government is required to provide education but not health care. Rexroad mentioned a past Board of Supervisors meeting where he voted to discontinue the county's indigent health care program to illegal immigrants because the county could no longer afford it."
"Clearly we have illegal immigrants in California and as a local government we have to deal with it," Mr. Rexroad said.
The problem with ending indigent health care programs to illegal immigrants is that it could present a hazard to the rest of the population.  So, while on the surface it is easy to argue, we need to take care of our own, in the broader sense, and this is part of our own as they are fully integrated into society – what impacts them will impact others surrounding them.
I always find the reaction to illegal immigration to be fascinating.  There is a level of emotion reaction that seems disproportionate to the reality of the situation.
As Sacramento Bee columnist Marcos Breton wrote, "To begin with, there is rampant misunderstanding over the act of being in the United States without documentation.  My fellow Americans – it is a civil offense, not a criminal one. If you don't believe me, look it up."
He even cites our own Sheriff, Ed Prieto, who "admitted that he too once believed the misinformation."
"I was always told (being in the United States without documentation) was a felony violation of law," Sheriff Prieto said in various publications in late May. "But after we met with the Mexican Consulate in Sacramento, we learned it's not."
People will point out, as some of the readers did in Mr. Breton's column, that there is a criminal provision against the act of illegally crossing the border, but Mr. Breton actually addressed this, leading me to wonder if people read his columns any more carefully than they read mine.
He wrote, "If the U.S. Border Patrol  catches an immigrant in the act of crossing the border, it is a violation of Title 8 of the U.S. criminal code. The vast majority of these cases result in deportations, not prosecution."
But a huge misconception comes in how illegal immigrants get here.  Most of them, as Mr. Breton points out, enter this country legally and simply overstay their visa. 
Writes Mr. Breton, "The 'illegal presence' of being in the United States is not a violation of the U.S. criminal code. It's a civil immigration offense and can result in fines or deportation."
As I mentioned previously, this debate triggers knee-jerk reactions.  One commentator, John Taylor, on the Woodland site said, "Dont talk about it, load them up and take them home."
Because, obviously, our county has the resources to search out 12,000 people, determine that they are undocumented, and to deport them.
From a practical standpoint, this just raises too many problems.  Aside from the sheer logistical impossibility of rounding up millions of people across the country, determining who is here illegally, having deportation proceedings, physically removing them and other considerations.
From a political standpoint, the amount of disruption to the immigrant communities, many of whom are here legally, would be tremendous.  There would be a huge backlash to this.
Second, if you suddenly remove a sizable percentage of the population, Yolo's percent is around 6% of the population, and that appeared to be about the median in the state, that is a huge disruption to the economy.  You would cripple critical industries overnight, such as the farming industry that relies on migrant farm workers in order to cultivate and pick crops.
People really do not think this stuff through very carefully.
People continued with the jobs issue.  "How many unemployed and under employed legal residents do we have in Yolo County?"  John Taylor suggested that they take jobs "that our unemployed can get, because the Y will work for cash and no taxes."
The jobs issue is one of the bigger red herrings. 
A parallel PPIC study wrote, "Whether illegal immigrants take jobs that U.S. natives will not do or displace U.S. workers has long been a bone of contention among advocates and a topic of study for researchers. Most studies indicate that immigrants (including illegal immigrants) have little effect on the wages and employment of U.S.-born workers. Some estimates suggest that more highly educated U.S.-born workers experience slight gains, as they are not in direct competition with most immigrants, and less-educated U.S.-born workers experience slight negative effects. But even these results are relatively small and debated."
They continue, "A recent PPIC report concludes that because legalizing formerly unauthorized low skilled workers did not increase their wages, a legalization program would most likely not increase competition between formerly unauthorized workers and U.S-born workers. Most economists agree that immigrants, including illegal immigrants, increase total economic output in the United States."
Finally, there are huge amounts of claims that "Illegal immigration is a huge problem in California and a huge reason why our state is broke," such as Matthew Findley wrote on the Daily Democrat site.
In contrast, the PPIC argues, "There are no reliable studies of illegal immigrants' fiscal impact in California. In 2004, the Government Accountability Office concluded that there was not enough information to estimate state costs even of educating illegal immigrant children. Further, most studies of the fiscal effects of immigration do not separate illegal from legal immigrants."
The PPIC continues, "Some parties to the debate claim that illegal immigrants and their children are a drain on public coffers. Others claim that they pay more in taxes than they receive in services. Sorting out the fiscal effects is a serious challenge, and the outcomes depend on the accounting methods used."
They conclude, "According to one study—by an organization advocating reduced immigration—illegal immigrants are a net federal fiscal drain because of their low incomes and low tax payments, not because they are big consumers of public services. Another study, by the Brookings Institution, uses new data from the Current Population Survey to conclude that immigrants and their children contribute more in taxes than they receive in benefits."
We can probably conclude from this that the costs of illegal immigration are uncertain.  However, a lot of the costs are self-inflicted, the costs of patrolling the borders and enforcing immigration laws.
I have always believed we need to liberalize immigration laws.  I think if we provide people a way to come to this country to work, we cut the legs out from the human trafficking and drug trade that goes along with it and that eliminates most of the worst problems that people attribute to illegal immigration.
In short, I think immigration policy suffers the same problem as drug policies – interdiction rarely works and people will be surprised as to how little tougher enforcement mechanisms will solve things.
—David M. Greenwald reporting