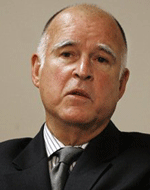 A statewide survey released on Monday by the Public Policy Institute of California (PPIC) found that the majority of California voters favor Governor Jerry Brown's proposal to temporarily increase the state sales tax and the income taxes of high earners.
According to a release from the PPIC, "Sixty-five percent of all adults and 60 percent of likely voters favor the proposal, while 28 percent of adults and 36 percent of likely voters oppose it."
Governor Brown's proposal would raise roughly $7 billion a year by increasing the sales tax a half-cent for four years and the income taxes of individuals earning more than $250,000 for five years.
The Governor's proposal. along with competing tax plans being offered by others, comes at a time when nearly all Californians (93%) say the state's budget situation is a problem, the PPIC press release reported. Most residents (62%) say their local government services – those provided by cities, counties and public schools – have been affected a lot by recent budget cuts.
The money from the tax increases would go to K-12 schools.  When Californians are asked a follow-up question about how they view his proposal if new revenue were to go directly to schools, 70 percent of all adults and 58 percent of likely voters favor it (27% all adults, 37% likely voters opposed).
"The governor's plan includes some of the most popular ideas for raising taxes – higher taxes on the wealthy and more money for schools," says Mark Baldassare, PPIC president and CEO. "At the same time, the major challenges in asking Californians to pass state tax increases are the low approval ratings of state elected officials and high levels of distrust in government."
California faces automatic spending cuts in January to make up the state's budget gap if, as expected, projected revenues fall short. Cuts would be made to K-12 schools, higher education, health and human services, and public safety. When residents are read a description of possible cuts, a plurality (41%) prefer to close the budget gap with a mix of spending cuts and tax increases. Fewer – 30 percent – prefer to close it mainly with spending cuts (11% say mostly tax increases and 9% say it is okay to run a deficit).
With K-12 education making up a large share of the expected "trigger cuts," a strong majority (85%) of Californians are concerned (53% very, 32% somewhat) about the potential effects on public schools.
"People are beginning to feel the impacts of state reductions in spending at the local level," Mr.  Baldassare said, "and people are concerned about what might come about next."
The bad news for Governor Brown, according to the same poll, is that his poll rating is relatively low at 42%, with a slightly higher 46% among likely voters.  That number, however, is substantially higher than the polling for the legislature, which registers a 25% overall approval rating and only 16% approval among likely voters.
Governor Brown issued a statement in response to the poll, stating, "California still faces damaging budget cuts, so it's encouraging that so many citizens are willing to consider some modest, temporary tax increases."
Previously, in his letter announcing the tax proposal, he argued, "Unfortunately, the deep cuts we made came at a huge cost. Schools have been hurt and state funding for our universities has been reduced by 25 percent. Support for the elderly and the disabled has fallen to where it was in 1983. Our courts suffered debilitating reductions."
"The stark truth is that without new tax revenues, we will have no other choice but to make deeper and more damaging cuts to schools, universities, public safety and our courts," he added.
Since being elected as governor in 2010, and beginning his term this year, Governor Brown has warned that we have had years of "budget gimmicks instead of honest budgeting."
Governor Brown had pushed for a vote on tax extensions, but along party lines it fell short of the two-thirds vote requirement needed to put them on the ballot.
"Forced to act alone, Democrats went ahead and enacted massive cuts and the first honest, on-time budget in a decade. But without the tax extensions, it was simply not possible to eliminate the state's structural deficit," the governor wrote.
Tom Del Becarro, California Republican Party Chairman, pointed out on Monday that in recent years voters on election day have rejected tax measures.  In fact, the last time a tax measure passed in California was in 2004.
Last week, he criticized the governor for calling "upon Californians to bail out Sacramento by calling for higher taxes."
He argued we have a revenue problem, not a tax problem.
"We have a revenue problem.  Tax revenue is down over 25% from 2007.  We don't have this problem because some people are not paying enough taxes," he argued.
On the other hand until the economy can be turned around, the only other option is to continue to cut funding to education and other vital services.  Increasingly, as the polling by the PPIC indicates, the voters are not willing to do that.
Not only has K-12 education been decimated by cuts, students are revolting in the UC and CSU system against cuts to state funding that have pushed up student fees.
Refusal to raise taxes in other areas means an increased burden on the middle class, as they attempt to send their children to college.
That said, I think Mr. Del Becarro is largely correct when he said, "We always hear about how people are ready to pay more, but then, on Election Eay, they turn it down."
It is, indeed, relatively easy to run campaigns against tax increases.  However, given the magnitude of the state cuts and the targeted nature of the taxes, it is also possible that this time things will be different.
—David M. Greenwald reporting