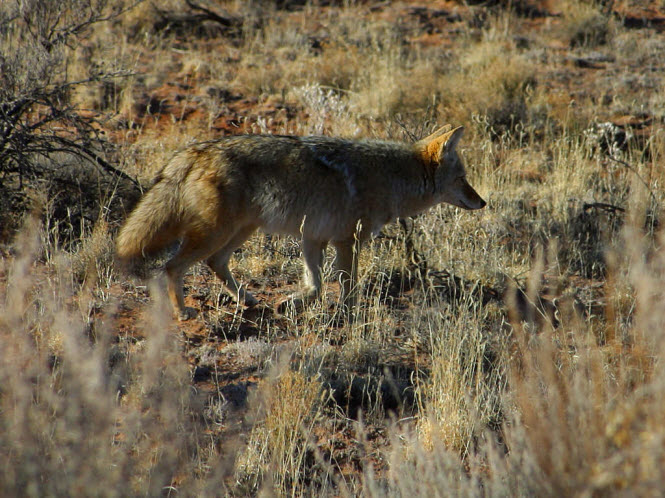 Anger and outrage are growing in the city of Davis over the decision by the United States Department of Agriculture's Wildlife Services to have the Yolo County Agriculture Department's trapper kill five coyotes last month in Davis.  A special 9:30 pm public session has been scheduled at tonight's city council meeting to allow the public to speak out on specifically this issue.
"I am deeply concerned about the taking of the coyotes, and the complete lack of public process and concern for community interests that proceeded the killings," Mayor Joe Krovoza told the Vanguard in a statement.
John McNerney, the City's Wildlife Resource Specialist, said that the county collectively contracts with the US Department of Agriculture's Wildlife Services to take care of wildlife trapping and removal service.  All municipalities contract collectively for these services.
Mr. McNerney expressed concern with the way this was handled.
"I think what is most frustrating and most concerning is the unilateral way this was handled," he said.  "The fact that I [as the City's Wildlife Manager] was not brought into any of the decision making leading up to the removal of these animals is very concerning for the city."
"We would have preferred to have been in dialogue with the USDA trapper prior to the decision to remove the animals," he added.
When they are called for services, for the most part, he said, "It's a lethal removal.  Relocate trapping or relocating animals is pretty difficult.  In many cases it is forbidden by state law."
Mr. McNerney was never contacted by the county or the USDA Wildlife Service's office about the proposed management action.  There was no involvement of the city or city employees in this action.
"Had they the courtesy to notify me of their intentions, I would have requested and facilitated a discussion with all parties to find a solution that allowed the coyotes to remain," Mr. McNerney said.
The Davis Enterprise, on July 12, reported that it was a request by the Wildhorse Golf Club that led to the action.
"We were requested and an agreement was signed because there had been a pattern and concern about aggression toward joggers that had pets, as well as pets in the area," Carol Bannerman, a spokeswoman for the USDA Wildlife Services and Animal Care told the Enterprise.
The Enterprise also reported that Wes Leith, superintendent of the golf course, "contacted the county about the coyotes after he received numerous complaints from nearby residents."
"The Wild Horse Golf Course management had contacted the county with some concerns from adjacent residents about the coyotes," John McNerney said.
However, Mr. McNerney was very familiar with the coyotes, having personally been observing this situation for a number of months up in the Wildhorse Ag Buffer.  What he saw was normal behavior on the part of the coyotes.
"I was less than concerned about the coyotes being up there especially in the transition area and golf course because it's well suited for coyotes on the urban edge," he said.  There is a nice buffer between the ag fields and the urban population of Davis.  "If anywhere in Davis was a good place to support the coyote population it would have been out there."
Other areas might have been of greater concern with a proximity to residential areas.  At the same time, he was excited to see the coyotes out there as a top predator in the ecosystem.
"Just having top predators in those ag buffers out there is desirable because it helps to balance and maintain a healthy ecosystem," he said.  "If you remove top predators you can get an imbalance of some of the other species, for example, ground squirrels."
Residents in the community are outraged by what they are calling the senseless killing of the coyote family.
Gene Trapp has been professionally involved with wildlife for most of his life.  He asks, "Why is it that so many people are terrified of any form of wildlife, and the first thought they have is to kill it?"
"It is important that people recognize that coyotes are part of our ecosystem, and that they have intrinsic and ecological value," he wrote.  "They keep rodents in check, and also predate on other small carnivores (skunks, raccoons, foxes, feral cats) which helps songbird and ground nesting bird populations survive. While we need to have some guidelines in our relationship with coyotes, they are highly unlikely to attack people."
Cayce Wallace has been a longtime advocate for animals in this community.
"I am shocked and deeply saddened by the killing of these coyotes," she wrote.  "Since there was no emergency the local agencies should have worked together and maybe someone would have learned that killing does not work."
"I have been watching these coyotes and checking in on them, amazed at how beautiful they are and how fortunate we are to have them here and now you trapped them and shot them. This is not a coyote problem, it is a people problem," Ms. Wallace added.
"According to the UC IMP statewide integrated pest management program, there have been roughly 160 reported coyote bites to people in the entire state of California since the 1970's," she continued.  "I am shocked that Davis can't figure out how to live with nature. Coyotes are a vital and natural component of the ecosystem in Yolo County."
The city, Mr. McNerney said, does not have a specific policy that addresses nuisance wildlife.
"The unofficial policy that I work with is trying to do conflict resolution as a primary step," he said.  He said if he gets a call, he will try to work with the residents to find ways to prevent the animal from causing problems.  "First and foremost is to try to find a solution to reduce or eliminate the conflict before needing to go further."
If the animal is acting aggressively, coming into contact with people, or showing signs of disease, "then the city would act to trap or remove that animal through lethal means if it was decided it was a clear and present danger to public safety."
But that is a last resort and the city does not go to the county or the USDA trappers unless there is a clear problem.
"Davis nurtures its rural-urban interface to support exactly the habitat the coyotes enjoyed.  Scores of coyotes live around Davis and this can't be precedent for other actions anywhere — near our borders or otherwise," Mayor Joe Krovoza told the Vanguard.
"A new family will move in, and we must be prepared to welcome them.  There is no reason to view these animals as a threat; they were bringing great joy to many.  Public education is needed, not unilateral actions," he added.
The city council will address their preferred process, going forward, during an emergency special meeting tonight at 9:30 pm.
"This will, in effect, be a Time Certain action during our regular July 17 meeting," Mayor Krovoza said.  "We will take public comment on the action then, hear from our wildlife specialist, and we have invited the County and USDA Wildlife Services and Animal Care to attend and address us."
The Vanguard has confirmed today with Yolo County Agricultural Commissioner John Young that the previous information indicating that the USDA Wildlife Services authorized the Yolo County Agriculture Department to perform lethal removal of the coyote family was incorrect. The county agency was not involved.
—David M. Greenwald reporting