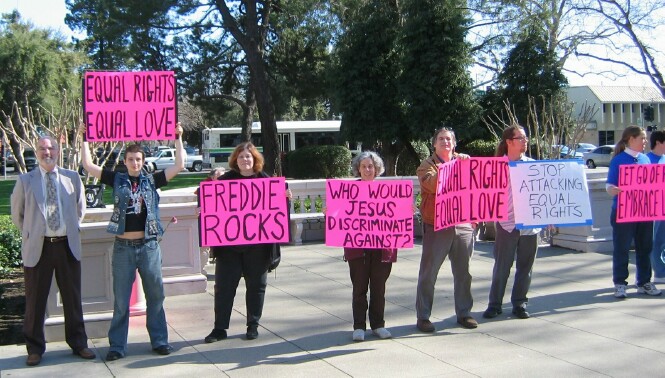 In an interview with Yolo County Clerk Freddie Oakley that will be run on Monday, she told the Vanguard on Friday morning that she expected the stay to be lifted within 23 days.  Little did she realize that just a few hours later, the Ninth Circuit Court of Appeals would lift the stay on same-sex marriages just days after the court declined the appeal based on a lack of standing.
In a single line, "The stay in the above matter is dissolved effective immediately," the court effectively removed the remaining barriers to legal, same-sex marriages in California.
"I am thrilled that the Ninth Circuit Court of Appeals lifted its stay to allow same-sex couples to legally marry in California," said Attorney General Kamala Harris. "Gay and lesbian couples have waited so long for this day and for their fundamental right to marry. Finally, their loving relationships are as legitimate and legal as any other."
Meanwhile, on Friday, at the direction of Governor Edmund G. Brown Jr., the California Department of Public Health has notified clerks and registrar/recorders in all 58 California counties that same-sex marriage is now legal in California and that marriage licenses must be issued to same-sex couples immediately.
In a letter from the Department of Public Health, which overseas marriage licenses, to county clerks and recorders, they wrote, "On June 28, 2013, the U.S. Court of Appeals for the Ninth Circuit dissolved the stay of the order enjoining enforcement of Proposition 8. As explained in the notice dated June 26, 2013, this order applies to all 58 county clerks and county recorders. This means that same-sex marriage is again legal in California."
"Effective immediately, county clerks shall issue marriage licenses to same-sex couples in California," the letter continued,  "People who are currently in a State Registered Domestic Partnership (SRDP) may be issued a marriage license if the parties to the SRDP and the parties to the marriage are the same (Family Code Section 298.5) and the parties are not already legally married to one another in another jurisdiction."
They also noted, "Same-sex couples legally married in another jurisdiction will be considered already legally married under California marriage licensing and certification laws and they should not be issued a new marriage license. Family Code sections 301, 302, and 500 allow only unmarried persons to marry in California."
In the aftermath of Wednesday's Supreme Court ruling, a spokesperson for the Ninth Circuit Court of Appeals had initially indicated it would take at least 25 days for the court to act following the Supreme Court ruling.
However, immediately after the ruling, Governor Brown ordered the public health agency to advise the state's counties to "begin issuing marriage licenses to same-sex couples in California as soon as the 9th Circuit confirms the stay is lifted."
Supporters of Prop 8, such as Andy Pugno, reacted with immediate outrage, arguing that the court's removal of the stay deprived his group of "our right to ask for reconsideration."
In a statement, Mr. Pugno said, "This outrageous act tops off a chronic pattern of lawlessness, throughout this case, by judges and politicians hell-bent on thwarting the vote of the people to redefine marriage by any means, even outright corruption."
He would add, "The resumption of same-sex marriage this day has been obtained by illegitimate means. If our opponents rejoice in achieving their goal in a dishonorable fashion, they should be ashamed."
Yolo County Clerk Freddie Oakley has since indicated that they will wait until Monday to begin performing same-sex weddings.  She told the Vanguard on Friday morning prior to the decision that she expects an initial torrent of requests, but that, after a brief period, she would expect same-sex marriages to become business as usual.
"As Yolo County's clerk-recorder, I am happy that I will no longer be forced to discriminate based on gender when I issue marriage licenses.  That moment will come very soon, just as soon as the California Department of Health gives us a green light," she stated on Wednesday following the Supreme Court decision.
She added, "As a firm believer in equality before the law and the equal value of all persons, I am, personally, happy to think that the State of California will soon rejoin the 11 states and the District of Columbia who all have marriage laws that allow adults to marry without regard to gender.  That was assured today, I hope."
"I am very happy, indeed, to think that I will soon be a part of the support and confirmation of so many families who have waited too long for this moment," Ms. Oakley told the Vanguard.  "As a very serious-minded religious woman, I will be happy on the day when people of varying faiths stop picking and choosing their Bible passages to whack at one another's souls, if that day ever arrives."
That day, at least in regard to same-sex marriages, will come about 21 days sooner than originally anticipated.  Tune in on Monday for the Vanguard's full interview with Freddie Oakley.
—David M. Greenwald reporting
Photo Caption: Counter-protestors at 2007 marriage protest against Yolo County Clerk Freddie Oakley.