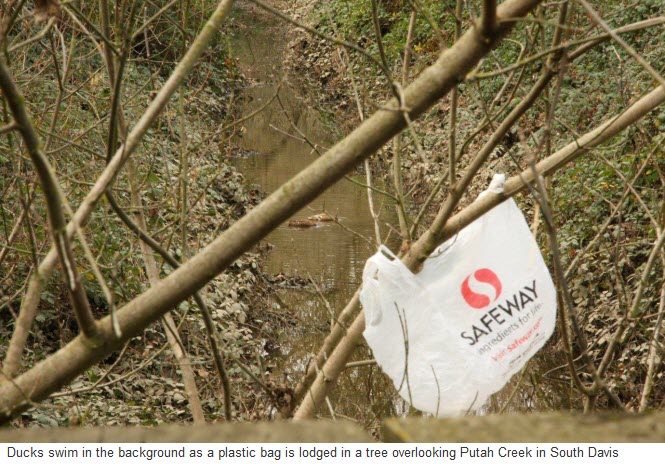 The debate against an ordinance related to carryout plastic bags has been dogged by misperceptions and outright errors.  I will fall on the sword for some of this.  One of our readers for months has been telling me to stop calling it a plastic bag ban.
The reason I had been insisting on calling it a proposed plastic bag ban is, frankly, I do not believe in using sanitizing language – let us call a spade a spade, and then debate the merits of the proposal.  The problem is that I was wrong.  It is not a ban on plastic bags at all or at least all kinds of plastic bags from all businesses; it is in fact an ordinance that deals much more generally with single-use carryout bags.
There are several important implications in my error.  The first is that there is only one type of bag that is banned – and that is the single-use carryout bag, and only in larger chains.
Both Councilmember Brett Lee and Mayor Joe Krovoza bring up a fairness issue and I think it is a reasonable point, but in the end, this is not about fairness, this is about effective public policy.  Why only ban one type of bag from specific retailers?  As Jacques DeBra pointed out on Tuesday, that is the source of the vast majority of the bags that are used and thus the vast majority of the problem.
The fairness issue, once you dig down, does not exist.  Why?  Because while the bag ordinance could cripple small, locally owned retailers who are exempted from it, it has virtually no impact on the big grocery stores and other chains that the ordinance targets.
There is a reason why grocer's associations support plastic bag bans – it does not hurt their business.
According to city staff, this ordinance would get at about 90 percent of the plastic bags in the city.  So you have a policy that does not hurt those who are most vulnerable and yet deals with the vast majority of the problem – is that really unfair?
I just happened to be visiting my folks' house in San Luis Obispo this weekend.  When their bag ban hit, the major chains all had free giveaways of reusable bags.  So my father showed me his college, which even included bags from places like Kohl's.
This is free marketing and advertising for big chains, who can afford to give away reusable bags.
People wonder why ban plastic bags, but charge for paper bags.  Well, if you do not, people simply go from one single-use bag to another.  That does not solve the problem.
The remarkable thing is that most people will not pay the ten cents for their bags.  For instance, my father has said he either always has reusable bags in the trunk of his car or, on the few occasions where he hasn't, he does what he would at Costco, and just puts all of the merchandise directly into his trunk.
Think about it.  Davis residents already frequent the Davis Food Co-op in great frequency.  They already have this policy in place.  Those of us who go to Costco are already familiar with free-floating merchandise.
In other words, this isn't that radical a change.
Another critical point for those concerned with food contamination in re-usable bags or doggy poop, the city is not banning all plastic bags.  People will still have plastic produce bags and they will still have plastic newspaper bags.
By way of example is the large pile of bags my father still has for when my sister comes with the dogs or either of us come with the babies and their diapers.
Councilmember Brett Lee, I think, got this issue wrong last week.
He said, "There's a whole group of businesses which are not touched by this approach. Are plastic bags bad? Or are they only bad if they come from a supermarket?""
Bob Dunning today follows up and writes, "If plastic bags are bad, they're bad. Period. It doesn't really matter how big the retailer using them happens to be. To be fair, you have to ban all of them."
That sounds like a good argument.  However, it misses two key points.  First, it is not that plastic bags are bad, it is the quantity of the plastic bags that are the problem.  The ordinance would, according to the city's numbers, create a huge reduction in their use.
Second, the fairness issue again misses the key point that fairness is not simply a matter of applying something to all people or entities in the same way.  It is a matter of tailoring public policy in a way that reduces the impact on those most vulnerable.  That is why, for example, some people can ride the bus for free while others cannot, because the impact of the fee is not uniform across all populations.
The interesting thing is that a misreporting in the initial article leads to a misreporting in today's Dunning article.
Writes Mr. Dunning, "Initially, we heard the council was willing to entertain a plastic bag ban for major retailers with gross sales above a certain amount. Now we're hearing they want to ban any bag that moves at any establishment whatsoever, regardless of size or sales."
Mr. Dunning then quotes the original Enterprise story that stated, "But Mayor Joe Krovoza and Councilman Brett Lee seemed to want to extend the ban to all businesses, as both didn't believe it would be equitable to force only part of the business community to comply."
Actually, it is not clear that either want to extend the ban to all businesses.  Brett Lee does not want a ban at all – he wants a fee for plastic and paper bags for all retailers.
Joe Krovoza only asked the staff to re-evaluate the exemptions.
In the end, with the exception of the bag accounting requirements, I think the ordinance got it right.  It will eliminate 90% of the uses of single-use carryout bags, but will do so only  for the businesses that can afford it, for those it will not create an undue burden upon.
Once the council evaluates this policy without the misperceptions, I think they will reach a similar conclusion.
—David M. Greenwald reporting