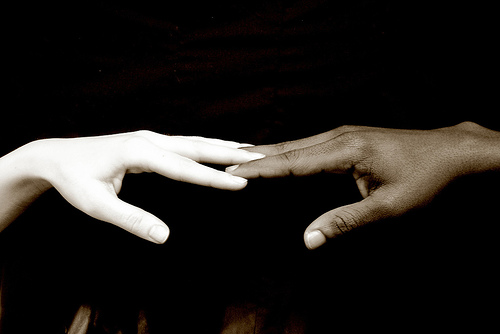 One of the big questions for President Barack Obama's speech would be for him to figure out how to thread the needle – to exalt the progress of the last fifty years while not becoming complacent about the challenges that remain.
How would he honor the spirit of those who fought for civil rights, and yet understand that, while we have come far, we have not come nearly far enough?
This week, President Obama honored "those ordinary people whose names never appeared in the history books, never got on TV," who would fight "on the battlefield of justice, men and women without rank or wealth or title or fame would liberate us all, in ways that our children now take for granted as people of all colors and creeds live together and learn together and walk together, and fight alongside one another and love one another, and judge one another by the content of our character in this greatest nation on Earth."
He laid out their struggles: "Many had gone to segregated schools and sat at segregated lunch counters, had lived in towns where they couldn't vote, in cities where their votes didn't matter. There were couples in love who couldn't marry, soldiers who fought for freedom abroad that they found denied to them at home. They had seen loved ones beaten and children fire-hosed."
"They had every reason to lash out in anger or resign themselves to a bitter fate," the President said. "And yet they chose a different path. In the face of hatred, they prayed for their tormentors. In the face of violence, they stood up and sat in with the moral force of nonviolence. Willingly, they went to jail to protest unjust laws, their cells swelling with the sound of freedom songs. A lifetime of indignities had taught them that no man can take away the dignity and grace that God grants us."
He threaded that needle well when he said, "To dismiss the magnitude of this progress, to suggest, as some sometimes do, that little has changed — that dishonors the courage and the sacrifice of those who paid the price to march in those years," as he listed the names of those killed in the struggle – Medgar Evers, James Chaney, Andrew Goodman, Michael Schwerner and Martin Luther King, Jr.
He argued, "They did not die in vain.  Their victory was great."
At the same time, he said, "But we would dishonor those heroes as well to suggest that the work of this nation is somehow complete. The arc of the moral universe may bend towards justice, but it doesn't bend on its own. To secure the gains this country has made requires constant vigilance, not complacency. Whether it's by challenging those who erect new barriers to the vote or ensuring that the scales of justice work equally for all in the criminal justice system and not simply a pipeline from underfunded schools to overcrowded jails."
At the same time, the struggle for integration is remarkably still with us.  The timing is interesting and perhaps planned, but this week, Wired Magazine published a fascinating article using technology to demonstrate just how racially segregated we remain.
They write, "Last year, a pair of researchers from Duke University published a report with a bold title: "The End of the Segregated Century." U.S. cities, the authors concluded, were less segregated in 2012 than they had been at any point since 1910."
However, "less segregated does not necessarily mean integrated."
A map created by Dustin Cable at University of Virginia's Weldon Cooper Center for Public Service shows one dot per person, color coded by race.
White people are shown with blue dots; African-Americans with green; Asians with red; and Latinos with orange, with all other race categories from the census represented by brown.
The result is a 7 GB visual map of 308,745,538 dots.
The result is fascinating.  They write, "Looking at the map, every city tells a different story. In California, for example, major cities aren't just diverse, they're integrated to a great degree, too. We see large swaths of Sacramento dotted variously with reds, blues, oranges, greens and browns. Los Angeles is more distinctly clustered, but groups still bleed into one another."
Then there is the Midwest, and the racial divide is "shockingly exact."  For instance, in Chicago there are bands of blacks and whites, represented by the green and blue dots.
Then there is Detroit, one of the most segregated cities in America.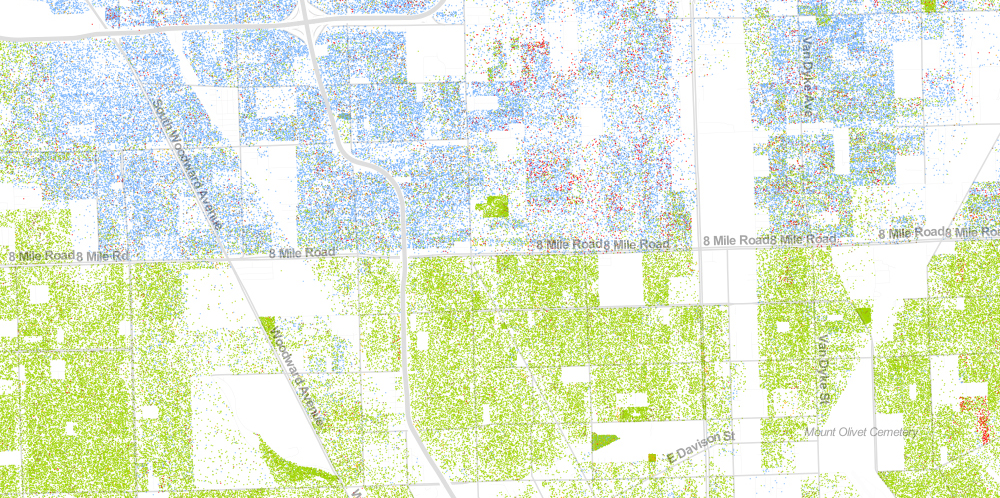 About ten years ago, the movie featuring Eminem came out, 8 Mile. North of 8 Mile Road is a largely white community, though with some mixing as you move south.  South of 8 Mile Road is almost all black with only tiny pockets of Asians.
Wired writes, "In Detroit, the most segregated city in America according to one recent study, there's no buffer at all. We see how 8 Mile Road serves as the dividing line between two largely homogenous swaths – one predominantly white and one predominantly black."
Wired concludes, "Responding to the Duke University study last year, experts were quick to expound on the complexities of the issue. Housing desegregation, one pointed out, is not a magic bullet for equal opportunity. Another made it clear that blacks remained more segregated from whites than Latinos or Asians. Here, at least, Cable's given us a chance to see how things stand today in greater detail than ever before."
Here's the full map: http://demographics.coopercenter.org/DotMap/index.html
It is a fascinating look at the color divide in this country and how, despite 50 years of progress, we still remain a nation divided along racial lines, in part because we live apart from each other.
The challenge for the President was really to figure out a way to bridge that gap and President Obama would seek to join the races against a common adversary, much as Dr. King did through his poor man's marches toward the end of his life.
But many will argue that it was here that the President failed to deliver.
The President said, "Dr. King explained that the goals of African-Americans were identical to working people of all races: decent wages, fair working conditions, livable housing, old age security, health and welfare measures — conditions in which families can grow, have education for their children and respect in the community."
The position of all working Americans, he said, "regardless of color, has eroded, making the dream Dr. King described even more elusive."
He added, "For over a decade, working Americans of all races have seen their wages and incomes stagnate. Even as corporate profits soar, even as the pay of a fortunate few explodes, inequality has steadily risen over the decades. Upward mobility has become harder. In too many communities across this country, in cities and suburbs and rural hamlets, the shadow of poverty casts a pall over our youth, their lives a fortress of substandard schools and diminished prospects, inadequate health care and perennial violence."
He would acknowledge some of the shortcomings: "If we're honest with ourselves, we'll admit that during the course of 50 years, there were times when some of us, claiming to push for change, lost our way. The anguish of assassinations set off self-defeating riots."
He said, "Legitimate grievances against police brutality tipped into excuse-making for criminal behavior. Racial politics could cut both ways as the transformative message of unity and brotherhood was drowned out by the language of recrimination."
"What had once been a call for equality of opportunity, the chance for all Americans to work hard and get ahead was too often framed as a mere desire for government support, as if we had no agency in our own liberation, as if poverty was an excuse for not raising your child and the bigotry of others was reason to give up on yourself," he said. "All of that history is how progress stalled. That's how hope was diverted. It's how our country remained divided."
Did President Obama do what he had to do in this speech?  Some criticize the President for blaming people of color for persistent economic equality, although perhaps that was the message many perhaps wanted to hear.
As the news site Bloomberg noted, "The commentary has been all about how far and how little the nation has traveled since that day in August 1963 when Martin Luther King, Jr. described his dream of racial and economic equality."
The editorial continues that, while blacks may no longer be forced to ride in the back of the bus, "poor Americans who are black are less likely than poor white households to own a car. No, there are no longer blatantly racist literacy tests for black voters — but attempts to restrict the right to vote persist. Yes, the poverty rate has declined — but it remains far higher for black Americans than for whites."
While I have read a lot of commentaries on the failure of Obama's speech, to me there are two primary failures.
First, there was the failure of the President to move beyond rhetoric and make some proscriptive calls for change.
As one commentary noted, while it never could have lived up to the speech of the 1963 march, "the grievances this time were ill defined and most speeches were a procession of predictable we've-come-so-far-but-have-so-far-to-go remarks that could have been said in 1973 (and, alas, will probably be repeated in 2053)."
And you might wonder, well, what could the President have said, while avoiding turning it into a State of the Union address with calls for Congress to act?
To me, the clear nexus that was missing is the New Jim Crow – the linkage between poverty-criminality-incarceration.  The argument as we have laid down is that, while we can criticize those who allow poverty to be an excuse for not raising one's child, we must also take responsibility for understanding how the present system makes that exceedingly difficult, if not impossible.
We now understand that, by putting people into the system, we make it far more difficult that they can ever escape, but the President never acknowledged what Eric Holder had a few weeks ago – and without bringing that piece to bear on the situation, we will never bridge the racial divide.
—David M. Greenwald reporting