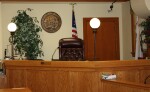 On August 4, a story ran in the Woodland Daily Democrat entitled, "West Sacramento gang member sentenced in domestic violence case," and once again it was a strange title for a case that had nothing whatsoever to do with gangs.  Instead it is a story about how a simple misdemeanor domestic assault turned into a nearly eight-year prison sentence.  And how once again, the Yolo County District Attorney's office took a minor incident and turned it into a major criminal act.
The act itself was simply a misdemeanor assault charge, that would have netted him six months in prison at most, and most likely would have been suspended and turned into probation.  What really nailed him was the "violation of probation" which netted him 3 years, and the two felony counts of dissuading a witness, which turned what should have been a six-month sentence into a seven-year and eight-month sentence. The Woodland Daily Democrat inaccurately reported this sentence to be twelve years.
According to the police report, the victim Raquel Iniguez had been involved in a relationship with Jesse Garcia for a year when the incident occurred.  She had a four-year-old son Dominic.  She went to the suspect's house to give him a ride the next morning.  Mr. Garcia "started acting stupid" so she told him she was going to leave.  The suspect told her he was going to take her car and drop her off at her house. 
As they were going to her house the suspect started accusing her of lying to him.  He told her that he was going to pull over on the freeway and beat her "ass."  Then he pulled over on the freeway and made her get out of the car, started to leave her there, but her four-year-old son was still in the car.  He let her back into the car and told her that the next time she lied to him, he was going to "f-ing kill" her.  He took her to his brother's house, he was still yelling at her.  He hit her twice in the left side of her face. 
That is the story that she told police. She then grabbed a kitchen knife, put it in her purse and left.  She went to the fire department and called the police.
However, the story does not completely hold up.  According to Mr. Garcia's Attorney, Charles Pacheco, "There was a fireman who saw her which would have been within fifteen minutes of this thing occurring because the firehouse was only about a block and a half from where Jesse lived and where she got out of her car.  That fireman testified that he saw no bruises on her, he saw no reddening, nothing was seen on her as far as injuries, not even a red mark."
Ms. Iniguez would deny this story once she got on the stand.  According to Mr. Pacheco, they never got on the freeway at all.  Instead they only got as far as Harbor and West Capitol Avenue when they made the u-turn to return to the house.  On the stand, he asked the arresting officer if he found out from her on which side of the county line the incident occurred.  The officer indicated that he had not asked her.  He was asked if he thought that was an important piece of information?
Mr. Pacheco told the Vanguard, "The officer didn't test her story in any fashion."
On the stand, Ms. Iniguez indicated that she was just angry at him because he wanted to take his stuff back from her car and they were breaking up.  They were fighting over some financial matters.  He had given her money and she had used it for other things.
According to Mr. Pacheco, "On the stand Ms. Iniguez claimed that she was hitting him with her left hand because she was angry at him and what he did was with his right hand, he pushed her twice in the cheek.  That was it.  It didn't hurt.  It didn't do any damage to her."
During sentencing, Ms. Iniguez took the stand once again and indicated that she would give the same testimony on this day as she did when she originally testified.  During her victim impact statement, she was crying, begging the judge for mercy.  "This was taken way out of proportion," she said.  She described Mr. Garcia as a good man who has been a good father to her son.  She said this was something that all couples go through.
Mr. Pacheco was angry about the verdict and the sentencing.  "It was a nothing, it was a misdemeanor nothing and they even got him on child endangerment because the kid was in the car when he supposedly slapped her."
He continued, "But when you look at the evidence from the fireman, who is an EMT himself, he said there was no injury, she wasn't hurt in anyway, not even red marks.  You take a simple misdemeanor and you blow it up to proportions that just spin my head."
Four years of that sentence was based on threats to commit a crime and what they called attempts to dissuade a witness.  "When men and women get into domestic squabbles or arguments, they say things these have been determined by the police or the district attorney's office as making criminal threats, but they have to credible," said Charles Pacheco.
"The reason why they're blowing it out of proportion is that they know that the federal government subsidizes the DA's office, and maybe the police, in affecting domestic violence cases," he continued.  "This has been the problem with regards to these DV cases, people say stuff, people don't mean it when they say stuff – and the listener realizes that they don't mean it because that's the way they talk.  That's the way that they live with each other.  They say stuff like that.  But the police love to hear the words because if the words come out, boom, you're done, according to the law."
Mr. Pacheco pointed to the jury instructions under Penal Code 422 which makes it a crime for any "person who willfully threatens to commit a crime which will result in death or great bodily injury to another person."
In the jury instructions, in order to prove that the defendant is guilty of this crime, they have to show that "the threat caused the witness to be in sustained fear for her own safety…" 
However, as Mr. Pacheco argued, look at what the police are claiming, that he said he was going to pull over on the freeway and beat her.  "Well he pulled over on the freeway and made her get out, according to her.  But then she got right back in, so she's not in sustained fear," he said.
"It's a manifestation of both because what happens is that things are said in anger, people react in anger, and then they realize that they were just angry.  In the majority of domestic violence cases that is where it ends.  What I told the Judge is that we in the business, we don't take those letters seriously, some place in between there's the truth, and most of the time, the wives or girlfriends react, 'what's the big deal I just wanted the cops to come over and cool things down,'" he continued.
Jesse Garcia has had a rough life.  He was born into a large family where the father was described as a mean alcoholic.  His mother was a heroine addict and the kids were taken away and shuffled from foster home to foster home.  Mr. Garcia spent his youth in and out of the California Youth Authority.
He had always watched over his younger sister, he was a hero and a father figure to her.  The violation of probation occurred in a case where he beat up a man who he had believed had raped and beat his sister.  Later he realized that this had not occurred.
The DA's office called it a "gang beating," which he was on probation for.  He had pled no contest to a count of PC 245a which gave him no prison time.  The District Attorney, in arguing for a tougher sentence, argued that the he had been found guilty of the gang enhancement and was required to register as a gang member..
However, the record shows otherwise.  There was no gang enhancement that he pled to nor was he required to register as a gang member.  This was confirmed by his Attorney Mr. Pacheco both in court and in our interview.
"Every time anyone from the DA's office opens their mouth: 'West Sacramento gang member,'" Charles Pacheco told the Vanguard.  "Jesse Garcia doesn't have one gang tattoo on him at all.  My opinion is that they're trying to scare the citizens of West Sacramento by tacking a 'West Sacramento Gang Member' label on people."
Indeed, Mr. Garcia is a defendant in the gang injunction case.  While he was on the stand, he was asked to read his gang admission papers when he was in the California Youth Authority.
In one humorous exchange with Deputy DA Jay Linden, he was asked what he checked off when he filled out the form.  He said, "Crip."  Mr. Linden did a double-take, and in surprise said, Crip?"  Mr. Garcia's response was yes.  When asked why he thought he was a crip, he said he was in his mother's custody in North Sacramento and that's what was there so that's what he thought he was.  He said he saw people wearing blue and black faces.  When asked how he knew that blue was the Crip color, he said that he figured it out when he was in CYA.
A month later still in 2003, he filled out that he was a Norteno.  Why?  "There was only northerners at that facility."  He explained that they classified people based on where they lived so that there would not be problems with different prison gangs battling over territory.
At one point he filled out that he was a Broderick Boy, but again he said that he was told how to fill out the gang forms.  In fact, he had lived in West Sacramento less than a month when he went back to CYA.
As his attorney pointed out numerous times, he neither has a gang record, he has not been convicted of a gang crime, and he has no tattoos on his body at all.  Indeed, on the stand, he was witty and quick on his feet.  He has clearly lived a tough life and he has no doubt made mistakes.  However, this is a case where the DA's office appears to have blown a simple domestic dispute and perhaps a misdemeanor assault charge into an eight-year prison sentence.  And once again, they have turned a non-gang case, as there were never any gang enhancements into this case, into more evidence for the public to believe there is a gang problem.
—David M. Greenwald reporting