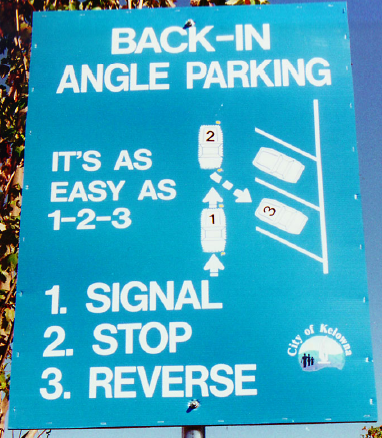 As most who have traveled into the Davis Downtown know,
the city has been doing some extensive renovation of Second Street
, an issue we covered a few weeks back.  Apparently included in the renovation is the installation of reverse angle parking.
According to a memo from Katherine Hess dated August 16, the City was asked to consider re-striping for reverse angle back-in parking in the 2nd Street corridor.
You might ask what is reverse angle parking?  It means that instead of driving forward into a parking spot for angled parking on a street, the cars drive past the spot and back into it at an angle.  When the cars exit the street, they drive forward.  The advantage there is that it gives them full view of oncoming traffic and bicyclists that are approaching.
I have been told that this is not a new idea.  In fact it was proposed a few years back by the biking community and the city considered it dead on arrival.  What changed?  Hard to know.
Good idea?
One report was conducted at UC Davis in 2005.  They cited a 2003 report stating, "Back-in/head-out diagonal parking is superior to conventional head-in/back-out diagonal parking. Both types of diagonal parking have common dimensions, but the back-in/headout is superior for safety reasons, due to better visibility when leaving. This is particularly important on busy streets or where drivers find their views blocked by large vehicles, tinted windows, etc., in adjacent vehicles in the case of head-in/back-out angled parking. In other words, drivers do not back blindly into an active traffic lane."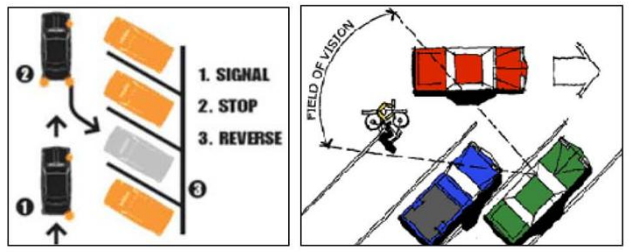 The obvious objection here is the backing into a space is unnatural and so while the hazards may be reduced while pulling out of a space, they may be increase backing in.  However, consider this, we already back into spaces all of the time, when we parallel park.
That same report suggests this is actually simpler than parallel parking.  "The back-in maneuver is simpler than a parallel parking maneuver. Furthermore, with back-in/head-out parking, the open doors of the vehicle block pedestrian access to the travel lane and guide pedestrians to the sidewalk, which is a safety benefit, particularly for children. Further, back-in/headout parking puts most cargo loading (into trunks, tailgates) on the curb, rather than in the street."
On the other hand, parallel parking is an action that is relatively infrequent, whereas drivers would be forced to back up every time they have to park.  When someone parallel parks, it blocks traffic, cars try at times, dangerously, to drive around the parking vehicle, and it disrupts the flow.  All of these things  are supposed to be avoided by having people avoid backing out of parking spots.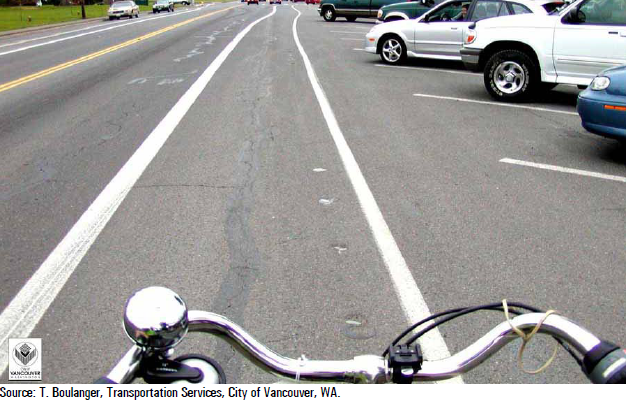 The report from 2005 cites a number of advantages.
First, "Back-in/head-out angle parking is similar to both parallel and standard angle parking. As with parallel parking, the driver enters the stall by stopping and backing, but need not
maneuver the front of the vehicle against the curb. When leaving the stall, the driver can simply pull out of the stall, and has a better view of the oncoming traffic."
Second, "This type of parking provides a safer environment for bicyclists using the roadways. The driver is able to see the cyclist easily when exiting the stall. Several cities where back-in angle parking has been implemented have seen a reduction in number of accidents compared to the number of accidents at regular parallel parking schemes.  Matt Zoll at Tucson-Pima County Bicycle Advisory Committee says that after implementing the backin/ head-out angle parking scheme in Tucson they "went from an average of 3-4 bike/car accidents per month to no reported accidents for 4 years following implementation."
Third, "Back-in angle parking can also be useful on steep terrain: if used on the correct side of the street, it causes drivers to automatically curb their wheels, which in turn prevents runaway autos. Used on the wrong side of a steep street, however, it is likely to cause more runaways."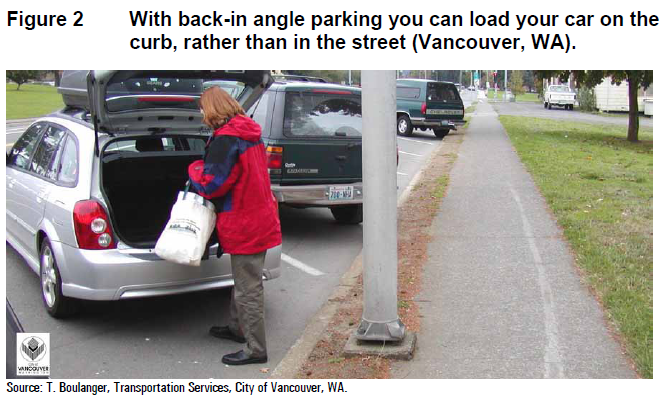 There may be some about parking for those with disabilities.  Apparently there are provisions, at least in other cities, accommodating that in which "a 13-foot wide handicap-accessible stall has been incorporated into the angle parking as the last space, intersection nearside, of each block. This places each disabled parking stall close to the existing curb ramps, and allows the wheelchair-using drivers to unload out of the way of traffic…"  In fact, the study argues this produces greater safety for disabled people.  The study makes the claim, "By contrast, the street's previous parallel parking arrangement could not be safely used for disabled parking, and conventional angle parking raised safety concerns for the street's proposed bicycle lanes."
Finally, "As SLCTrans (2004) states, "one of the most common causes of accidents is people backing out of standard angled parking without being able to see on-coming traffic. Reverse angled parking removes this difficulty." It also improves safety for cyclists, and for loading/and unloading the trunk of the car. Similarly, the Urban Transportation Monitor's recent article on back-in angle parking reported reduced accidents and benefits for bicyclists in several communities. In all, back-in/head-out angle parking is a good choice when compared to conventional head-in angle/back-out parking and parallel parking."
This is an in item under consideration, not a done deal.  There will be a couple of opportunities for the public to weigh in on the matter.  First at the Safety and Parking Commission meeting on September 2 at 5 pm and then at the next council meeting on September 7 at 6:30, both will meet in the Davis community chambers.
I was skeptical of the idea at first, but after reading that report and seeing the improved sightlines, it appears worth at least taking on as a pilot project on Second Street.  We do not have a lot of pull-in parking anyway in the city, mostly just on Second Street, so we can evaluate whether or not it works.  Still I would like to hear from the Vanguard community on the idea and see where we stand.
—David M. Greenwald reporting