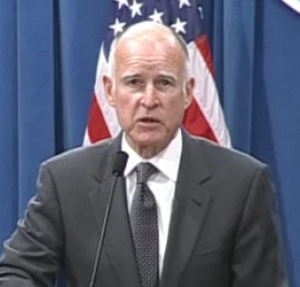 One thing Jerry Brown cannot be accused of doing is playing things safe.  His plan is bold, it spreads pain, and it has the potential to  both please and irritate everyone at the same time.
Time will tell whether he will be successful in convincing a few Republicans to allow the tax plan to go before the voters, where he will get to make his case.  Many will quibble at the margins, but frankly I cannot think of a bolder first week in any recent administration.
As the venerable columnist George Skelton wrote this week, "It's a different Gov. Jerry Brown we're seeing these days — a subtle but significant difference between Brown I and Brown II.  The Brown who was governor at age 36 would not have been as bold — as calmly willing to stick his neck way out — as the 72-year-old version."
"I loved the fact that he stood up for 46 minutes and deftly explained the complexities of California's budget," Mr. Skelton quotes political attorney Steve Merksamer, a longtime Sacramento insider who was chief of staff to former Republican Gov. George Deukmejian.
As Mr. Skelton points out, "Schwarzenegger just didn't have the grasp of detail that the career pol Brown has, although the Hollywood transplant acted as if he did."
Not everyone was so pleased this week.
Senator Tom Berryhill lost his position as chair on the Senate Agriculture Committee after he told the Sacramento Bee, "This is really not our problem.  The Democrats own this, and we think that they should be giving us what the solutions are."
As the LA Times reporter Shane Golcmacher described, Senate President Pro Tem Darrell Steinberg was "displaying the kind of bare-knuckle politicking he isn't known for."
In a letter explaining that he was stripping the chairmanship from Senator Berryhill and giving it to Senator Anthony Cannella (also a Republican), he said, "Each member of the California State Senate represents nearly one million people and we have a duty, regardless of party or philosophy, to actively engage in the serious work necessary to address the challenges confronting California.  I have spoken to Senator Berryhill about this matter. Mr. Berryhill is a man of integrity and substance, and I am confident he will so engage in the months ahead."
The California Budget Project's analysis presents the good, the not-so-good, and the concerns with the budget proposal.
On the good side of the ledger, it's a balanced approach "with roughly equal shares of the 'solutions' coming on the revenue and expenditure sides of the budget in contrast to the 'cuts-only' budgets of recent years."
Moreover, it would actually achieve a balanced budget, albeit temporarily, unlike previous efforts.
Furthermore they write, "To shift program responsibility and money to local governments, if done smartly, can encourage stability, innovation, and investment in prevention."
They also praise the end of redevelopment, stating, "To end state subsidies for local economic development efforts that, according to independent research, produce few if any jobs and little 'bang for the buck,' is a refreshing step towards improving accountability and transparency."
More on that shortly.
On the not-so-good side, they argue it "targets a disproportionate share of the cuts to programs and institutions that low-income families rely on to help make ends meet. The impact of the proposed cuts at the street level will be magnified by the loss of federal matching funds, which can double or triple the impact of lost state dollars."
Moreover, it would make the cuts permanent while the revenues are temporary, thus "making the Governor's proposal less balanced over time." Moreover, as noted by the Legislative Analyst, "absent a place to replace these taxes, there could be a substantial fiscal 'cliff ' for the General Fund after the five-year period and the temporary tax increases expire."
Finally, it "would leave many Californians, including the 230,000 children who would lose cash aid through the CalWORKs Program, with few options in a still struggling economy where jobs are scarce."
On the downside, their top concerns are threefold.
First, "The potential for achieving innovation and efficiency under realignment may be lost if local governments are reluctant to invest the upfront effort and resources due to a lack of certainty over long-term funding. The solution: a permanent shift of responsibility should be coupled with a permanent funding stream."
Second, "Additional reductions to health and human services programs will compound prior years' reductions, magnifying the impact on families and communities, as well as service delivery systems. In particular, we would urge the Legislature to carefully examine how the proposed changes to health programs will affect the state's ability to implement the new federal health reform law."
Finally, "The devil is always in the details. The Governor's realignment proposal, in particular, is extraordinarily complex. We'll have more to say in upcoming days and weeks as we learn more and dig deeper."
Meanwhile, that proposal to eliminate redevelopment is expected to trigger a fierce battle.
The LA Times reported Friday, "The reaction from local officials was swift and fierce, and has set the stage for a battle in the Legislature over the balance of power and money between state and city governments. Some predict that the proposal will be watered down, if it is approved at all."
LA Mayor Antonio Villaraigosa called Brown's proposal a "nonstarter," and "his redevelopment commissioners took preliminary steps Friday to hand control of $930 million for specific redevelopment projects to the city — presumably moving the money out of the state's reach."
Meanwhile the Governor's Office responded, saying "Brown hoped the Community Redevelopment Agency was not planning on 'squirreling money away for the indefinite future when our schools, police and firefighters are in need of this funding.' "
Added a spokesman for state Treasurer Bill Lockyer, "The governor's proposal warrants a serious, thoughtful discussion.  Let's have that adult conversation, not needlessly provocative acts of gamesmanship."
The LA Times also quotes our Senator Lois Wolk who asked, "What is the alternative here?"  The Times reports she heads a "new Senate committee charged with restructuring the relationship between state and local government, alluding to the state's dire financial condition."
Bottom line is that with billions at stake, this might be among the most fierce fights in Governor Brown's budget.
Still, I tend to lean toward George Skelton's analysis, as he compared the substance and style of Governor Brown to his predecessor.
Writes Mr. Skelton, "Schwarzenegger was always pitching, promising cure-all budget remedies such as a rainy-day fund. The scary thing was he actually seemed to believe that what he was selling was the total solution to red ink."
On the other hand, "Brown was like an old physician calmly prescribing pills and pain. If the patient didn't want to undergo the treatment, well, that's no skin off his nose. The patient's condition would get worse. The doc's life would go on."
"It is better to take our medicine now and get the state on a balanced footing," Governor Brown told reporters.
George Skelton relates a conversation he had with Tom Quinn, a Brown confidant and strategist for 40 years.
Writes Mr. Skelton, "I remarked that Brown seemed rather fatalistic and matter-of-fact."
He continues, "'He has as much to lose as everybody else in California if the state doesn't soon start operating in the black,' Quinn said. 'And everybody else has as much to lose as he does.' "
"If the people in California want to dismantle more and more and more, they'll get what they want. He prefers not to see that happen. And he's going to do all he reasonably can to explain why it's important that people accept his solutions."
"But the people will make the decision. And if the vote goes against him, he's prepared to accept it."
Or, as Brown said at the news conference: "This is a democracy. People get to [decide] what they want….I'm just going to lay out the facts and whatever they decide is going to be the result."
Mr. Skelton concludes after citing Berryhill's inflammatory remarks, "Republicans essentially are echoing the attitude of Sen. Tom Berryhill  (R-Modesto), who told reporters after the GOP Caucus met privately with Democrat Brown on Tuesday: 'This is really not our problem. The Democrats own this.' "
"Could have fooled me," Mr. Skelton writes. "I thought it was all of California's problem."
I have said before, if Jerry Brown cannot fix this mess, it is time to believe that it cannot be fixed and therefore the system will have to be altered.  The solutions here are going to hurt, but it seems that Jerry Brown has the political will, at least at this stage, in his second go-around, to try to push things through.
Maybe at 72 he just has nothing to lose.  We will see what happens, but from my perspective the first two weeks have been encouraging.
—David M. Greenwald reporting