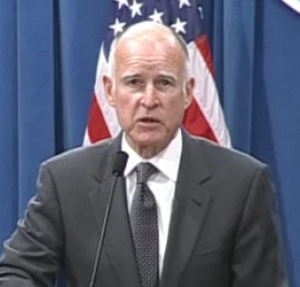 Governor Jerry Brown delivered the first State of the State Address of his new tenure as California's Governor, and he called on both Democrats and Republicans to do things that they do not want to do.
"This is not a time for politics as usual," he said in a line that is usually reserved more for rhetoric than substance.  However, this time it is different.
"Although our state's economy has started to recover, we will not create the jobs we need unless we get our financial house in order," the Governor noted.  "My intention is to make California again a leader in job creation, renewable energy and state of the art efficiency, innovation of all kinds and a solid primary and secondary education."
In his address he said, "Things are different this time. In fact, the people are telling us–in their own way–that they sense that something is profoundly wrong. They see that their leaders are divided when they should be decisive and acting with clear purpose."
He continued, "If you are a Democrat who doesn't want to make budget reductions in programs you fought for and deeply believe in, I understand that. If you are a Republican who has taken a stand against taxes, I understand where you are coming from."
He then called out to Republicans and Democrats alike saying, "From the time I first proposed what I believe to be a balanced approach to our budget deficit – both cuts and a temporary extension of current taxes – dozens of groups affected by one or another of the proposed cuts have said we should cut somewhere else instead. Still others say we should not extend the current taxes but let them them go away. So far, however, these same people have failed to offer even one alternative solution."
Here he criticized Republicans, who have sworn to block any vote on a tax extension by the voters.
"My plan to rebuild California requires a vote of the people, and frankly I believe it would be irresponsible for us to exclude the people from this process. They have a right to vote on this plan."  He added, "When democratic ideals and calls for the right to vote are stirring the imagination of young people in Egypt and Tunisia and other parts of the world, we in California can't say now is the time to block a vote of the people."
At the same time, he also criticized Democrats who have come forward, criticizing them for opposing spending cuts on their programs again without providing alternatives for balancing the budget.
The Governor has to this point been reluctant to detail which programs would be cut if his tax measure fails, as he has not wanted to seem to threaten voters.
However on Monday, those gloves came off.
"At this moment of extreme difficulty, it behooves us to turn to the people and get a clear mandate on how we should proceed: either to extend the taxes as I fervently believe or cut deeply into the programs from which–under federal law–we can still extract the sums required," he said and then listed out programs that could be cut if we do not act.  "Unfortunately, these would most probably include: elementary, middle and high schools, the University of California, the California State University system, prisons and local public safety funding, and vital health programs."
Naturally Republicans were dismissive of his plan.  "Republicans stand united as the only line of defense for California taxpayers," Assembly Republican leader Connie Conway responded in a record message.  The general message was that Governor's Brown plan to put taxes on the ballot had no Republican votes.
Republican Senate Leader Sam Blakeslee took exception to the Governor's comparison to Egypt, "Trying to create a moral equivalency between supporting his plan and freeing oppressed masses in the Middle East I thought was a bit of a stretch. There may be, in fact, a third way that talks about some of the issues that are more uncomfortable for him, including pension reform, tax reform and regulatory reforms that have some teeth."
Ron Nehring, chairman, California Republican Party added, "Instead of using his considerable political capital to propose bold and serious reforms to collective bargaining and California's unsustainable pension system, Jerry Brown will blow it all by campaigning for a tax increase the voters rejected just two years ago."
Columnist Dan Walters wrote this morning in his column that Governor Brown's plan still faces big hurdles.
First, within his own legislature he faces a huge problem that neither side is completely supportive of his plan while there are elements both sides outright oppose.
Writes Mr. Walters, "One is a Legislature dominated by very liberal Democrats  and very conservative Republicans. The former are feeling heat from advocates for the poor, elderly and disabled who oppose the billions of dollars in permanent "safety net" spending cuts Brown wants, while the latter are being pressed by anti-tax groups to oppose tax extensions."
Nothing he said during his address changed any minds either, as Republicans continued to maintain.
Moreover, even if Republicans could be moved, he would face "a tough, perhaps uphill, battle to win their approval," Dan Walters added.
Assembly Speaker John Perez released a statement saying, "Governor Brown's state of the state was refreshing in its candor. His budget proposal contains many difficult choices, but his proposal is balanced and is worthy of serious consideration by every member of the Legislature. I think he made a very strong argument today, and I'm hopeful his speech will help us build the consensus we need to move forward in terms of getting our finances under control and making the right investments to create quality jobs in California."
Senate President Pro Tem Darrell Steinberg strongly supported the Governor's tax plan, "The Governor's speech was quintessential Jerry Brown – no frills  and pointedly honest with Californians about what needs to be done. Democrats are willing to step up and make the level of cuts he proposes, but I don't think anyone really wants a budget of $25 billion in all cuts. Let the people decide. Giving people the right to vote is about as American as John Adams and apple pie. Democracy doesn't get more basic than that. Let's work together, get this fiscal crisis behind us and start rebuilding California."
Senator Mark Leno added, "Over the coming weeks we will examine and debate the governor's budget proposals in Committee and in the public domain. It will also be critical to get voter input on our negotiated solutions. When so much is at stake, it is indefensible to silence voters by denying them a say in California's future."
Locally Assemblymember Mariko Yamada issued her own response.
"Governor Brown's fiscal message is similar to the difficult budget outlook of years past, but the messenger couldn't be more different.  Brown's statements come from a position of shared and honest sacrifice.  No more gimmicks, no more budget sorcery–just the truth with a focus on hope," the Assemblymember said.
"Governor Brown's back-to-basics tone matches these somber times," she added.  "I commend him for leading by example in reducing spending and calling on the Legislature to let the people decide."
However, even in that support we see the problem that the Governor faces.  Assemblymember Yamada said, "At the same time, however, I believe that the cuts we do make should be based on certain core principles, including keeping reductions furthest away from the poorest and most vulnerable, avoiding 'one-size-fits-all' and 'across-the-board' cuts, and preventing cost-shifts that leave federal monies on the table.  We must also stand against wholesale elimination of programs that we all know will ultimately save California money."
Senator Wolk was more supportive in general stating, "I was pleased the Governor remained focused on the budget, and on how any long-term budget solution will require making government more efficient and accountable. It will require both vision and discipline. Ultimately, our path forward to a more prosperous state depends on a new approach that rewards innovation. He gets that. As tough as this budget is, it is also our best opportunity ever to repair a broken and outdated system of governance to provide services to the taxpayer at a better value."
Governor Brown's plan will not come easy.  It will be difficult.  But it is probably the right thing to do and that makes it all the more difficult to address.
—David M. Greenwald reporting