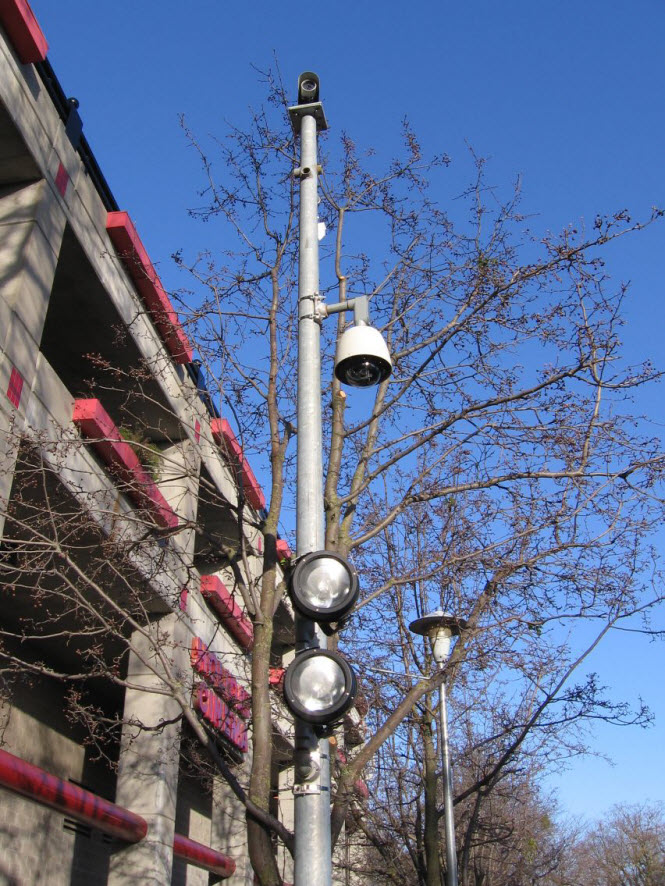 Traffic intersections have proven to be one of the most dangerous locations for drivers.  One of the chief problems are vehicles running red lights, trying to race to get through in time.
In trying to make these intersections, many cities utilized new technology and have installed red light cameras, much as Davis has done so at the intersection of Russell and Sycamore.
These have proven effective, but are increasingly controversial.
Recently, Los Angeles gridlocked over the issue and canceled their program.
The LA Times report, "Only five council members voiced outright support for the cameras, which photograph any vehicle that crosses against the light or turns right without coming to a full stop. They argued that the cameras are an essential part of the city's public safety arsenal and should be kept even if only a fraction of the city's residents pay the tickets."
"People are dying by running red lights, and that's the primary concern here," Councilman Richard Alarcon said. "If this program will reduce that number, who cares about the cost?"
According to one report, 29 cities in California have taken steps against red light systems.  When Anaheim recently asked its residents for input, 73% of residents believed such systems should be banned.
In Westminster, the city council decided unanimously, recently, to ask voters to decide whether to ban the use of red light cameras, in an election scheduled for November 2012.
Costs are a consideration.  There was an expectation that better enforcement would cover the costs.  However, a few years ago, the City of Davis found that red light cameras and more stringent parking policies deterred law violators, which sounds good until you realize it also means a loss of revenue for the city.
San Bernadino's city manager wrote in a memo to their council, "There was an expectation that citation revenue would cover the cost of the program and provide some additional revenue for the city, which never came to fruition.  This, coupled with the increased workload the program created for the finance department and the sheriff's department, is the fiscal reason for not extending the program."
Civil liberties groups have problems with red light cameras, as well.
The ACLU opposes such cameras, arguing, "Presently, when someone receives a traffic violation, the officer who provides the ticket makes the motorist immediately aware of the violation. With red light or speed cameras, however, it may be days or weeks before a person is given notification of a citation. The longer time duration makes it more difficult to recall details and adversely affects the driver's ability to challenge the ticket."
The ACLU expressed other privacy concerns, as well.  "While the invasion of privacy occasioned by these systems may seem minor, any implementation of a system that leads to widespread installation of cameras throughout the state cannot be ignored or minimized. As surveillance cameras of any kind become more ubiquitous, a further desensitization of privacy rights is inevitable," they write.
They add, "Also, camera systems are likely to be abused through mission creep — that the data collected by these cameras will be used for purposes other than tracking reckless drivers. Government and private-industry surveillance techniques created for one purpose are rarely restricted to that purpose, and every expansion of a data bank and every new use for the data opens the door to more and more privacy abuses."
One unequivocal supporter of the red light cameras locally is Davis Police Chief Landy Black.
Chief Black recently told the Vanguard that numerous studies "tend to support my belief that there is positive public safety value in red light camera systems."
He noted that in Davis we have only a few intersections monitored by red light cameras and that total has declined from four or five years ago.
"There are fewer monitored intersections than 4 or 5 years ago because red light violation and collision rates were reduced enough at some intersections, through the use of red light cameras combined with engineering revisions, that it was felt that the cameras at those safer intersections could be deactivated and the fees paid to our contract vendor could be reduced," he said.
"I think it would be a shame, and would likely have a direct impact tending to increase traffic injuries and deaths, for red light cameras and other automated traffic monitoring systems to be banned," he said.
"I think the issues raised to support banning have little to do with bona fide concerns regarding traffic safety and more to do with things that should not weigh into the traffic safety equation," he argued.
He added, "The citizens of Davis have most certainly been saved collision property damage losses and collision injury/fatality losses because of the Davis Police Department's and the City of Davis' comprehensive approach to the three E's of traffic safety: Enforcement, Engineering, and Education."
"Red light cameras have been integral to the enforcement piece and share being the cause of our public's safety benefit. Losing that tool would not be beneficial to Davis citizens," he noted.
There has been no talk, at least currently, about reconsidering Davis' use of the red light cameras.  But as the movement seems afoot, it seems worth considering this, among other issues, and evaluating both the cost and safety concerns outlined in this article.
—David M. Greenwald reporting