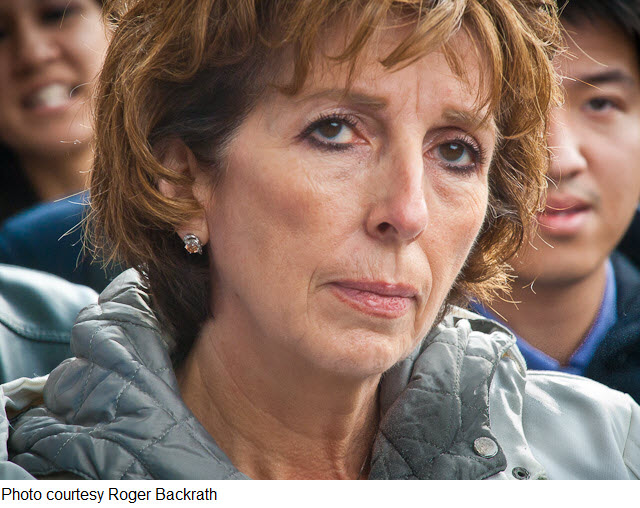 In yesterday's column "viewpoints," I wrote something that I think needs clarification in light of the response to a statement: "Call me a cynic, but I don't see any way at this point that the findings from an investigation will be such that she has to step down."
This statement was meant to express skepticism and cynicism that the process set forth by UC President Mark Yudof will bear fruit.  Some took it to mean that I have made up my mind and no finding would be adequate to change my opinion.
That was actually a view expressed by one of the protesters – a view that I did not and do not agree with.
Do not get me wrong, I do believe that Chancellor Linda Katehi needs to resign.
That view starts with a look at the videotapes.  Some revisionist views have suggested that the protesters were well-warned (they were) and therefore they asked for it (they may have).  That does not mean it was proper for Lt. Pike to give it to them.
Second, they suggest that the video shows the police were surrounded.  But it also shows the police freely moving through the crowd.  It showed no effort or intent by the crowd or protesters to take an aggressive stance against the police, and no overt threat.
Lt. Pike used pepper spray as a dispersal mechanism when it should have been used only as a defensive agent.
Is it possible that an investigation is going to unearth something we do not see with countless videos, including a very lengthy Aggie TV one?  Yes.  But based on what we have seen so far, I think the use of pepper spray violates the use of force protocols and the law as the Ninth Circuit Court has laid down in a number of decisions, as we have previously examined.
That fact is not sufficient to get us the Chancellor's resignation.  The second part of her problem was her own response.  Her first response was to say it was unfortunate, but necessary, to use force and remove the students, due to safety concerns.
It was only later that she called the images shocking, and only later still that she claimed that she had told the police not to use force.  Where are those orders and those documents?
Her statements are also inconsistent.  On the one hand she said: "The police do not report to me. [The department] reports to the vice chancellor for administrative and resource management [John Meyer]. The only thing that a chancellor can do is to make a decision of whether the police needs to have, in that particular case, the dismantling of equipment [the encampment]. Beyond that, I don't have the right to direct the police to do anything. As a matter of fact, the University of California protocol specifies that I do not do that."
Later she said: "We were very specific that it has to be peaceful and not like Berkeley. In a peaceful way, [UCD Police Chief Spicuzza] was only supposed to take the equipment down, not disperse the crowd, not remove the students. We also told her specifically she should not do anything if there were too many students or they were too upset or whatever the environment was that would not allow them [to remove the tents]. That's what she got from me."
Prosecutors often use inconsistent statements of this sort to demonstrate a guilty conscience.  In fact there are even jury instructions suggesting that a defendant who "made a false or misleading statement" may show a consciousness of guilt.
Of course, the jury instructions argue that this is not enough to prove guilt itself, and certainly the inconsistency in the chancellor's story does not prove that she is guilty, but it does raise a red flag.
Finally, there is what we know, through Griselda Castro, about a prior incident where the police showed up at Mrak Hall in riot gear.
Assistant Vice Chancellor Griselda Castro told Reverend Stoneking: "The police were not supposed to be in riot gear and the administration was also not happy about their response."
This can really be seen as a prelude to the pepper spray incident.  However, in response to this event, we find out that the chancellor had more important things to deal with.
Ms. Castro said, "The Chancellor is unavailable due to her triple-booked schedule to move forward her agenda of globalization and internationalization of the university."
So strong leadership might have nipped this in the bud before it blew up on national TV, however, the chancellor was too occupied with her other obligations to effectively deal with this.  Now, is that on her?  One person who has been remarkably quiet is former city manager, and now Vice Chancellor John Meyer, who is the person that the UC Davis Police Chief answers to.
Bottom line on this analysis is that, while I think there is enough that we know right now to reasonably call for the chancellor's resignation, I can see a reasonable point to allow the process to move forward.
But Law School Dean Kevin Johnson has argued that the chancellor has due process rights.  As an at-will employee, they can fire her, bringing disrepute to the university, so I think that case is overblown.
However, the real problem for me, and this is the point I was trying to make yesterday – I don't trust the process.
The protesters had a visceral reaction to William Bratton, based in part on his history in Los Angeles, particular the mishandling on a May Day protest, but also his policies of dealing with indigent people and adherence to the broken window theory of law enforcement.
I think he has a much more nuanced record, and I side more with Robert Meister, a Political Science professor at UC Santa Cruz, who heads the Council of UC Faculty Associations. "We take no position here on Mr. Bratton's personal qualifications; our objection is to the conflicts of interest of Kroll Security itself, which is already a major contractor with UC on security matters."
"According to its website, Kroll's services are not confined to securing databases and facilities from attacks by criminals and terrorists. It also protects many global financial institutions and other multinationals against threats to 'operations' that may come from public criticism and direct political action," Professor Meister continues.
He writes: "By deepening UC's links to Kroll, you would be illustrating the kinds of connection between public higher education and Wall Street that the Occupy UC movement is protesting. Kroll's parent company, Altegrity, provides data-mining, intelligence and on-the-ground security to financial institutions and governments seeking to head off and defeat both private sabotage and public protest. In addition, Altegrity's parent company, Providence Private Equity, is a major global investor in for-profit higher education companies that benefit from the decline of publicly funded higher education."
Basically, you have a protest that is based in part on the questioning of official ties to Wall Street, and you hire a big business, multinational corporation to investigate the complaints.
I see a concerted effort by the research wing of the university to rally around Chancellor Katehi and I question at this point whether the investigation is going to be done fairly.
I have no doubt that Lt. Pike, and probably Chief Annette Spicuzza, will become the fall people over this, but I think there will be a firewall protecting the chancellor.  That is not saying that I believe she should resign and nothing that could come out can convince me otherwise.
For instance, if it really does come out that she ordered the police not to use force and they ignored her order, then I agree that she should not resign.  But I am skeptical that she did that, given her initial comments.
So, we are where we are, the powers that be are closing ranks in support of Chancellor Katehi, the investigation will play out, and I remain skeptical that the kind of change that needs to occur, will occur.
—David M. Greenwald reporting