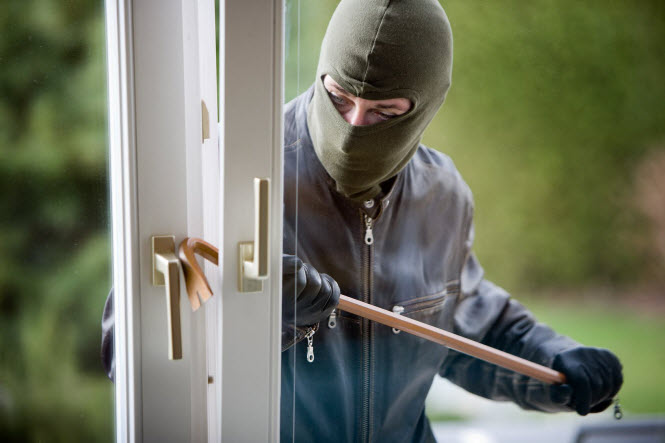 On these pages, we have not talked much about the rash of burglaries in Davis in the early part of the year.  As of early March, there had been 31 break-ins, along with eight attempted burglaries in Davis this year.  That number may now be approaching 50.
I was reading a letter to the Davis Enterprise discussing citizen patrols and whether citizens should be patrolling neighborhoods.
They then write, "Our police should be given every possible tool to address this situation, immediately! Let's break out some of those tax revenues we're getting."
The letter continues: "Wake up, City Council."
Earlier this week, another writer in a letter to the editor said, "I have a great deal of respect for our law enforcement officers. They have an extremely difficult job, and often perform it without much thanks or recognition."
They continue: "Having said that, I think it is time to start asking some difficult questions regarding the wave of brazen burglaries that have been casting a pall over my neighborhood. Questions like, what percentage of department resources have been dedicated to solving these crimes? Like, is it time to divert all officers from parking and traffic enforcement? Like, does our Police Department need additional resources to solve these crimes, and prevent any further property loss, or worse?"
And the writer concludes, "Questions like, at what point do we decide a rising crime rate is unacceptable, and hold our elected officials responsible?"
There is really so much that needs to be written in response to this, starting with, people need to pay more attention to their local governance before they whip out their pens and/or keyboards and fire off angry letters to the local editor.
Neither of these people really seem to understand the extent to which the city is hamstrung and cash-strapped right now.  We have had to close pools, cut back on city services, and somehow these guys believe that there is tax revenue that can be pumped into police.
Things have been too busy to follow up on this, but it needs to be said, I was in a ride-along back in February with the Davis Police.  And the guy was driving around in a car with no computer, no cage in the back; it was basically a regular vehicle with police indicia slapped on the side and fitted with a siren and lights.
I asked him about it, and apparently the police do not have enough cars.  So he drives around on a beat that looks for drunk drivers and other problem drivers, and if he stumbles upon a "bad guy" he has to call for someone else to transport the bad guy.
I am no staffing expert, but I have to believe that a city like Davis is very difficult to properly staff.  There are nights when literally nothing is going on.  Some of the cases that we have followed from Davis are frankly ludicrous.
On the other hand, the setup of Davis and its lack of personnel makes it vulnerable in times like these to waves of crime.
This has been a concern of ours for some time.  We have a fire department that rarely fights real structure fires and yet has 12 firefighters on duty at any given time.  On a good night we have five or six police officers in apparently antiquated vehicles trying to protect our city from real crimes.
We have had more burglaries in the last three months than we have real fires in the last five.
And yet when the city has cut personnel, it always been in a uniform way, not in a way that analyzes actual need.
All of this goes back to the city budget.  We have been warning for some time that the city faces a real crisis of funding right now.  We believe that overly-generous salaries and benefits of the last decade will force the city to have to cut back on vital services because they will not be able to get employees to take enough concessions to meet $7 million in additional budgetary cuts between now and 2015.
The $2.5 million was a start, and had we arrived at that point, we might have had the flexibility to add staffing for more police patrols either through additional staff or overtime.  With the failure to achieve that measure, we presently lack that kind of budgetary flexibility.
In even in the face of setbacks in the past year, such as the failed impasse that could cost another $800,000 or the failed merger, the city is becoming more shrewd and innovative.
One of the most important items on this past week's council agenda was buried in the consent calendar.  The "Terms, Conditions and Understanding of Compensation for the Individual Fire Management Employees" item had some problems that Rich Rifkin and others noted and the council, at the behest of Sue Greenwald, will take another stab at it in closed session.
But don't let that fact obscure how important this item is.
As the staff report writes, "The new compensation package under this Terms, Conditions and Understanding of Compensation for the Individual Fire Management Employees [shows that] the reduction in compensation from the current Fire Division Chief varies from approximately $16,000 to $30,000 (for an average total compensation reduction of approximately 12.5%) depending on if the employee takes health insurance benefits or not."
But the most amazing thing about this is that the positions are open and remain so.  That means the city gets to set the new precedent for contracts with no opposition.  It also means that the city holds the leverage on when and how those positions open up even though there is no fire merger.
In short, this could be the beginning of a whole new era for council.
The problem that we face right now is that staffing needs and city services in some areas are vital and we never distinguished between vital services and non-vital services.
Not only do we pay firefighters more than ten percent higher in contracts than police, we staff far more of them at a given time.
Talking to some in the leadership this week, that may be about to change.  There are staffing changes being proposed to reduce the number of firefighters on duty from 12 to 10.
There is other talk that at least some of the functions that do not involve firefighting or medical calls could revert back to volunteers.
And there is further discussion that we look at ways to separate the firefighting function from the glorified ambulance calls.
The bottom line right now is perhaps we should simply put firefighters on patrol in heavily-hit neighborhoods – they can always put a hose to would-be burglars and teach them a lesson they will never forget.
All kidding aside, the wave of burglaries illustrates very clearly the perils with operating on the margins of a budget without the kind of flexibility we should have had with the actions taken by council last June.
—David M. Greenwald reporting