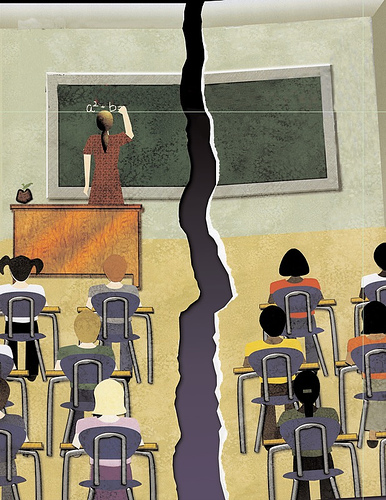 Last week, the
Davis Enterprise
reported on a large audience of more than 250 people who packed in at Harper Junior High, as the school board discussed changes to two South Davis elementary schools.
Of particular note is Montgomery Elementary, which as Associate Superintendent Clark Bryant noted, while the school ranks as a high-performing school, "we're not hitting (that) mark for all our students, and that is not an issue just for Montgomery Elementary, but district wide."
While the achievement gap is a persistent district-wide issue in Davis, the problems at Montgomery are magnified by a number of trends.
What we see is, as Clark Bryant outlined, the achievement statistics show that white students at Montgomery are scoring over 900 points on the API on average, but Latino students and students from families with low socioeconomic status (SES) score 200 points lower as a group.
The Enterprise reported: "That trend – often described as the "achievement gap" – is present at every school in the Davis district. But several factors have caused the gap to stand out in sharper relief at Montgomery, moving that school into Program Improvement status under federal No Child Left Behind legislation several years ago."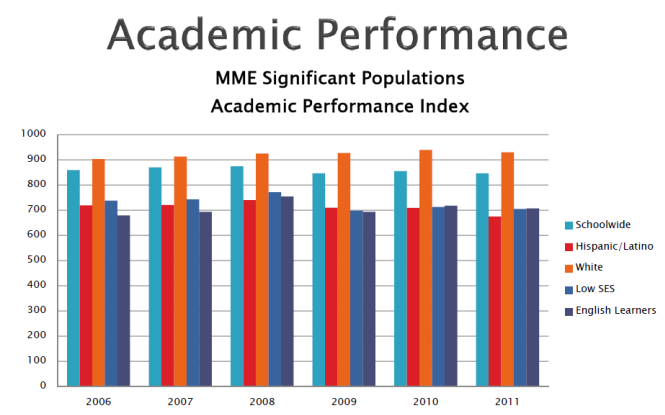 What we see at Montgomery is evidence of an influx of Latino students and white flight.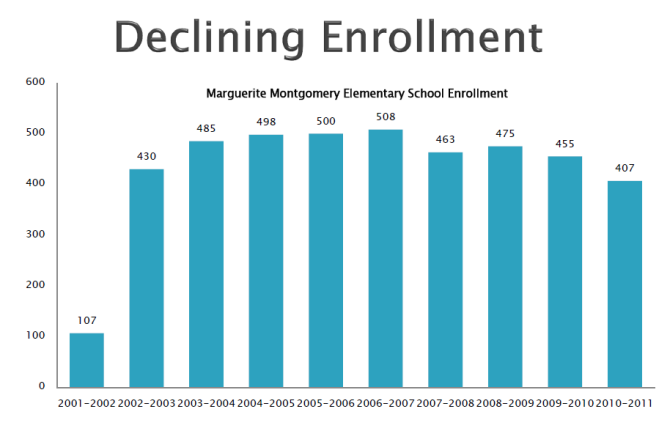 Overall, the enrollment at Montgomery Elementary has declined from a high of 508 in 2006-07 to a low 407 in 2010-11.
Those changes in enrollment happen to coincide with the district's decision to close Valley Oak Elementary.
The Enterprise reports: "Those factors include a declining white student population and a rising Latino population in the Montgomery attendance area, reinforced by boundary changes after the closure of Valley Oak Elementary a few years ago."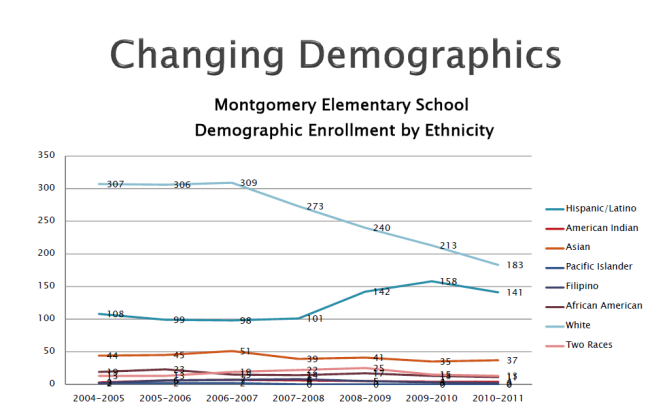 But it is not just the influx of Latino students, but the flight of white students.  What we see, then, is that while white students' enrollment has declined, there has been a near 50% rise in the Latino enrollment at Montgomery.
The district's spin on this is, of course, that white students are simply going to other opportunities.
Reports the Enterprise: "Some white students also leave Montgomery beginning in fourth grade to attend GATE (Gifted and Talented Education) or Spanish Immersion classes at other campuses. Montgomery hosts Spanish Immersion only in grades K-3."
However, why would that have changed so markedly following the closure of Valley Oak, to coincide with the rise of students of Latino and disadvantaged socioeconomic background coming from the Valley Oak area?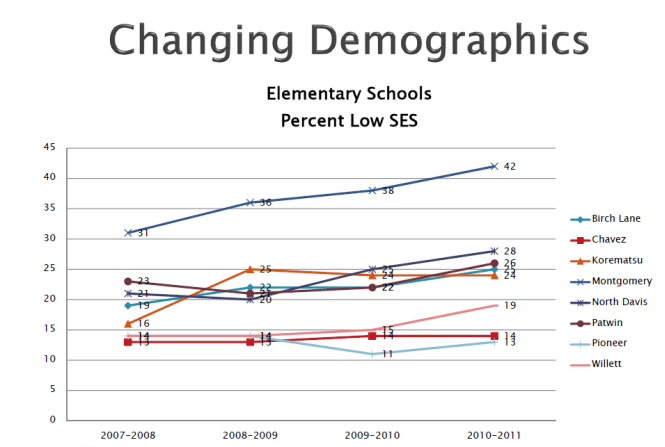 The result of these demographic shifts have made Montgomery Elementary the school with the largest percent of low SES students in the district, by a huge margin.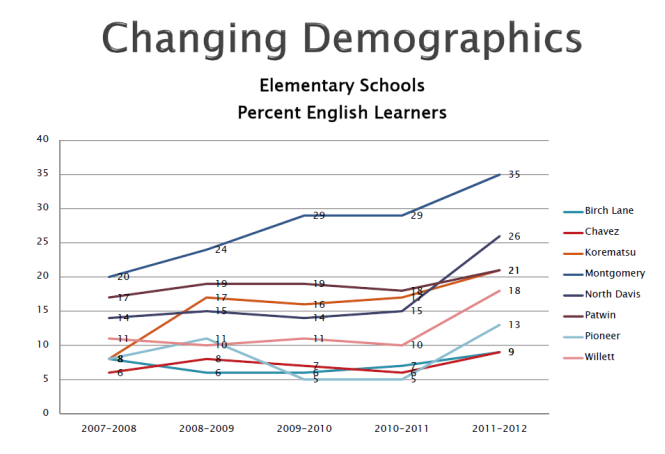 It has also left the school with a much higher percentage of English learners than other schools in the district, outpacing North Davis Elementary by over 33%.
Writes the Enterprise, "[Clark] Bryant outlined a range of options for Montgomery, including expanding Spanish Immersion to grades K-6, starting a "dual immersion" (Spanish and English) program or bringing in a GATE strand."
The report continues, "Another option would divide enrollment between Montgomery and Pioneer by grade rather than by neighborhood."
However, as other reports suggest, those might not be the problems.
The Enterprise reports that Librarian Nora Brazil, who works at both schools, and Montgomery teacher Cheri Burau read a statement signed by Montgomery staff saying, "Our primary concern is segregation, and how different this school's enrollment looks from the rest of the district. Existing district policies have led to unintentional inequality."
The statement continued, noting that Montgomery is "a high-ranking school (academically) when compared to others with similar populations … an imbalanced school population is never in the best interest of the community. … The status quo is unacceptable, we implore you as board members to take action."
Moreover, the Enterprise reports that a teacher at Pioneer, Raeth Snyder, suggested any changes at Montgomery would impact other campuses.
"When you move one group of students it affects the whole district," Raeth Snyder said. "As more kids are pulled out of the general education program, you are left with a concentrated population in general ed that may have a different type of life experience or learning challenges than those students that go into special programs."
Adrienne Meredith, who serves on the South Davis Enrollment Committee, said "The district should mix students from high-income and low-income schools," in accordance with federal civil rights law. Ms. Meredeth said that while such changes might "be controversial in our community," she supports "changes that are in accord with federal diversity guidance."
Underscoring perhaps the true nature of the problem, the president of the Pioneer PTA suggested that a poll of Pioneer parents showed only 11 percent support of the idea of merging and splitting by grade, while 65% would consider leaving the school if that were the solution.
That poll makes it very clear what this is about.  The 1970s are apparently not over.  We know what this is about, the affluent white families of South Davis apparently do not want their kids to go to school with Latinos and other lower SES Students.
The school district can do research, as Superintendent Winfred Roberson was instructed to do, they can look into expanding dual immersion programs, but this is not about other schools providing programs that Montgomery does not.
—David M. Greenwald reporting