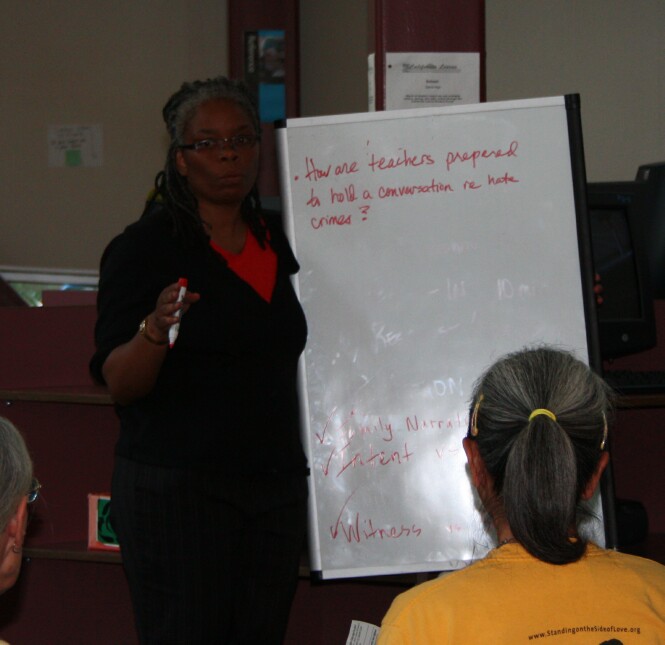 When this site was founded back on July 30, 2006 on the original free blogspot site with the white writing and the black background, our tag line was "A Vivid Description of the Dark Underbelly of the People's Republic of Davis."  While that tagline is no longer in use, it remains perhaps the most poignant description of what we do.
This week is the reminder of why that remains an apt description of this site.  We began this week with base ugliness.  The hanging of a noose at the Davis Football Stadium, followed by the discovery of graffiti of a Swastika and the word "Nigger," are stark reminders to us about a dark history from a not-so-distant past.
Whether we ever know why, really does not matter to me.  It's a reminder of where we are in this society and where we aren't.
I thought Robb Davis struck the right point.  He commented, "The noose, linked as it is to Juneteenth commemorations is a powerful symbol that gained its 'power' because of its use in lynchings of blacks (primarily, but also poor whites, Mexicans and Asians) at the end of the 19th and throughout the 20th century throughout our nation."
"It is important to keep in mind that its use was often tacitly permitted or explicitly supported by the state at various levels–local, state and federal (the US Congress attempted to pass anti-lynching legislation several times throughout the 20th century and was stymied by filibusters by Southern Democrats in the Senate)," he added.
This is our history, he said.  It is a history that we desperately want and need to escape.  As he noted: "State permitted use of the noose as a means of extrajudicial murder… "
The critical point is: "This is why I think it is critical for the state–in this case in the form of our locally elected officials–to make a rapid and unambiguous statement condemning this act and promising an investigation. This is our leaders assuring all of us that if it is up to them, they will never go back to the sort of vigilante justice implied by the use of this symbol."
Where we are is in a society where our democratically elected leaders: Joe Krovoza, Mayor of Davis, Susan Lovenburg, President of the School Board, and Rochelle Swanson, Mayor Pro Tem of Davis, all were willing to publicly speak out and condemn this.
Unfortunately, there is a where we aren't moment either.  Some people on this site took a moment that could have been a powerful reminder of the unity of this community speaking out against the ugliness of the past meeting the unfortunate present, and stepped all over it.
It was a disgrace that one of the first comments on the article in which our leaders condemned the act was that this was robotic.
The robotic comment, to those who read it, was almost as hurtful as the noose itself.
As I noted earlier in the week, I received a message shortly after, from a prominent member of this community in his or her own right.  Like myself, this individual has raised mixed-race children in this community and at times, many people in this community would be surprised at the difficulties that they have had to face.
The individual wrote me: "Have to say I'm disappointed in some of the comments on the noose article."
"Something like that doesn't have to be directed at a specific person. When I saw the photo it literally made me sick to my stomach," the individual stated, and added: "I have fear for the safety of my older boys in certain situations."
The message concluded: "Most people won't know what it feels like to be hated and possibly hurt for something they can't control, like the color of their skin. Even if a prank, it stills feels ugly and can raise past trauma for those who have been targets."
Unfortunately, instead of raising unified voices, we had some arguing that we need to ignore this and not give the individual the attention that some assumed the individual who did this craved.
That school of thought seems to be thoroughly rebutted and debunked by experts who have studied hate incidents.
Jann Murray-Garcia, a pediatrician, who has taught a very popular course at the high school on race and social justice, organized the meeting last Wednesday.  She cited research and told the group we have learned as a community that if we try to ignore these incidents, they do not go away; rather, things escalate.
She noted many local stories where turning one's head and stating it doesn't matter did not solve the problems, but instead caused them to return even worse.  She argued that we must take a strong stand.
She argued that ignoring or not taking hate crimes seriously is a mistake.  She cited studies that show, "Youths graduate to more serious crimes, from property damage to physical injury."
She cited a study by a researcher named Neiwert who found, "A slap on the wrist of a hate crime offender is a slap in the face to the community of victims."
Lt. Doroshov likewise argued that ignoring such incidents was not the proper approach.  In part, that is because the way that most of these crimes are solved is through tips.  The public hears someone who is bragging about committing the act and it gets reported to the police.
The lieutenant noted that they have two goals.  First, to determine who committed the act, and second to determine the threat assessment in order to avoid this happening again.  Clearly, authorities are now concerned about this secondary incident and how it may or may not connect with the hanging of the noose at Davis High last Friday.
"For the city this is not a fine moment," Mayor Joe Krovoza said.  "I just want to echo what Jann said, the response needs to be clear, immediate, we need to send the signal that it's not okay."
"This is a community issue, it's not a school issue.  One segment of our community affects the whole community," he continued.
"I want to endorse the fact that the response has to define the community," he added authoritatively.  "I think that the most powerful response is from the youth in this community, whoever did this, maybe I'm assuming it was a kid… but I really want to challenge the youth to say that if this was youth, to say that this is not okay, it is not cool, it does not give you social recognition.  You need to learn, you need to go to school, you need to take RSJ and you need to join the human family."
Chief Deputy DA Jonathan Raven noted that, under District Attorney Jeff Reisig, their office "takes hate crimes extremely seriously."
"We've prosecuted some very serious hate crimes over the last few years," he said.  "Some of them who have had experience with this statewide have told us that other DA's offices don't prosecute these terrible assaults and batteries as hate crimes – we certainly do."
Mr. Raven noted that people may ask him how do you know what this actually is, maybe it's just a noose, a prank, a joke.
He said, "Well, these people don't realize what it means to people to see a noose or a Swastika or a Burning Cross."
And that I think is a tremendous point that was missed here.  We had an opportunity – and most took – to condemn what is condemnable.  To acknowledge our history and to not be trapped by it.
The fact that this type of act is abhorrent is nothing to run from. It shows in our aversion to it, just how far as a society we have come.  However, the reaction from some shows how far in this society we must still go.
—David M. Greenwald reporting