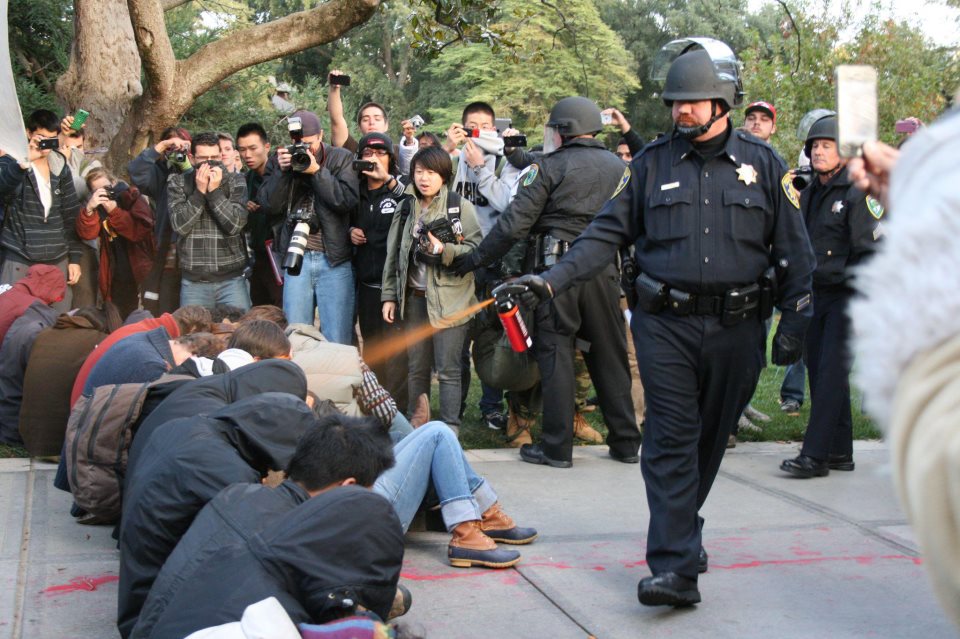 The Vanguard turned some eyes this week when it announced that the students pepper sprayed and arrested on the UC Davis Quad on November 18, 2011 would be honored with a Vanguard Award.  The announcement earned the dismissive comment as though the students were being honored simply for being at the receiving end of the UC Davis Police's overreaction to student protests.
That is, in our view, neither an adequate depiction of what happened nor a proper understanding of its significance.
It was a long series of student strikes that broke out in a number of universities in Paris and confrontations with university administrators and the police that ultimately brought down the Presidency of Charles de Gaulle and his government.
Though hardly on the same scale, the actions of the students exposed years of corruption, police brutality and inadequate handling of students protests on the UC Davis campus.
The subsequent Kroll and Reynoso reports exposed the police chief, long presiding over a dysfunctional organization, for the inept and incompetent leader she was, lacking the authority to control her own individuals.
At the same time, it exposed the administration's miscalculations, outdated paternalistic attitudes, and untested assumptions and theories that led to a mishandling of what could have been simple acts of protest on the UC Davis campus.
Almost from its inception, the Vanguard had been receiving complaints about the leadership within the UC Davis Police Department, in particular Chief Annette Spicuzza, and Captains Joyce Souza and Leslie Brown.
The Vanguard received a number of anonymous tips and communications, followed up by strong corroboration from several of the officers themselves who were on the receiving end of what was termed "a pattern of discriminatory, retaliatory, and unethical management practices, including threats from the 'Command Staff' [that] have forced employees to seek other employment due to the hostile work environment they endure daily."
In May of 2007, students and campus workers were protesting in Mrak Hall.  Campus police would order the arrest of student protesters that occupied, Mrak Hall despite the fact that these students were occupying a public building during business hours – a fact that ultimately led the Yolo County District Attorney's office to drop all charges.
Lt. Nader Oweis would be put on administrative leave and eventually transferred for refusing to illegally arrest the protesters.  Captain Leslie Brown would file insubordination charges against him for refusing the illegal order and call Lt. Oweis, a Palestinian, "a suicide bomber."
Captain Brown, who was Assistant Chief at the time, would officially resign from the department on October 5, 2007 for allegedly participating with the police chief in fabricating insubordination charges.
Lt. Oweis last year was hired by UC Santa Cruz as their police chief.
Former UC Davis Police Officer Calvin Chang has been fighting a lengthy on-again, off-again battle with the department since 2002, based on alleged anti-gay discrimination.
The former police officer, during his deposition, alleged that then-Sgt. John Pike had beaten up a gay student who attempted to make an excessive force complaint against the sergeant, but had been turned away by the now-retired university investigator, Sgt. Coughlin.
In his complaint against the university back in October 2002, Mr. Chang alleged that he, along with a training officer and Sgt. Pike, the supervisor in charge, were on duty on a meal break at the Lyon's Restaurant in Sacramento.  At that point, Sgt. Pike made a number of sexually inappropriate jokes with the male food server and later he referred to Mr. Chang as a "[f-ing] fag."
In 2009, it was the occupation of Mrak Hall that led to the arrest and acquittal of Brienna Holmes.  Ms. Holmes has since filed a lawsuit against UC Davis, alleging that Captain Joyce Souza had singled her out and used excessive force as she waited outside the building where a protest was being held.
Ms. Holmes faced criminal charges for resisting arrest and batter on a police officer.  The jury split on both – voting 10-2 to acquit Ms. Holmes of a battery charge and 6-6 on a charge of resisting arrest.
The DA in this case decided not to refile the charges and Ms. Holmes then filed the federal lawsuit which alleges her treatment violated her civil rights through unreasonable seizure, excessive force, malicious abuse of process and battery.
On the stand, Captain Souza claimed that Ms. Holmes stepped into the pathway and that she asked her several times to move.  Captain Souza said she then tapped Ms. Holmes on her shoulder and felt the weight of Ms. Holmes on her.
Captain Souza described the initial shove she gave the defendant as an "extension" of her arms. Captain Souza then said that the defendant repeatedly struck her in the chest after the initial shove, at which point two sheriff's deputies stepped in, grabbed Holmes, "placed" her on the hood of a patrol car and handcuffed her.
Under cross-examination, Defense Attorney Stewart Katz, who is also the attorney involved in the federal lawsuit, got Captain Souza to admit that the defendant had not used obscene or derogatory language and that there were more boisterous people who were closer to Mrak Hall.
Mr. Katz argued that Officer Souza instigated the situation.  She walked up to Ms. Holmes and shoved her, and she fell back.  Two of the Yolo County sheriffs observed this and misperceived the situation.  They used unreasonable force to detain her, so much so that she urinated on herself.
Ms. Holmes told the Vanguard, "On the night I was arrested in front of Mrak, I went to my evening class and returned back to Mrak to find a friend of my mine. I was standing alone towards the parking lot and news vans, when Officer Souza approached me."
"Still to this day, I don't understand why I was singled out and pushed by Officer Souza. I was not trespassing or aggravating the situation in any way. I was simply an innocent bystander eventually tangled in the police chaos," she continued.
Unlike the other incidents, the pepper-spray incident was egregious, having been fully captured on video and being relatively unambiguous in terms of what happened and why.  Students were seated in protest when Lt. John Pike, a seasoned veteran officer, calmly walked through them and methodically emptied the entire canister of pepper spray on the protesters.
The community was stunned by this shocking display of what appeared to most to be police brutality.
The University of California, to their ultimate credit, hired former LA Police Chief William Bratton to conduct the actual investigation.  This triggered a number of protests from students and faculty groups believing – as it turned out erroneously – that this was an effort to cover up what had occurred.
In order to quell that criticism, President Mark Yudof asked Former Supreme Court Justice Cruz Reynoso to head up the task force, whose job it would be to review the report and make recommendations.
I, too, was initially skeptical of the university's intentions with the external review, particularly when they hired William Bratton, the former LA Police Chief, and his company, Kroll, to head up the review.
However, I changed my mind when I spoke to Cruz Reynoso, who assured me that he would not be part of any whitewashing.  He told me right after he was appointed that he had not initially been going to accept the offer, but that in a long discussion with Mark Yudof, he came to believe that the president was sincere and he felt that he would have the credibility to carry this out or to speak out if he felt that Kroll's report were inadequate.
Moreover, there was a level of brilliance in being able to quell both sides.  Reasonable people could not claim that Kroll, led by William Bratton and staffed by retired police officers, was hostile to law enforcement.  In fact, critics spent a good deal of time complaining about the choice.  On the other hand, while most of the student protesters are too young to know really who Cruz Reynoso is, the broader community does and admires him.  In short, getting Cruz Reynoso ensured that a huge section of the Davis community would at least wait for the results.
For those of us who know and respect Justice Reynoso, we knew that he would be not part of a cover up or whitewashing.
Still, the magnitude of the report that finally came out in April 2012 was stunning.  "The pepper-spraying incident that took place on November 18, 2011 should and could have been prevented."  They found that "the decision to use pepper spray was not supported by objective evidence and was not authorized by policy."
Kroll supported their conclusion that use of pepper spray was not a reasonable use of force, by stating, "This conclusion is buttressed by the facts that the MK-9 was not an authorized weapon under UCDPD guidelines and that UCDPD officers were not trained in its use."
The blame is placed primarily on Lt. Pike for the manner in which the decision was made: "Lt. Pike bears primary responsibility for the objectively unreasonable decision to use pepper spray on the students sitting in a line and for the manner in which the pepper spray was used."
More shocking still were revelations in the report that there was no clear legal authority for the decision to clear the Quad.
As the Kroll investigators note, "Without the legal authority to demand that the tents be removed, the police lose the legal authority for much of what subsequently transpired on November 18, including the issuance of an order to disperse and the declaration of an unlawful assembly."
Ultimately that failure fell on both the administrators, for failing to get legal authority, and the police chief for failing to clarify with the administration the legal authority that they would operate under.
"The report of the task force, led by former California Supreme Court Associate Justice Cruz Reynoso, revealed a deeply flawed structure for decision making. Little or no consideration of alternatives, and failing to record and adequately communicate key decisions," the Woodland Daily Democrat wrote.
Sadly, those words could have been written four or five years ago.  It was only through the action of the students, playing their role as protesters in an unrelated police dispute, that the truth has come out, a truth that goes back much further and goes far deeper than anyone really knows.
—David M. Greenwald reporting