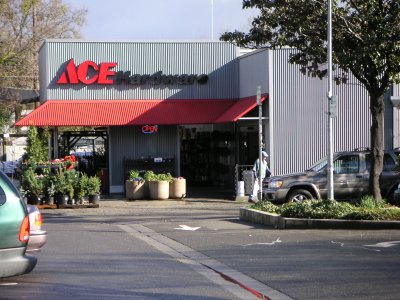 I was reading a letter to the editor of the local paper who wrote in response to the recent controversy by Davis Ace owner Jennifer Anderson – a controversy interesting enough to make the Huffington Post a few weeks ago.
The letter writer writes, "Did Jennifer Anderson make an error in judgment in writing a letter to her employees at Davis Ace? In my opinion, she did. Has she apologized for her error? Again, the answer is yes."
As I will show shortly, Jennifer Anderson has made no apology for her error.
But my bigger problem is that this is not the first time Jennifer Anderson has done this.  I was made aware of this issue early last year (2011) following the 2010 elections, when she was putting anti-Obamacare and pro-Tea Party information not only in the employee lounge, but also enclosing it with paychecks.
People who want to argue she has the right to freedom of speech miss the point – there is a complete asymmetry of power in the relationship between an employer and employees, many of whom are college students trying to make enough to pay for tuition or living expenses.
There is also a judgment issue here – Davis voted for Obama with 81% of the vote, and you run the risk of alienating your customers.  Everyone has the right to say what's on his or her mind, but that doesn't mean it's always the appropriate time and place to exercise that freedom.
But here is the kicker, as the letter writer indicates, "They (meaning Davis Ace) also provide jobs and city revenues through local taxes."
So back to last year – there was a lost opportunity to handle this matter quietly and get the message across to Jennifer Anderson, suggesting that she had the right to whatever views she believed in, but to tread carefully on politics in the workplace, in particular the communication of that politics to her employees.
The person(s) whom I communicated with were in a quandary.  On the one hand, they believed that this conduct was an abuse of power and inappropriate.  On the other hand, they did not want to risk their job(s) while they were paying their bills.  I'm not criticizing them for this decision.
I sent the information up the chain in hopes that this problem would be communicated to Ms. Anderson, but it was not.
Talking to a number of business people in the last few weeks, the sense was that Ms. Anderson finally got caught doing something inappropriate (and they all expressed to me that to them this was a long time coming, and some of them very clearly and overtly relished this).  To some of them, she has gotten away for years unscathed.
I don't know specifics here, but that was an overwhelming and pervasive view expressed by at least four different individuals, who had not communicated with each other about it, to my knowledge.
The problem everyone faces is that, for better or for worse, Davis Ace has become the anchor retail of downtown.  It occupies several different store fronts and is the only large retailer, with the possible exception now of Whole Foods.
In fact, many of us have defended and shopped at Davis Ace, even though the prices are a lot higher than Target or Home Depot (in Woodland), in order to keep sales tax in the city of Davis and protect the downtown.  Those of who did so are in a quandary.
Again, the issue is not necessarily that we disagree with Jennifer Anderson's politics, but rather her judgment as to how to go about expressing those political views.  In my view, there is a time and place for political discussions, and a time to keep one's mouth shut.
The problem is that a boycott of Davis Ace is not good for the downtown.  And from what I have gathered, this has the potential to do real damage, both to Davis Ace and the downtown.
The reaction on the Huffington Post article was to express anger toward the national chain Ace Hardware.  This is an interesting occurrence.  When a local owner in Florida of a Denny's made comments about raising their prices to pay for Obamacare – sales fell nationally to Dennys, and the owner of the national chain had to intercede.
While this is a much more low-profile incident, it seems likely that Ace Hardware has caught word of what has happened here and has interceded, as well.
Jennifer Anderson apologized in the Davis Enterprise.
"I'm deeply sorry if I've offended any customers or employees," Ms. Anderson told the Enterprise. "I truly believe in America and our liberty and everyone's individual right to have an opinion.
"I guarantee I'm not going to change California or Davis' results with my letter. It's a process to educate; my entire process was to educate people about what can happen."
The problem is that that was a non-apology apology.  She did not apologize for what she did.  She only apologized IF she offended anyone.
Even some who call themselves conservative have indicated to me that they do not buy the apology, and will not be shopping at Davis Ace again.
The problem is that right now, hurting Davis Ace hurts the Davis Downtown, hurts local sales tax revenue, and therefore hurts us all.  We are in a tough spot.
It gets back to the issue of creating a more viable retail sector in the Davis Core, which has become more heavily-oriented toward restaurants and entertainment and less oriented toward retail.  Davis Ace has been held up as the local hope – a beacon for local ownership.
And so, over the years, apparently many in the downtown have held their nose at outlandish conduct, many have held their nose over high prices, and some will probably continue to hold their nose at the self-destructive conduct of the owner a few weeks ago – because we simply have little other choice, other than to cut off our noses to spite our faces.
It would be nice if we had a real apology from Jennifer Anderson, something more than I'm sorry I offended someone.  Something that indicates that she understands why it was wrong to send a letter to employees telling them how they should vote for President (in California, among the safest of blue states). Something that indicates that this isn't, or at least shouldn't, be about politics, but rather about poor decision-making.
As Elisabeth Bogren wrote in a letter to the local paper: "Jennifer Anderson's methods in trying to influence her employees in their choice of president in this last election disturb me. I, for one, am deeply offended by her letter, and the way it was distributed.
"Her employees deserve more respect in their choice of president."
Indeed we all do.  What angers me the most here is that we need Davis Ace, but we do not need a rogue owner who can act inappropriately with impunity.
—David M. Greenwald reporting