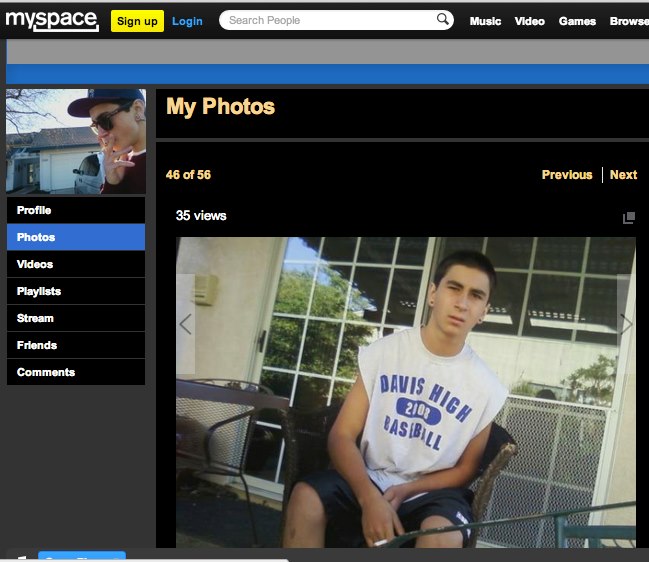 On Thursday, the Davis Police announced the arrest of Clayton Garzon, a 19-year-old resident who attended Davis High School, with a history of violence and drug problems.
Mr. Garzon has been arrested and booked in the Yolo County Jail charged with Assault causing Great Bodily Injury; Committing a Hate Crime; Assault with a Deadly Weapon; Stalking; Committing a felony while on release from custody; and Inflicting Great Bodily Injury during the commission of a felony.
He is accused of brutally beating Mikey Partida, a 31-year-old Davis resident and 2000 graduate of Davis High, who works as an employee at the Davis Food Co-op.  Mr. Partida had attended a party at his cousin's apartment and apparently left his keys there and returned to retrieve them, "when a man began kicking and beating him while yelling homophobic slurs."
Mr. Garzon's classmates describe a troubled kid – fights, drug use, boarding school, rehab.
Mr. Garzon comes from a wealthy family, his father is a prominent doctor who has made the news locally for his travels to Africa, helping to treat famine victims.
Dr. Hernando Garzon lives in Davis and works as an emergency room doctor at Kaiser-Sacramento.  One news account had him interviewed as he boarded a plane to help implement a program to treat those suffering in Somalia, Kenya and possibly Ethiopia.
Clayton Garzon's MySpace page is adorned with dozens of photos depicting him partying it up – smoking from a bong, drinking, with expensive stereo equipment.
It was last September that Mr. Garzon and a 16-year-old from Carmichael were arrested in Davis after the Dixon police at 1:14 am on a Sunday morning responded to a fight.
An hour later the police were summoned to a Safeway parking lot for a report of an assault with a deadly weapon, where police discovered two stabbing victims who had been stabbed at a house party.
There were five victims in the incident – four them were stabbed and one received blunt force trauma to the head.
Mr. Garzon and the 16-year-old were arrested on suspicion of assault with a deadly weapon and booked into Solano County Jail and Juvenile Hall, respectively, according to a report in the Vacaville Reporter on September 11, 2012.
One of the charges Mr. Garzon now faces is the commission of a felony while on release from custody.
Despite these two alleged violent acts, the Davis Enterprise reported that Mr. Garzon received $75,000 bail, and was promptly released from custody after posting the bail.
The victim's mother, forewarned of this possibility, wrote on the Facebook page, "I have since learned that, in addition to a pre-existing history of violence, his attacker will have no trouble securing very good legal help. While I know it is difficult for him to accept monetary assistance (he has worked since he was ten) we are asking for contributions to ensure that this tragic and senseless, animalistic act, is immediately redressed."
She wrote, "While the immediate challenges posed by the severity of his physical injuries are clear, the long-term impacts of PTSD are not. Consequently, we are in the process of seeking legal representation to secure every possible resource and support necessary to facilitate his recovery and healing."
Mr. Garzon received an April 13, 2013 arraignment date and his case in Davis may have to wait for his trial in Solano County.
Mr. Partida was walking with a group but forgot his keys and had to back. Before that point, the attacker was already yelling slurs at him according to Mr. Partida's cousin, Vanessa Turner.
"He just continued, getting closer and closer, and then he just punched me," Mr. Partida explained.
"The slur used begins with the letter 'F' and is a nasty term for homosexuals. Partida said the attacker was saying it over and over again while beating him," News 10 reported.
"Pretty loud and proud about it," Mr. Partida said. "He just kept fighting me and fighting me until I blacked out. And then I came to and was here."
Ms. Turner told News 10 that, after the attack, the attacker knocked on the door to brag about what he had done.
From a legal standpoint, one of the key questions will be whether this constitutes a hate crime.  For a crime to be considered a hate crime, the sexual orientation of the victim has to be the motivating factor and, in fact, the primary reason for the attack.
In this case, we know that the alleged assailant Mr. Garzon yelled epithets, derogatory words for gays, at the victim prior to the attack.
Under California Penal Code section 422.55, "Hate crime" means "a criminal act committed, in whole or in part, because of one or more of the following actual or perceived characteristics of the victim…" including "sexual orientation."
A hate crime charge acts as a case enhancement.  Under PC section 422.75, "a person who commits a felony that is a hate crime or attempts to commit a felony that is a hate crime, shall receive an additional term of one, two, or three years in the state prison, at the court's discretion."
—David M. Greenwald reporting