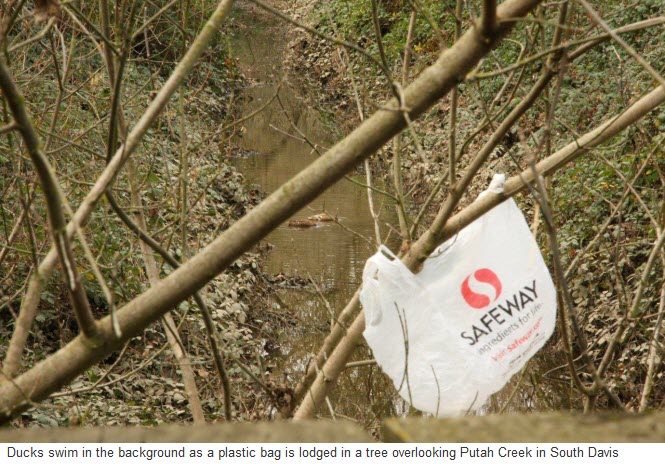 Back in February, the Davis City Council directed staff to hold off on CEQA documentation to see what would happen at the state level with regard to the implementation of single use plastic bag legislation.  While several bills were under consideration at the legislative level, the legislature killed several of them and it appears that they will not act on any legislation this session.
Based on that, staff is presenting a schedule for the Davis City Council to move forward with consideration of a local ordinance that would regulate single use carry-out bags, similar to efforts in communities throughout California.
Staff is putting forward the ordinance recommended by the NRC (Natural Resources Commission).  The draft ordinance would include a plastic bag ban, a 10-cent charge for paper and a greater than 10-cent charge for reusable bags, and would only be applicable to larger retailers including supermarkets, drug stores and convenience stores.
If passed, the ordinance could be effective by July 1, 2014.
On September 25, 2012, the City Council directed staff to contract with ESA, an environmental science and planning firm with a location in Sacramento, to do an Initial Study/Negative Declaration for the City of Davis Single Use Carryout Bag Ordinance, in compliance with the California Environmental Quality Act (CEQA) and State CEQA Guidelines.
"The City of Davis has prepared a draft Initial Study and intends to adopt a Negative Declaration for the Single Use Carryout Bag Ordinance. Friday, January 25 marked the start of the 30 day public review period, which ends at 4:30pm on February 25, 2013," according to a communication from Utilities Manager Jacques DeBra.
"On December 6, 2011, the City adopted a Zero Waste Resolution in which the City strives to implement zero waste strategies," the city writes. "It is the desire of the City of Davis to conserve resources, reduce GHG emissions, waste, litter and pollution. The use of single-use shopping bags (plastic, paper, and biodegradable) have negative environmental impacts, including greenhouse gas (GHG) emissions, litter, water consumption, solid waste generation and effects on wildlife."
The city adds, "From an overall environmental and economic perspective, the best alternative to single-use plastic and paper carry-out bags is a shift to reusable bags. Studies and impacts from similar policies adopted in other jurisdictions document that restricting plastic bags and placing fees on paper bags will dramatically reduce the use of both types of bags."
"Despite their lightweight and compact characteristics, plastic bags disproportionately impact the solid waste and recycling stream and persist in the environment even after they have broken down," the city continues. "Even when plastic bags are disposed of properly, they often become litter due to their aerodynamic nature. The bags can be blown out of the landfill by the wind. Plastic litter not only causes visual blight, but can potentially harm wildlife."
The initial study by the city was completed earlier this year.  However, at the time, council suspended efforts, pending state legislative direction.
In March, the Second Appellate District affirmed the judgment of a Los Angeles County judge who upheld a Los Angeles County plastic bag ban ordinance which prohibits retail stores from providing single-use plastic carryout bags and requires stores to charge customer a 10-cent surcharge per paper carryout bag.
Lee Schmeer and others (Petitioners) filed a combined petition for writ of mandate and complaint, challenging the ordinance, contending that the ordinance violates Article XIII C of the California Constitution, as amended by Proposition 26, because they claimed the 10-cent charge is a tax and was not approved by county voters.
Writes the appellate court: "We conclude that the paper carryout bag charge is not a tax for purposes of article XIII C because the charge is payable to and retained by the retail store and is not remitted to the county. We therefore will affirm the judgment in favor of the county and other respondents."
The ordinance, passed in November of 2010 by the Los Angeles County Board of Supervisorsm prohibits retail stores within unincorporated areas of Los Angeles County from providing plastic carryout bags to customers.
The ordinance "states that retail stores may provide, for the purpose of carrying goods away from the store, only recyclable paper carryout bags or reusable carryout bags meeting certain requirements (including plastic bags satisfying those requirements)."
The study commissioned by the city of Davis found, "In an effort to characterize carryout bag use within the City of Davis, staff conducted a survey at 6 large grocery stores in Davis in August 2012. At each store, five hundred shoppers were surveyed and the number of different bag types (plastic, paper, reusable, or no bag) that shoppers carried out of the store were counted. On average, 49.5% of carryout bags used were single use plastic, 20% were paper, 17.2% were reusable bags and 13.3% opted not to use bags."
The study shows, "The results of the survey indicated that Davis residents already use single use carryout plastic bags at a lower rate compared to larger jurisdictions such as Los Angeles (where 96% of transactions involved single use plastic bags)."
The study estimated that, according to the Yolo County Central Landfill, "plastic bags make up approximately 50-60 percent of the litter and it was estimated that 1,815 man hours per year were spent picking up litter at the YCCL. This equates to roughly $34,000 a year spent for plastic bag litter clean up costs (City of Davis, March 26, 2012 NRC Staff Report)."
"Implementation of the proposed ordinance will result in the reduction of single use carryout bags from distribution and potentially reduce the amount of litter and associated aesthetic impacts and will not result in any new potentially significant aesthetics impacts," the report finds.
The study also found, "Implementation of the proposed ordinance will have the direct physical impact of greatly reducing single-use carryout plastic bags from distribution within the City from approximately 45 larger retail establishments, and to be replaced with 'recycled' paper bags and reusable bags. While the exact number of carryout bags to be removed and replaced with paper or reusable bags is not known, plastic bags would not be replaced by paper bags on a one to one ratio since paper bags have a higher capacity."
They continue: "In light of anticipated education efforts and the public's existing concern for this issue, at least some percentage of plastic bags are expected to be replaced by reusable bags rather than paper bags."
They find: "Any increase in the use of paper bags resulting from the proposed ordinance, coupled with any cumulative increase in paper bag use associated with the adoption of other similar ordinances from other jurisdictions located within the State of California, would be relatively small with a minimal increase in energy consumption. Any potential air quality impacts related to increased truck traffic associated with the distribution of carryout bags is expected to be less than significant."
The study also finds: "Single-use carryout bags, when compared with reusable bags, have a much higher chance of becoming litter and entering creeks, streams, and other sensitive habitat. Implementation of the proposed ordinance would serve to reduce this type of litter and have a potentially beneficial effect to creeks, streams, and other sensitive habitat within and around the City of Davis."
The study also expects a reduction of greenhouse gas emissions as the result of the ordinance.
They write: "The data showed there was an overall reduction in the total number of carryout bags distributed and a shift to using reusable bags or no bags at all. Ultimately, Greenhouse Gas Emissions associated with the shift from plastic to paper and/or reusable bags were projected to decrease by over 20 percent (Santa Clara County, 2011). The data was considered to be conservative because it assumed that no recycling of paper bags occurred. Thus if the data was adjusted to account for existing recycling rates, the resulting greenhouse gas emissions would be reduced further."
—David M. Greenwald reporting