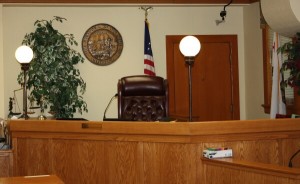 by Antoinnette Borbon
The state's case against co-defendants, David Bristow and Danny Stearman, continued Monday with another couple hours of testimony from the alleged victim. Wearing eyeglasses, unlike last week, Marcus Cullen told jurors he was wearing them on the night of the alleged attack on him.
However, he had not worn them to court because he didn't need to. He told Deputy Public Defender Richard Van Zandt that he only wears them to drive because he has to. However, it didn't answer the defense's question about why he wore them today after testifying for two and a half days without them.
Marcus Cullen stated that on October 1, 2012, he was on his way to work when two male suspects tried to run him off the road. He described the vehicle as being a white older four-wheel-drive pickup.
It was shortly after midnight when deputies would be dispatched to the scene out along County Road 88, to find a man lying on the ground holding his neck, bleeding profusely from what appeared to be a wound.
Marcus Cullen, the man found lying on the ground, stated to police, "I'm dying! I'm dying!" as he was slowly drifting out of consciousness.
Mr. Cullen was holding his hand on his neck as the deputies were trying to get answers about who the perpetrator was, but he was not speaking enough to give any clear account of what had happened to him.
Two witness who were on the scene told Deputy Morford, first to arrive, that Marcus stated his ex-wife had something to do with what happened to him. He had told one witness it was his father-in-law and father-in-law's brother who attacked him.
Marcus testified that he could not recall all the details of what had happened but that he was told he had been stabbed on the left side of his neck. Marcus stated it was later that he was told he had also been shot in the back of the head.
After being shown photos of the scene and his injuries, Marcus stated he remembered hearing a car engine rev up, and he ran toward his van after being stabbed, landing on the windshield. Deputy Morford and Deputy Macias testified to seeing the windshield of the green van shattered. On the scene, deputies also found Marcus' eyeglasses on the pavement, but they were intact.
Mr. Cullen stated he had them on that night and remembers being punched several times in the head by Danny Stearman. In a photo shown in evidence, the eyeglasses appeared to have blood on the frame.
Under direct examination by DDA Rob Gorman, Marcus was asked to talk about his injuries. Marcus could only recall certain details, explaining the stab wound, but had no recollection of being shot until it was told to him by Detective Jennifer Davis.
Deputy Morford said he found broken glass inside the van and on the side of the road. Pictures of the green van owned by Marcus showed blood on the bumper, windshield and hood with a cracked windshield. It confirmed both deputies' testimony in regard to the evidence on scene.
Marcus stated he remembers being life-flighted and being in the hospital for several days, with a tracheal tube in place. He recalls being in intensive care.
Marcus stated when he was interviewed while in the hospital, he was on pain medications and a bit out of it as he gave statements about what occurred the night in October. Over and over again on the stand he stated, "I thought I died! I have been through a lot!" He said he thought the headlights from medical personnel were angels and he had died.
He stated he re-lives the incident because his body tells him.
During cross by defense attorney Steven Sabbadini, Marcus was asked about his child custody case with his ex-wife and a diary that he had been keeping. Marcus stated he and Dina, the ex-wife, had joint custody of their three children. He said his father-in-law had threatened him on a few different occasions. He stated his ex could not care for the children by herself and he wanted full custody. He said he began a journal so that he could keep track of any incidents between him and his ex. But he never wrote about the alleged threats in his journal.
Mr. Sabbadini also asked about drug testing and if Marcus had a problem in the past with use. Marcus answered, "No." Sabbadini brought up Mr. Cullen's domestic violence conviction with his ex-wife and asked if it had to do with his drug use, but he replied, "No."
When  Mr. Van Zandt asked why he never wrote about previous threats or told authorities, he explained, "I knew no one would believe me without proof so I didn't write it."
DDA Jennifer Davis asked Deputy Livermore, who was also dispatched to the scene, to describe what he found. He stated he saw the green van with the shattered windshield. He said he did not see any skid marks on the road but only broken glass and a lot of blood on the road in different spots. He stated there were a lot of medical personnel and sheriff's deputies, along with a CSI team, making it hard to see areas of the scene.
Dr. Shatz, a UC Davis trauma surgeon, testified to seeing a man with a deep cut to the neck and a hole in the tongue when life-flight brought the victim in that night.
Dr. Shatz stated he could see a lot of blood inside the mouth of Marcus and, upon feeling his tongue, he found the hole. He said it was the significant injury because it had been cut to the artery. He says he had to keep his two fingers pressed down on the tongue until the trauma team could get him up to surgery.
He stated he put sutures and staples on the injuries and that it wasn't until after surgery he noticed the gunshot wound. He stated, "With reasonable certainty, I would say the wound on the tongue came from the shot to the back of the head, making it the exit wound." But he stated the hole could have been done with a knife.
DDA Gorman asked if he knew if the bullet had entered through the back of Marcus' head and exited out his tongue. The doctor replied, "Yes, it looks that way because of the hole being wider on the tongue."
He stated that an exit wound usually does more damage. Gorman asked him if he thought Marcus would live, "I had hoped, yes." He said the cut to the neck was deep but did not reach the carotid artery, and it was the tongue which was more life-threatening because of blood loss. He testified to the X-rays taken of Marcus' head and neck. Photos showed bullet fragments left in the jaw area but Dr. Shatz told Gorman he was not a forensic expert with bullets and could not say what type of bullet made the hole.
Under cross, the defense asked if it were possible that the fragments were from an old injury, and the doctor replied, "It's possible." Mr. Van Zandt asked, "Did you ever read the full medical record of Marcus Cullen?" The doctor replied, "No, I did not"
Dr. Shatz was asked by DDA Gorman to explain what the term, "the golden hour," meant. He explained to jurors it was a military term that meant when a person is injured critically the trauma team has an hour to locate the life-threatening wounds and to treat them for survival.
Trial resumes in the morning.