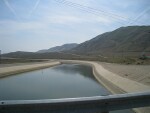 The Davis-Woodland water deal in part rests on an agreement with the county to approve the agreement with Sacramento area developer Angelo Tsakopoulos in his effort to buy Conaway Ranch.
We called this on Thursday a deal with the devil, and at least one Yolo County official is concerned the agreement is being rammed through without much forethought to the consequences.
Yolo County Supervisor Jim Provenza told the Sacramento Bee on Thursday that he has significant concerns with insufficient time to address them prior to Friday's vote.
Chief among these would be the waiving of the needed county approval over habitat projects, which Mr. Provenza believes would be giving up a chief bargaining chip for the protection of farmland under the Bay Area Conservation Plan.
According to the Bee, "The 4,000 acres Tsakopoulos  wants to sell to the state sits at a key point in what may one day be a seasonally flooded waterway meant to protect salmon and other threatened fish."
Mr. Provenza is concerned that without that land, "the Bay Delta Conservation Plan may be impossible to implement."
"It's our No. 1 defense against something that harms our interest," Mr. Provenza told the Bee. "We don't know what the state will do with the land. It could be of catastrophic consequence."
However, the Bee reported that outgoing Supervisor Helen Thomson, who sat in on the negotiations, supports the agreement.
Supervisor Matt Rexroad told the Vanguard early Friday morning that there is nothing in this agreement that couldn't be done without the county's consent.  He believes that the county is getting assurances over farmland and the continued use of 12,000 acres that would continue to be farmed under this agreement, and in exchange the county is giving nothing up.
But others are not so sure.  There are multiple levels of concerns and most importantly, the speed at which this agreement is being rammed through.
One question is with flood control, farming, and the wildlife area.  Under the agreement, Mr. Tsakopoulos would be able to sell roughly 80,000 acre-feet of water to Los Angeles.  That would net the county roughly 7.5 percent of the proceeds which comes out to be about $1.5 million for a county that is fiscally in trouble.
But from an environmental standpoint this could be disastrous.  Unfortunately, this could send water to Los Angeles but at the expense of the Delta.
Part of the urgency is the agreement signed earlier this week, yet to be ratified, involving the Woodland-Davis Joint Water Project in which the cities secured water rights from Conaway Ranch.
This deal would appear to be some sort of a prerequisite to the deal, but the agreement was hammered out behind closed doors and the public is getting almost no notice of it.
There would seem to be several different pieces of this puzzle pushing this deal.
First, the county is being pressured by Woodland and Davis to get this deal done so that they can have their summer water that will cost taxpayers more than $350 million.
Second, Tsakopoulos appears to be cutting this deal because he is going to sell the majority of the water to Los Angeles.  If the county is getting 7.5% which works out to about $1.5 million, then he is likely looking at making at least $20 million on the deal.
Third, the county likes the deal because it gives them a small amount of money that can mitigate further cuts.
Fourth, and this area is more questionable, but it appears that from Mr. Rexroad's perspective, the 12,000 acres of farmland that would be preserved is crucial for his support of the agreement.  Mr. Provenza would appear to question whether this agreement really protects the farmland.
My biggest concern is a multitude of factors.  First, I do not trust backroom agreements, especially involving people like Tsakopoulos who have a lifetime's experience in cutting these sorts of deals in their own best interest.
I think the city and county are looking at this far too narrowly and there is a huge chance of unintended consequences.
Finally, this is a disaster for the Delta, as it takes yet more water out of the area.  Where are people like Senator Lois Wolk on this?  She has spent her legislative career making Delta Protection her issue.  She and Assemblymember Yamada have stood up against their own legislative leaders in opposing bad deals for Northern California and the Delta, but it is now her allies and former colleagues that are pushing through this deal.  Is she going to step in?
The bottom line is that this deal appears to be a bad deal for the environment and it's being pushed through, at least partially, at the behest of "green" Davis.
—David M. Greenwald reporting