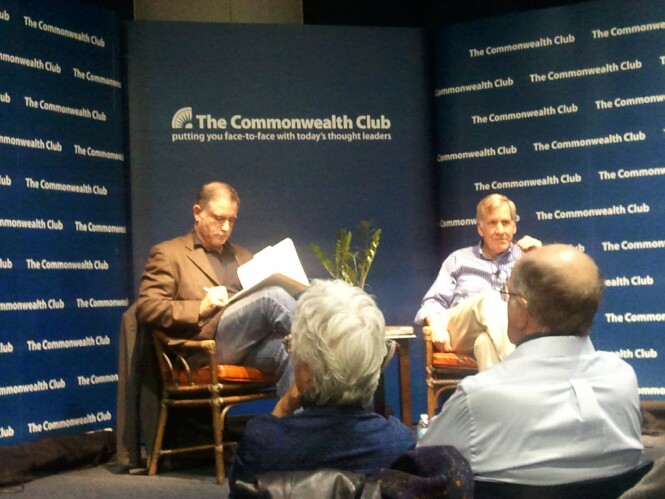 A few weeks ago, we sparked a bit of controversy when we pondered the duty of a newspaper to publish demonstrably false information in the name of balance.  Unfortunately, the discussion that followed from it missed a critical point, which was that the argumemt was not meant to be about people's opinions, but rather about information that had been proved to be false at the time of publication.
This is not a new question, we first pondered this back in May of 2007 with a commentary called, "When 'Fair and Balanced' is Less Accurate."
Last week at the the Commonwealth Club in San Francisco, Phil Bronstein, who currently heads up the Center for Investigative Reporting, interviewed Raymond Bonner. Mr. Bonner is the author of a  book about Edward Lee Elmore, a semiliterate, mentally-retarded black man who spent 30 years in prison for a crime he had not committed, and in order to get out of prison had to take an Alford plea, admitting to a crime he had not committed in order to gain his release.
During the course of this interview, Mr. Bonner, who had spent years writing for the New York Times as a foreign correspondent, notably in El Salvador in the 1980s covering that war, spoke about this issue.
"Journalistically," he said, "when I was writing about the death penalty for the New York Times, and I'm sure when you [Mr. Bronstein] were editor in San Francisco and you wrote about death penalty cases, somebody on death row, whatever, you had to interview the victim's family or friends and get the quote from them saying this guy should be put to death.  He's guilty, etc., etc."
"I used to ask myself, journalistic question for you as an editor," he said, "If we'd been writing in 1860s about slavery, would we have required if we were writing about slavery was wrong, would we have required somebody [to] get a quote and say slavery is right, we should keep it up?  I think that's how we'll look back on the death penalty fifty years from now."
Phil Bronstein responded, "People have criticized this sort of false proportion, this notion that you have to give equal weight to each side.  The public doesn't buy it and why do journalists still do it?"
Raymond Bonner responded, noting that stories have shrunk in length, and then asked, "Why do you have to put in when Obama gives a speech, or even Romney, and you put in some canned quote from the other side?  Whatever, it's canned, you don't even have to go to them; you can write it yourself."
That may be changing, however.  Recently, National Public Radio (NPR) has disavowed the brand of journalism that, instead of seeking the truth, tells competing sides of a story.
Jay Rosen is a journalism scholar and critic, and he writes, "NPR commits itself as an organization to avoid the worst excesses of 'he said, she said' journalism. It says to itself that a report characterized by false balance is a false report. It introduces a new and potentially powerful concept of fairness: being 'fair to the truth,' which as we know is not always evenly distributed among the sides in a public dispute."
NPR has now put out a new ethics handbook which lays out "the standards" of their journalism.
With respect to fairness, they write, "In all our stories, especially matters of controversy, we strive to consider the strongest arguments we can find on all sides, seeking to deliver both nuance and clarity. Our goal is not to please those whom we report on or to produce stories that create the appearance of balance, but to seek the truth."
They continue: "At all times, we report for our readers and listeners, not our sources. So our primary consideration when presenting the news is that we are fair to the truth. If our sources try to mislead us or put a false spin on the information they give us, we tell our audience. If the balance of evidence in a matter of controversy weighs heavily on one side, we acknowledge it in our reports. We strive to give our audience confidence that all sides have been considered and represented fairly."
Mr. Rosen adds, "There was nothing like that in the old Code of Ethics and Practices, which dates from 2003. So why the change?"
According to Mr. Thompson, "In the brief section on fairness in the previous code, the focus was on how we treat those we cover. That focus hasn't really changed. Most of the guidance in the section on fairness dwells on how to do right by them – representing their words faithfully, giving them time to respond to criticism, following through on promises of anonymity, etc. It's vital to treat these stakeholders fairly because it's difficult to do thorough, accurate reporting when one side of an issue doesn't trust you enough to cooperate with your reporting."
He adds, "But it's important to remember that the public is our primary stakeholder, and we wanted to emphasize that. It's critical that we earn and preserve the trust of our sources and subjects of coverage, but it's always most vital to tell the public what we know to be true. We're striving to give the public the strongest perspectives on the various sides of a debate."
There is nothing more frustrating than to read a report where the reporter got it wrong because they were afraid to report what really happened and instead relied on a false balance.
The NPR standard is moving toward where we want journalism and the media to be.  And it is where the Vanguard ultimately wants to be as well.
I think comments made by a former newspaper hand, hired by NPR to launch a local news blog in Seattle, set the stage for the next phase.
He writes, "I think the new guidelines are better. But I wonder if they provide enough clarity for some of what I see as inherent tension points that arise from new media styles of reporting."
He adds, "It sounds reasonable enough to say everyone should seek to remain "impartial." But this is more an aspirational target than anything an honest individual will ever claim to achieve. As I've said many times, only journalists believe journalists are unbiased. Our job is to do our best to be fair, which is what I think the new NPR guidelines are trying to achieve."
However, he also notes, "But it's much harder to always strike the right balance in a fast-moving medium like a blog. More importantly, we are told to have 'voice,' to demonstrate 'expertise' and 'engage' with the community you report on, in order to succeed as a blogger."
In my nearly six years of doing this, my style has evolved, as has the goal and mission of the Vanguard.  It is probably well past time to lay principles down for how the Vanguard should be reporting and engaging in the local community.
In the coming weeks and months, hopefully we will be able to provide greater clarity to our own goals and missions as we move forward.
—David M. Greenwald reporting