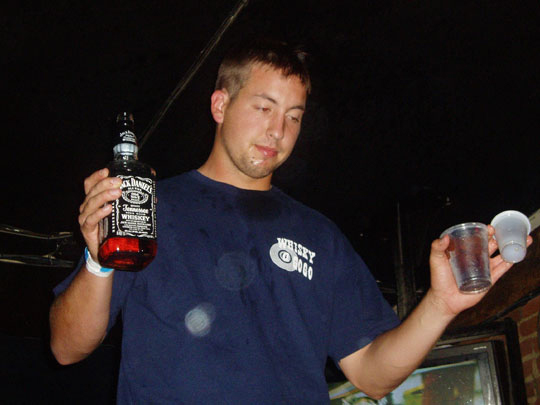 On January 10, 2012, Davis Police Chief Landy Black and city staff caught the Davis City Council off-guard by presenting an ordinance to preclude minors from drinking.
Chief Black told the Council, "We're trying to do this in our efforts for 2012's Picnic Day."  He added, "Regardless of when it's adopted it's a good ordinance, it's not going to be just a Picnic Day ordinance."
In the staff report, this was presented as "a potential solution to curbing unlawful nuisance drinking and rowdy partying behavior, as well as punish those who choose to ignore the law," by making "it unlawful for any person under 21 years of age to have a blood alcohol content equal to or greater than .01%, by weight, on any street or highway, or in any public place, or in any place open to the public."
The staff report argued that, while the state regulates most issues involving alcohol, it does not completely regulate the private consumption of it.
"It seems to me that when we were thinking about the Alcohol Preclusion Ordinance, it was kind of a 'duh' moment," Police Chief Landy Black told the council.
At the same time, he acknowledged that only one other community had enacted such an ordinance.
The council at that time passed the first reading of the ordinance, under the understanding that the UC Davis Student Liaison commission would weigh in and the matter would come back before the council.
In late January, the Student Liaison Commission, comprised mainly of students with a few voting members from the public at-large, voted to oppose the ordinance.
According to the staff report, the police have done the kind of follow-up they needed to do prior to the introduction of the original ordinance.
Staff reports, "The police department worked with the ASUCD Student Police Relations Chair to organize an open forum to discuss the proposed ordinance. The open forum was held the evening of February 1, 2012 on campus. The event was not well attended, however, Police Department officials did answer questions regarding the ordinance and how it would be enforced."
The police also met the Davis Alcohol and Other Drug (AOD) Advisory Group.
Dr. Michelle Famula, the UCD Executive Director of Health and Wellness, summarized what became the adopted AOD recommendations regarding the Minor Alcohol Preclusion Ordinance, writing: "I want to lend my support to the recommendation that the City Council give serious consideration to a sunset clause if the Ordinance is approved. I would advise that that sunset call upon the DPD to return to the Council 12-18 months later when it petitions for renewal with data relating to the number of citations issued, the locations and dates and the BCAs, and ages of the individuals cited."
The ordinance now contains three new subsections: "Any person under the age of 21 years [would be] immune from criminal prosecution, under this local ordinance, if they report a medical emergency where a minor has consumed alcohol. State law currently immunizes minors from criminal prosecution for being a minor in possession of alcohol or for contributing alcohol to a minor under the same circumstances."
Second, "the Police Chief [would be required] to submit a report to the City Council regarding the effects of the ordinance on public safety in Davis, including aggregate citation data."
Third, there would be an automatic sunset date of April 1, 2014 and the council would have to take action prior to April 1, 2014 for the ordinance to remain in effect.
However, these revisions do not deal with a number of other concerns that were raised, including the fact that party-goers might no longer have the incentive to voluntarily disperse and individuals may be encouraged to drive after drinking rather than risk walking home.
As we noted, students unanimously opposed the measure at the January Student Liaison Commission meeting.
The final version of that motion did incorporate language that left issues open and encouraged future discussions.
John Youmans, commission member from the public-at-large, made a friendly amendment to add language that the body would like to see more discussion among the various groups in the community.  He argued, "More talking needs to happen rather than is this just right or wrong."
That substitute motion got formalized into language that was originally used in addressing the open container ordinance.
First, "Both the campus community and the City of Davis should take, and mutually support, actions which address problem alcohol consumption that is associated with irresponsible and unlawful behaviors, high risk and underage drinking, and public health and safety concerns."
Second, "The City of Davis has a responsibility to consider the perspectives of community and campus student organizations to assure that laws restricting public alcohol consumption are fairly developed and consistently enforced to engender broad based community support."
And third, "Student groups and their representatives have both a right and a responsibility to work with City law enforcement and government officials to assure that all perspectives regarding an Open Container Ordinance are articulated and to assure that local regulations are well promoted, understood and respected."
The chair of the UC Davis Student Liaison Commission and President of ASUCD, Adam Thongsavat, told the body that while he liked Captain Darren Pytel, he still is bothered by this proposal and stands by his initial comments against it.
"I cannot vote for this in good faith," he said. "In terms of relations this takes everything that the police and the City of Davis have done and stirred it up."
"I'm 22 years old," he said, "if I were 20 years old, I would look at this as overarching city government trying to parent my life."
At the city council meeting in early January he said, "If I am a young person who is walking on Russell Blvd. on Thursday or Saturday nights, for no probable reason under this ordinance, the police are able to ask me if I would like to be tested [to see] if I am under [the influence of] the consumption of alcohol."
"I do not see how that's effective policy," he said, adding that his peers on campus would agree with that statement.
"No one is here to say that they condone underage drinking," he said.  He talked about the work he had done on Picnic Day and the changes that had occurred as the result of the collaborative work between the city and students.  "I see this as a step backwards, if we're going to tackle Picnic Day and we're going to tackle these rowdy parties… there's a different approach that I would really stress."
Without considerable student buy-in, it would seem unlikely that this measure will have much if any impact on overall drinking problems, and may actually add to them.
—David M. Greenwald reporting