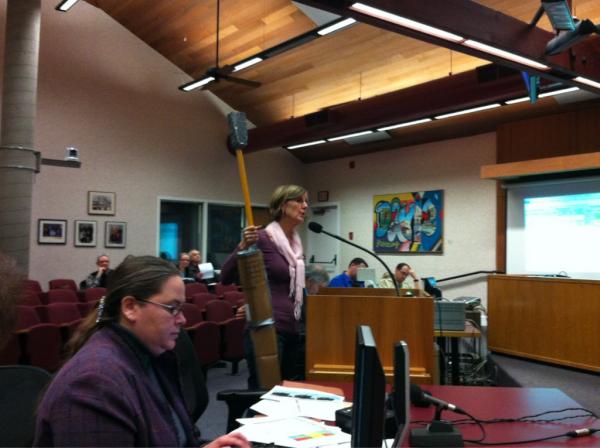 The City Council moved slowly through a site by site analysis of the project.  They have pushed the major questions off to a special council session next week.
The Council continues to believe that this the battle is one that they cannot win.  However, the public believes otherwise and many came forward urging the fight.
Mayor Joe Krovoza following the lead of City Manager Steve Pinkerton and City Attorney Harriet Steiner, believes the law is on the side of Crown Castle, and any decision that would lead to litigation would be at best a costly mistake.
The Mayor said pointedly, "I don't believe this community can even begin to afford going into a lawsuit on this matter.  "It would be frivolous, unnecessary and I'm not going to put staff time into that or the citizens' money into that… Lots of things are going to fall off the budget in June and that's at the top of my mind."
Councilmember Dan Wolk remained the councilmember holding out for a fight even though he was admonished by his colleagues, including Councilmember Souza who said pointedly as well, "I am convinced, looking at the case law, we will lose local control, we will lose all say."
The public on the other hand is outraged and want to fight this.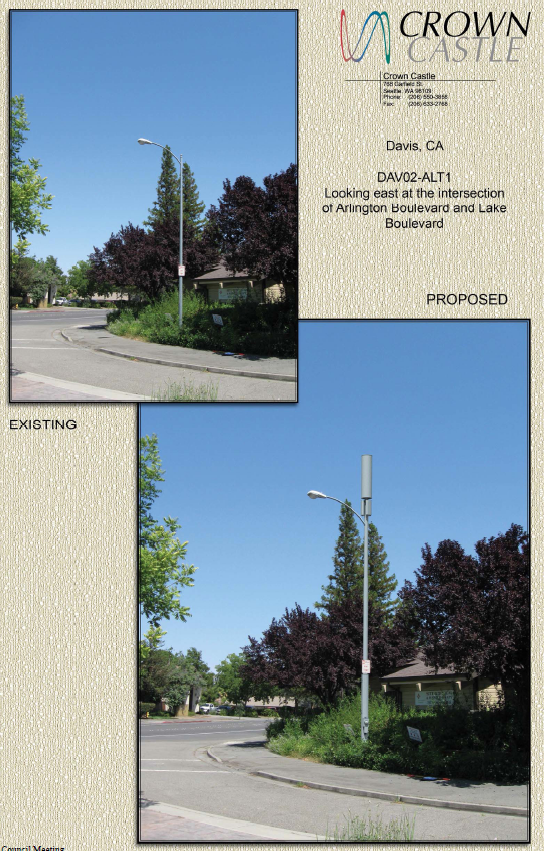 Steve Hayes, a 38 year Davis resident had some choice words.
He told the council, "A project that pits neighbor against neighbor and creates winners and losers violates the basic principle of community within the city of Davis."  While he had specific objections to sites, he said, "I object even more to pit my interests and that of my family against a friend… and her family.  This is outrageous!"
He said that he served his country in Vietnam and he swore to uphold the constitution, "To be told that we cannot speak out on this issue is also outrageous.  This is tyranny."
"If one objects to this project in principle they are also objecting to each site of this project specifically.  I strongly object to using the term 'no public input' on sites that people didn't speak at, at the public hearing," he added.
Frank Chastino speaking on behalf of the Village Homes Homeowners Association argued, "The applicant has not shown a true need for these poles in the first place."  He noted that their own company, Metro PCS states on their website that Davis has great coverage.  "They have been advertising to this community that they have great service," he said.  "They have been selling this product to the community saying that they have great service."
"So for them to come to us now and say that they don't have great service and this is why they are putting these poles up – this is fraud," he said.
He later argued that "these mock ups are a fraud" arguing that there will not be one antennae on each pole, but rather six.
"This company is not acting as a community member, they are forcing their way into our community," he said.
Meredith Herman referenced an email from Carla Visha who discussed four court cases in which this was discussed in other counties in California.  Metro PCS v. San Francisco she said, "spells out the authority of local government to say no to towers like DAS.  The judge ruled in favor of San Francisco because the cell tower violated the local planning and zoning codes."
Jay Feldman from Village Homes said, "I find it really disappointing, even shameful that the council is just going to roll over on this."
"I would rather see the city of Davis among those cities, rather than the city council just dropping its tail between its legs and running off here.  The Crown Castle people do not have the greater good of the people of Davis at heart.  The only thing they care about is money," he added.
Ed Highcastle added, "Fight them…  All the way to court and you will win.  I think you ought to put this up [for] the people's vote.  The people will vote this down and out."
Bob Schneider also spoke out against this proposal.
"My wife and I are opposed to the project as proposed," he said.  "We don't think that's a good fit with our community."
Steve from Village Homes urged the council to "Find a legal way to regulate the size and number of antennas that you can put on any one place.  Your setting precedents here… not only for what Crown Castle does but for what any DAS provider can do in the future."
He added," Consequently I'm here to urge you to set legal policies and ordinances that will protect the legal residences of Davis from abuses by DAS providers which have led to moratoria in many other cities in California.  They have regretted letting them in."
"Personally I believe a set of clear, reasonable, and modern enforceable set of regulations are needed to protect the interests of residents from overzealous DAS providers," he added.
Kathy from Village Homes asked the council to look at the future and picture where we need to go.
"This is a process," she said, "that began in 2009 in front of Elaine Fingerett's home.  But she said that process and those designs within the telecommunications industry have increased.  "So there are other things out there, other ways of doing things.  The cheap route for them is going to cost us dearly."
Jill Vansantem also from Village Homes expressed concern that we have given up our democratic rights to the point where we are not actively choosing this project, but rather acting out of fear of what will happen to us.
"I would hope we become an example of constructive resistance and an example of a community that is able to set our own course  through a truly democratic process," she concluded.
Jill Theg from East Davis said, "I know enough about lawsuits to know that the good guys don't always win.  But what I hear the city council and the city staff saying is that we may not like this project, but we feel legally constrained to accept it."
"if that's truly the case," she continued, " the reason we find ourselves here is because a very powerful industry, the telecommunications industry was able with the help of their army of lobbyists to set up a regulatory scheme that favors for-profit, international corporations over the desires of many citizens in Davis who care about the quality of life here – not just the bottom line."
"This is an ugly project, we don't want it, we're being bullied into accepting it," she said.  "I don't know if this project is technically legal or not, but I do know it's wrong."
Susan Monheit  urged the council to protect the telecomm ordinance, specifically the five hundred foot setback.
"This ordinance is not out of date," she argued.  "It was written by some far-seeing visionary citizens who saw this exact thing coming and wanted to protect out town from the type of industrial blight that Crown Castle's DAS system is about to impose on the city.  DAS was designed for sporting arenas and that is where it belongs."
She challenged Crown Castle, "While we have many legal constraints, they are not legally constrained from doing the right thing.  Mr. Garcia, you represent a big international corporation with a lot of money, you made that very clear back in August, when you first made your presentation, I would like to ask you to share the profits of the money that's going to come in from this project with this city that is struggling to services open, keep its teachers, keep its firefighters."
She added, "I'm not asking anything unreasonable – 50%…  You're forcing a project that this city does not want and does not need and your reshaping the character of this town.  So I think it completely reasonable to request that."
Kim, a 25 year Davis resident who was part of a neighborhood group that helped form this ordinance originally,
She said it was heartwarming to see the outpouring of support from the community to fight this thing because, "We don't want it."  She added, "Crown Castle has not proven that they actually need it."
She again noted that Metro PCS has the best coverage but significant gaps in coverage and stated, "the two don't meld together."
She told the council that while everyone has two minutes to talk, they have the ultimate voice and she said, "I want you to fight it.  It won't be easy.  It's money that we don't have – I get that.  But it is worth the fight."  She argued that pools and parks can be solved with money, "but this thing, once you approve one site tonight you open up the flood gates, you cannot go back.  And it can't be solved with community fundraising, it is opening up a pandora's box."
Peggi Hayes said, "I don't like these people because they stuck their camel's nose into the tent and that's just the beginning.  This is only the start.  Our constitution, our bill of rights, is under assault."
"We need to stop this… We need to vote against this one time and not let them keep bullying us," she added.
Dr. Carla Visha had sent the council an email on other lawsuits in other communities.
She noted that the pictures sent out by the company were unrealistic, "these trees will not survive because the towers will kill the trees.  So that's a deception."
"The lead acid containing adjacent boxes provide toxic and explosive materials that will leach into the soil, into the air, and if kids play on them, God knows what happens to the kids," she warned.
"You're afraid of lawsuits," she continued, "I'm not supposed to address health issues, that's my field… The health lawsuits both individual and collective that the city will face will be enormous."
She added, "If you put these things within 500 feet of people's homes, they will get very ill and you will get lawsuits."
The council weighed in with mixed results on just ten of the 25 sites, they will need to complete these sites next week at a special meeting.
The community that has been engaged on this issue, has been very much opposed, but the council and staff continue to believe there is little they can do unless they want to risk expensive and time consuming lawsuits they don't believe they can win.
—David M. Greenwald reporting