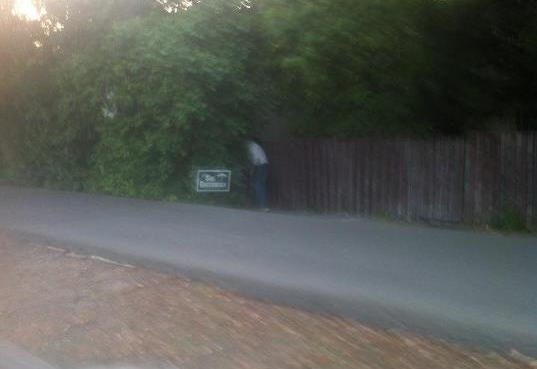 Campaign signs are the hallmark of election season, and they become the flashpoint for battles over the perception of turf and visibility.  From our perspective, signs have little value in terms of electoral issues, but nevertheless they become a symbolic and public battle between the campaigns.
The issue of the stealing of signs became so volatile in the Supervisorial Race between Incumbent Supervisor Duane Chamberlain and challenger, Woodland Mayor Art Pimentel, that staffers came to blows following a candidates' forum, in an encounter in which the police had to intervene but the DA's office declined to file charges.
In Davis, the battle of the signs is always at least a symbolic rite of passage in election season.  Again, over the years, we have seen little to believe it is decisive or even important, but it is visible.
The war heated up when a passerby saw what turned out to be Mike Syvanen, the husband of Sue Greenwald, pulling a Dan Wolk sign out and replacing it with a Sue Greenwald sign.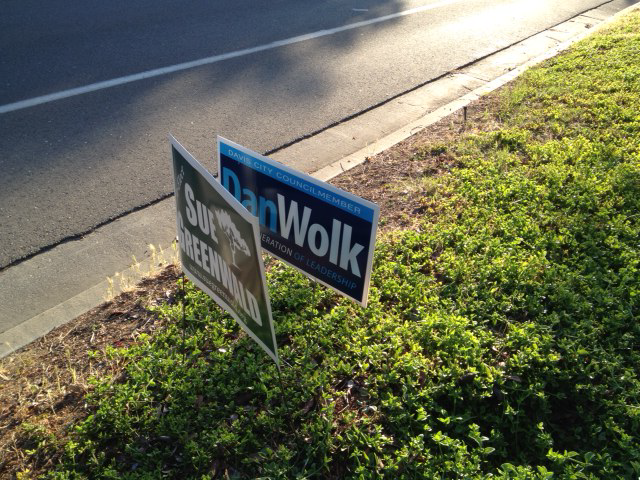 Dan Wolk's campaign claims that this sign was on the property of Jim Kidd, a local property owner, who supports Mr. Wolk but not Ms. Greenwald.
Sue Greenwald countered that "there has been an enormous amount of vandalism of our signs. Mike has had to replace massive numbers of them. He said there were were a very few places where he noticed that a sign that he had put up for me had been thrown in the bushes or displaced, and he put my sign up where he had put it initially, and moved the other signs."
Could Mr. Syvanen simply have made an honest mistake removing a sign that he shouldn't have?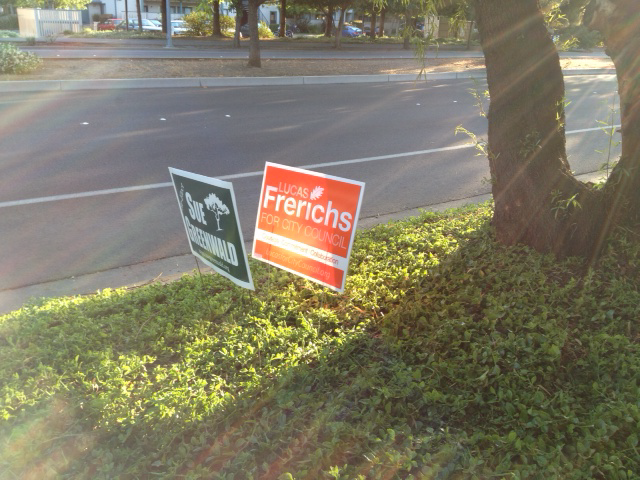 It seems plausible, except that in the same area were a number of signs that appear to have been blocked – all by Sue Greenwald signs.
Melissa Martinez told the Vanguard that she took a series of photos showing the blockage and that she personally witnessed Mr. Syvanen blocking the signs.
"As I drove west bound on Covell Sunday afternoon I saw an individual place SG signs east bound right in front of all the other candidate signs," Ms. Martinez told the Vanguard. "I couldn't believe it but enjoyed a good laugh."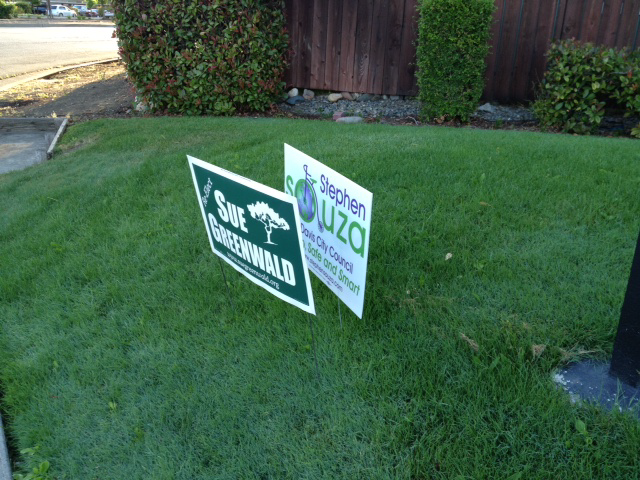 "When I returned after an hour or so on Covell, the individual was now headed west bound just before Oak Ave. We quickly flipped a U-turn and snapped a pic as he was ditching the Dan Wolk sign into the shrubs," she said.
At first she thought it may have been a homeless person.
She said, "He didn't seem at all concerned that his act was witnessed and photographed."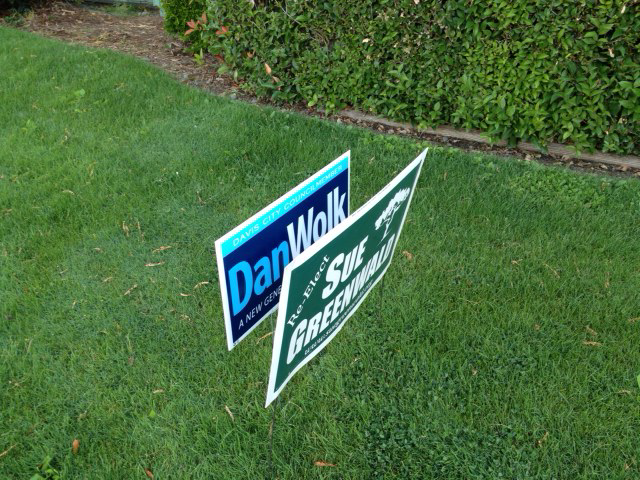 Later she "found out and confirmed that this 'volunteer' is Sue's husband Mike."
"Lawn sign shenanigans are ridiculous and childish, and they are frustrating for all of the volunteers responsible for keeping the lawn signs up," Sue Greenwald responded on a Facebook post.
Ms. Greenwald indicated that Mr. Syvanen's actions were against her directions, specifically warning him not to get involved in campaign lawn sign turf wars and telling him to respect all lawn signs, not to blocks signs and to put them up only where they had permission.
As campaign antics go, this is small potatoes.
Even Bernie Goldsmith, who had posted a group of photos on Facebook, said, "I think this has gotten to the stage where it's just funny. I don't think sign blocking is doing any real damage to anyone's campaign. Look at it this way: at least some people really care a lot about their candidate!"
Sue Greenwald would respond, "I am not against political humor."
Still, as the campaign season comes down to the final week, perhaps all sides should respect each other's signs and avoid escalating any sign war.
—David M. Greenwald reporting